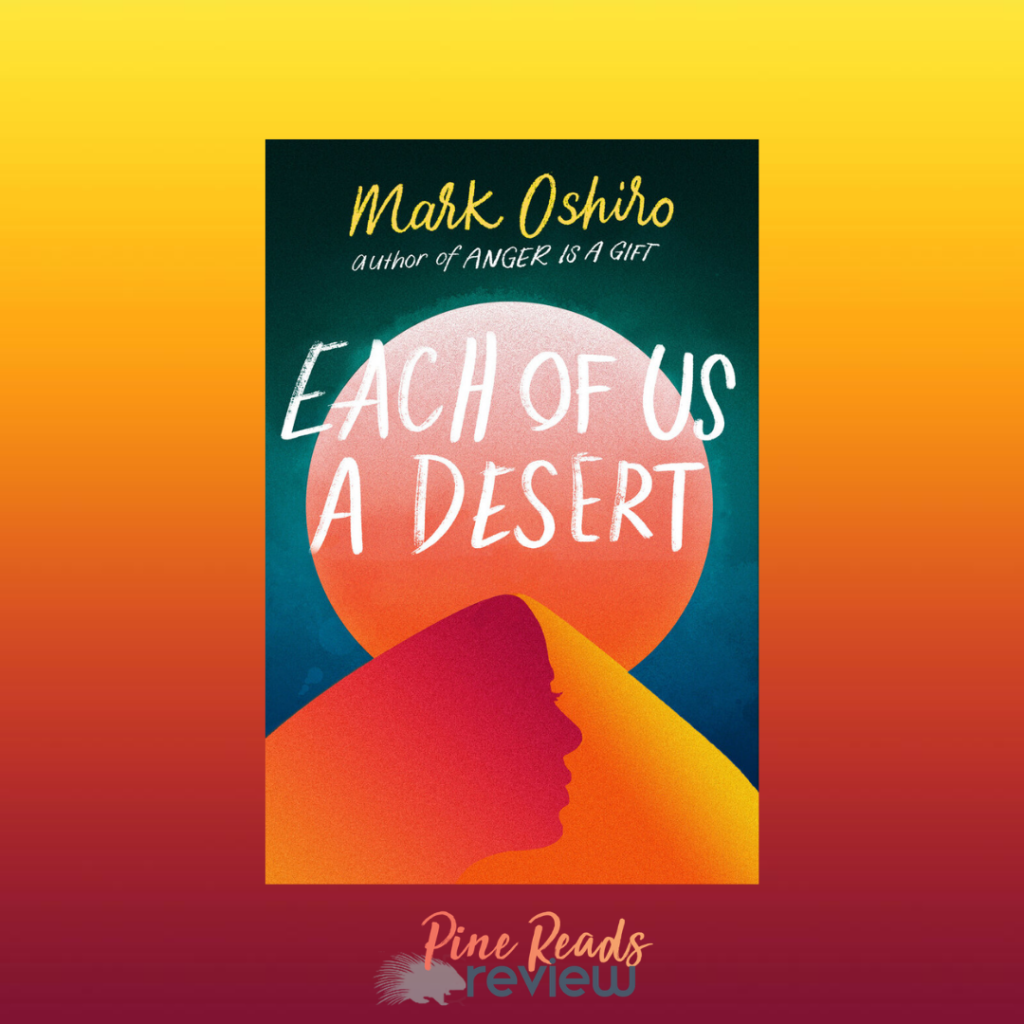 Each of Us a Desert by Mark Oshiro
Tor Teen, 2020, 432 pages
Trigger Warnings: Murder/death, graphic violence, instances of emotional and physical abuse
About the Author: Mark Oshiro is the Hugo-nominated writer of the online Mark Does Stuff universe (Mark Reads and Mark Watches), where they analyze books and TV series. Their debut novel, Anger Is a Gift, was a recipient of the Schneider Family Book Award for 2019. Their lifelong goal is to pet every dog in the world. (Bio provided by Saraciea Fennel and Anneliese Merz from TorTeen.)
Instagram: @markdoesstuff
Twitter: @MarkDoesStuff
Website: www.markoshiro.com
"We stretch ourselves to fit within the roles we are given. To make ourselves look better to those around us. To convince one another that we are good people in a world so vacant." 
Xochitl, a 16 year old girl from Empalme, was bestowed the burden of the cuentistas at the mere age of 8 in which she must consume others' stories to elevate them from memories, secrets, and guilt. She then must venture out into the desert and deliver them to the god Solís. This process takes a mental and physical toll on her and after years of exploitation, Xo decides she will reclaim her life and body. This leads her on a journey across the desert, accompanied by Emilia, who yearns to escape her own past. Xo is comforted by poemas strewn across the desert which give her the confidence to confront her fears and establish her own story.
In this captivating desert fantasy, we follow Xo and Emilia who must deal with the looming threat of murder and dehydration, while also encountering spirits, tricksters, tragedy, and even new friends on their path to freedom. This novel explores themes of isolation, depression, abuse, faith, and self-discovery. The mythos of this novel includes clear allusions to religion and immigration, which are handled with care. People, their actions, and beliefs are not villainized because Oshiro highlights that everyone has sacrifice and pain. The transference of stories showcases how the power of sharing one's truth can be as liberating as it is terrifying. Extreme empathy is an understatement for cuentista obligations because to be one means to carry around a curse. Oshiro pens an incredibly graphic, sorrowful tale, and… I loved every minute I got to read it. From the normalized queerness to the inclusion of Spanish and poetry, I felt as though this novel was written for me. Each of Us a Desert is the epitome of magic and one of the most beautifully written books I've come across.
Oshiro's novel releases on September 15, 2020! Their pre-order campaign is running until the 14th, so don't miss out! Pick up your own copy today!
(Pine Reads Review would like to thank NetGalley and the publisher for providing us with an ARC in exchange for an honest review. Any quotes are taken from an advanced copy and may be subject to change upon final publication.)
PRR Writer, Jackie Balbastro