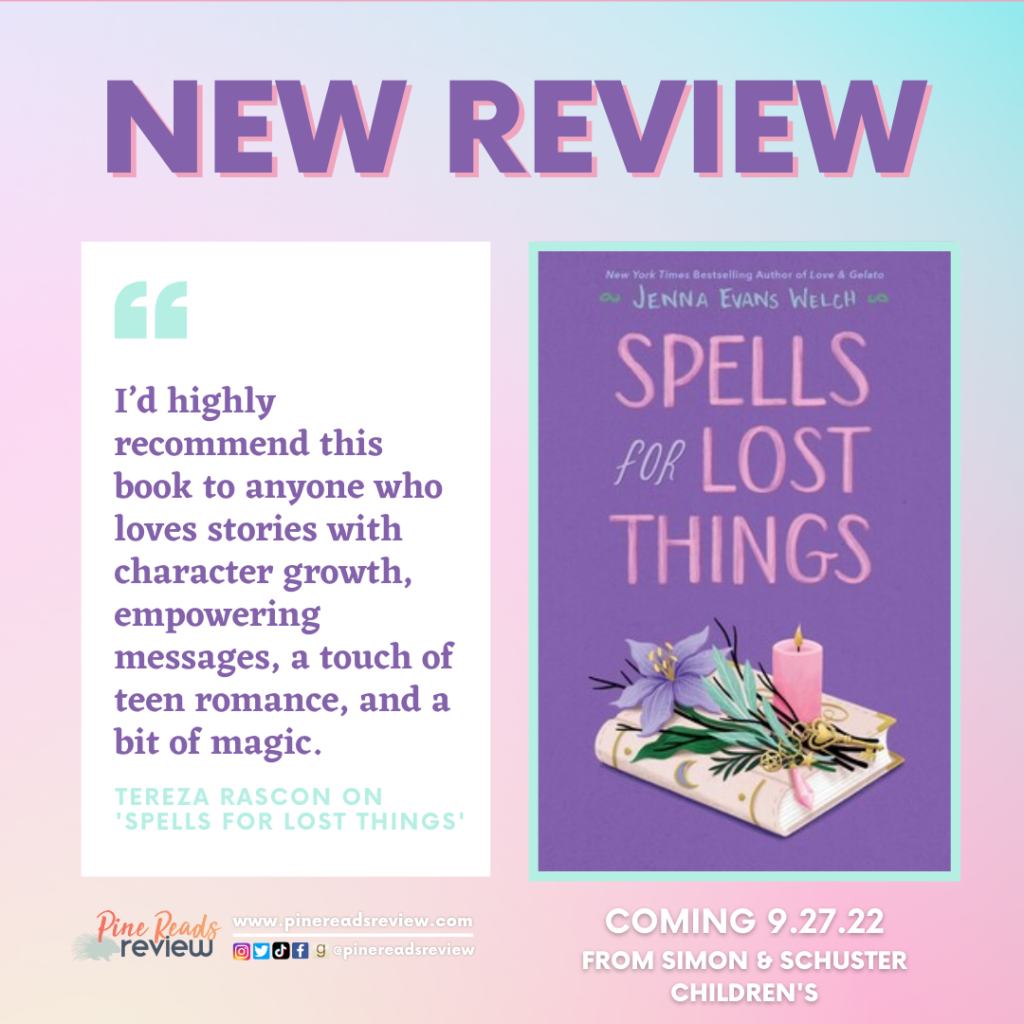 Spells for Lost Things by Jenna Evans Welch
Coming September 27th, 2022, from Simon and Schuster Children's Publishing; 368 pages
Content Warning: Emotional neglect, mentions of child neglect, mentions of drug addiction, foster care system
About the Author: "Jenna Evans Welch was the kind of insatiable child reader who had no choice but to grow up to become a writer. She is the New York Times bestselling author of Love & Gelato, Love & Luck, and Love & Olives. When she isn't writing girl abroad stories, Jenna can be found chasing her children or making elaborate messes in the kitchen. She lives in Salt Lake City, Utah, with her husband and two young children. Visit her online at JennaEvansWelch.com." (Bio taken from publisher's website)
Find Jenna Evans Welch on the following platforms:
---
"What was lost, now is found.
Bring it to me, safe and sound.
As I will it, so mote it be.
Under moon, and over sea."
Willow desperately wishes to find her place in the world. The only way she believes she'll find it is by traveling the world. But one day, her Mom, who is emotionally neglectful, suddenly whisks her away to Salem, Massachusetts to wrap up the estate affairs of a mysterious aunt that Willow didn't know existed. It's in Salem that Willow discovers a family history that she was completely unaware of. Also finding their way to Salem is a boy named Mason who, after a long history of bouncing around foster homes, is transferred to the care of a woman who apparently knew his Mom. Desperate to find a way back to his Mom, the only comfort he has is his love of astronomy. It's by chance that the two teens meet, and through their mutual feelings of loss, they go on a mission to uncover the secrets of Willow's Mom's family history and to find a way to break an apparent curse that has plagued the women in her family for generations. Despite the teens' powerful connection with one another, will their bond be strong enough to help them find what they've been missing in their lives? Or will they themselves become lost in the process?
There are so many things to love about Jenna Evan Welch's Spells for Lost Things. From the plot to the characters, even the writing itself, there wasn't a single flaw that I could name for this novel. I was surprised to see that Spells for Lost Things tackled so many themes besides romance. It handled topics of parental strife, feelings of displacement and loss, the struggles of moving on, and so much more. So many heavy topics were explored in this novel, yet they all flowed so seamlessly with one another. What I particularly loved about the structure of this novel was that it was written from alternate points of view between Willow and Mason. Although initially disorienting, this writing technique allowed Welch to explore a variety of ways that the characters felt lost in their lives. Although the blurb of the book focuses on Willow's story, I love how Mason wasn't defined by Willow or written just to further Willow's storyline. Mason had his own desires, his own pains, his own experiences, and it made his story just as important as Willow's. Even though Mason and Willow's budding romance was adorable to read, I love how it isn't necessarily the focus of the story.
Welch also does a fascinating job immersing the readers into the setting of Salem. Her descriptive language helps paint a brilliant visual, especially for those who may have only heard of Salem, Massachusetts from books or shows. My favorite parts in the book were when she'd describe the natural surroundings of the environment in such explicit detail. Welch also did a magnificent job adding depth to the background characters, making them more than tools to further the main characters' storyline. I'd highly recommend this book to anyone who loves stories with character growth, empowering messages, a touch of teen romance, and a bit of magic. Plus, there is a satisfying twist at the end.

Spell for Lost Things releases on September 27th, 2022.
(Pine Reads Review would like to thank NetGalley for sending us an ARC in exchange for an honest review. Any quotes are taken from an advanced copy and may be subject to change upon final publication.)
PRR Writer, Tereza Rascon
---