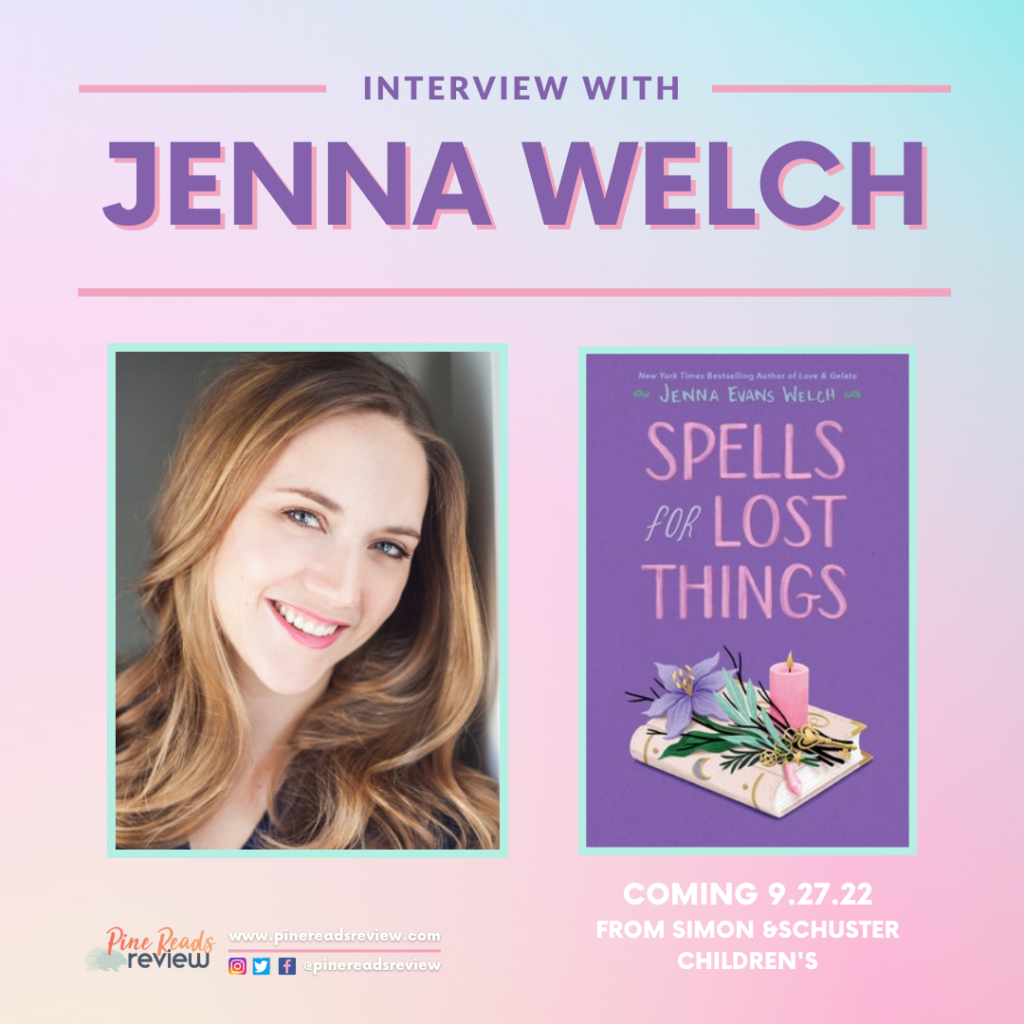 Spell for Lost Things by Jenna Evans Welch
Coming September 27th, 2022, from Simon and Schuster Children's Publishing; 368 pages
About the Author: Jenna Evans Welch was the kind of insatiable child reader who had no choice but to grow up to become a writer. She is the New York Times bestselling author of Love & Gelato, Love & Luck, and Love & Olives. When she isn't writing girl abroad stories, Jenna can be found chasing her children or making elaborate messes in the kitchen. She lives in Salt Lake City, Utah, with her husband and two young children. Visit her online at JennaEvansWelch.com. (Bio taken from publisher's website).
Find Jenna Evans Welch on the following platforms:
---
A special thank you to Jenna Evans Welch for the following interview! If you're interested in our first interview with her, check it out here. Don't miss Jenna's novels, Love & Gelato, Love & Olives, and the upcoming Spells for Lost Things (releasing on September 27, 2022)! Also, make sure to read our review of Spells for Lost Things here!
---
Sophie Applin (SA): Your previous novels (such as the best seller Love & Gelato) often find characters in a foreign country. Spells for Lost Things takes place in Salem, Massachusetts. Why did Salem capture your interest for your most recent novel?
Jenna Evans Welch (JEW): I can't seem to keep my love for travel out of my novels! I had originally started with another location as the setting for SPELLS novel, but the more I learned about modern-day witchcraft and my characters, the more I knew I needed to lean in to a witchy setting. Salem was a natural choice for many reasons. I am fascinated by the fact that while there were no witches in Salem during the Salem Witch Trials (only victims), that today it has become a gathering place where people feel free to explore witchcraft.
SA: Spells for Lost Things has a delightful bit of magic that lights up the story. How did you approach writing the magic for this book?
JEW: I am a big believer in magic in everyday life, and I wanted this book to be as realistic as possible while still exploring the wonderful synchronicities happening all around us. I think we are so much more powerful than we give ourselves credit for!
SA: Spells for Lost Things has a delightful bit of magic that lights up the story. How did you approach writing the magic for this book?
JEW: In my early twenties I worked for an organization that supported teens aging out of the foster care system, so they are a population that has always been on my mind—the challenges they face are enormous, but the teens I met were resilient, funny, brave and curious. I had some very important help from a sensitivity reader as well as a friend who has fostered kids for many years.
SA: Mason and Willow have a bit of a romance, but their relationship is mostly grounded in friendship. Why was emphasizing their friendship important for you to do in this novel?
JEW: I think a strong friendship should be the basis for all romantic relationships, and I wanted to show them growing together naturally.
SA: Your books frequently show teenagers dealing with very adult conflicts, and Spells for Lost Things is no different. Mason and Willow deal with divorce, death, and issues with finding family. How do you approach writing realistic conflict in teen novels?
JEW: My goal is always to write novels that feel light-hearted and fun, while still addressing the very real issues teenagers face. Being a teen (and human in general) is such a mixture of experiences, and I work hard to present joy alongside struggle. They definitely coexist in the real world, and I believe they should on the page.
SA: Any future projects we should keep an eye out for?
JEW: Not yet, but of course, I will keep readers updated online!
---
PRR Assistant Director, Sophie Applin