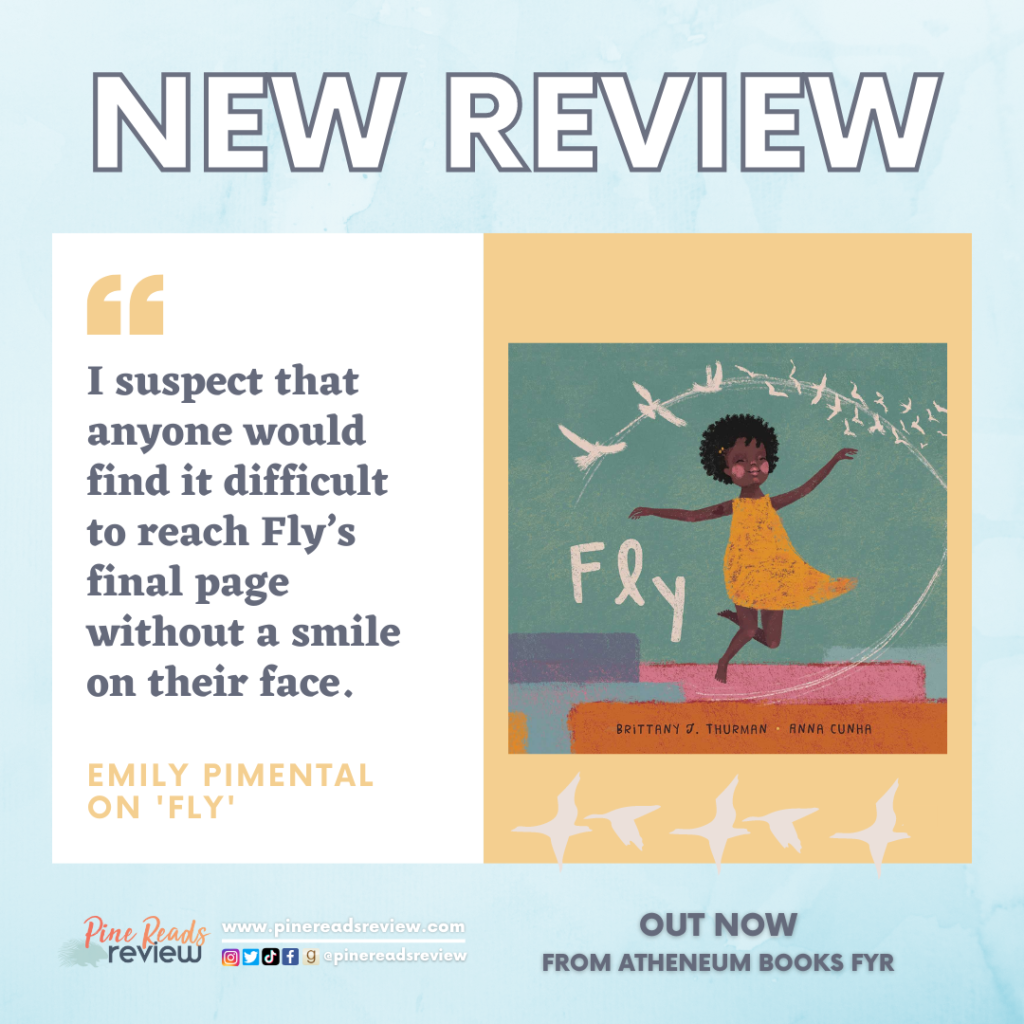 Fly written by Brittany J. Thurman and illustrated by Anna Cunha
Out Now from Atheneum Books for Young Readers; 40 pages
About the Author: "Brittany J. Thurman is the author of Fly, from Caitlyn Dlouhy Books. Brittany holds an MFA in Dramatic Writing from Carnegie Mellon University. During her graduate years at Carnegie Mellon University, Brittany's plays were produced in Aspen, Colorado, and on New York's City's Theatre Row. She is a graduate of Kingston University in London, England, where she spent several years studying theater. She is a former children's specialist and museum educator, where she advocated for early literacy, reading hundreds of stories to thousands of children across Pittsburgh, Pennsylvania. Brittany currently lives in her hometown of Louisville, Kentucky, where she holds tight to her elders, her roots, and her childhood home. When Brittany isn't writing, you can catch her biking along Louisville's waterfront, safely travelling, and spending plenty of time with her family." (Bio taken from the Simon and Schuster website)
Find Brittany J. Thurman on the following platforms:
About the Illustrator: "Anna Cunha is a Brazilian illustrator, living and working in Belo Horizonte. She graduated with a degree in fine arts from Universidade do Estado de Minas Gerais and got a graduate degree in illustration from EINA Universitat Autònoma de Barcelona. She has illustrated more than twenty books for Brazilian and foreign publishers and has won the Aeilij Prize for her work. She's also been nominated several times for the Jabuti Prize, the most prestigious Brazilian literature prize, been awarded with a special mention at the João-de-Barro Prize, and was one of the Brazilian entrants for the Biennial of Illustration Bratislava." (Bio taken from the Simon and Schuster website)
Find Anna Cunha on the following platforms:
---
"Africa has a birthmark in the shape of her name that's always shown her what she's made of."
From the moment Africa sees the poster advertising a double Dutch competition on Sunday (and learns what exactly a competition is), she is determined to take part and show the world what she's made of, just like her own double Dutching grandma used to do. Although her family is a little skeptical, since Africa has never actually double Dutched before, she is determined to succeed. When trying to learn on her own doesn't work out, Africa decides to ask each of her friends to show her how. While none of her friends know how to double Dutch, they each have a special skill of their own—dancing, stepping, clapping, singing, and even cartwheeling—and maybe, if Africa can manage to learn something from them all, she might be able to double Dutch, too.
Brittany J. Thurman's debut picture book is a wholesome and joyful story about a girl's journey through new experiences and the unwavering belief in herself that she carries with her through it all. I love the spirit of helpfulness and community that this book showcases. Even Africa's brother, who expressed some initial doubts about his sister's ability to learn a new skill on such short notice, can be seen holding the jump ropes for her as she tries to figure things out. Another high point is Thurman's use of balanced lines and repetition, which gives the story a sort of rhythm that coincides perfectly with Africa's quest to learn double Dutch. Anna Cunha's illustrations also add a dose of delight to this sweet story. Cunha utilizes a lovely blending effect that gives a softness to each page. In addition, the book's color scheme combines pastels and earth tones to create a mood that is simultaneously soothing and bright. I suspect that anyone would find it difficult to reach Fly's final page without a smile on their face.
PRR Writer, Emily Pimental
---