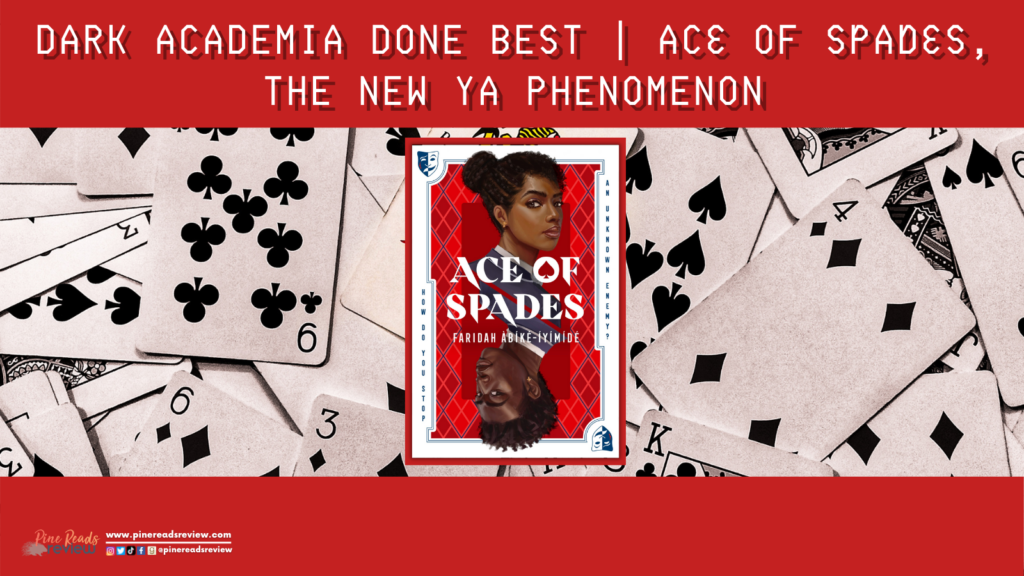 Spoiler Warning: This blog has spoilers for Ace of Spades by Faridah Àbíké-Íyímídé
"My head swims and I zone out, the shock making it hard to process it all. Terrell goes on about the school's founders, but I close my eyes, thinking about the money Ma put into that school just to get me through. All for nothing. We have struggled every day…and it won't mean a thing."
As of writing this blog, Ace of Spades has been on the New York Times Best Sellers List for over a month and is also an Indie Bestseller, and truly, Faridah Àbíké-Íyímídé deserves all of the accolades coming her way. I cannot stress this enough: THIS. BOOK. IS. PHENOMENAL. 
This book is without a doubt a five-star read, and pretty much everyone who reads it will agree. This is one of those books that will take over the Young Adult space as one of the biggest books to come out in this decade. People will surely want to comp it for years to come. 
Ace of Spades follows Chiamaka Adebayo, the girl at the top of her class both academically and socially, and Devon Richards, a musically inclined wallflower, as they deal with an anonymous bully targeting them. The story begins as the two are made senior class prefects at Niveus Academy, in a year that Chiamaka believes will be perfect. However, a person who goes by the pseudonym "Aces" quickly alters the trajectory of their plans and threatens to expose life-changing secrets. The two come together and aim to put a stop to the twisted and dangerous game forced upon them. 
I honestly believe this is one of the best books I have ever read because of its captivating leads, carefully crafted and purposeful world, and engaging commentary on intersectional identity when it comes to race, sexuality, class, and gender. By the time I reached the epilogue, I was in tears because I felt so deeply for the two protagonists of this story. As someone who has hated my experience in university because it is a predominately white, and frankly racist, space, this book connected to my frustrations and hopes, and because of this, I think I appreciate it all the more. It's terrifying, unflinching, addictive, and bold. 
The Gossip Girl parallels pulled out my old OTP for a Dan and Blair friendship and—wow—as much as I love enemies-to-lovers, I am a huge fan of enemies-to-best-friends. (Think Warren Peace and Will Stronghold from Sky High.) Devon and Chi became such a dynamic duo that I'm going to miss them. I must also add that for anyone watching the new Gossip Girl reboot, Monet is so much like Chiamaka in my opinion from her combined style and command, that if you like her so far, you'll love Chi. Additionally, the new Gossip Girl gives Ace of Spades vibes for the way that *SPOILER*, it's the white institution that is working against the main girls, who are Black, rather than idle gossip between teens. I feel like it's way less insidious than this book, but definitely something I hope they comment on and surely they can take note of Àbíké-Íyímídé's masterful writing.
Speaking of, for some reason I thought this was a series and after realizing it was not…I wanted to cry again—seriously—I love this book so much. I don't think I've ever been so spooked while reading, but I genuinely was audibly gasping at each new revelation. Personally, I fell into an emotional rut in the middle of reading this book and boy did that second and third part drag me out of the pit I was in. Even though it took me weeks to read this book, I think it's a book one could definitely finish in a day, maybe two, because it keeps you invested and on your toes. There's genuinely nothing like a good mystery to get someone flipping through pages and skipping sleep to theorize—which was very much me because the suspense was killing me. 
I avoided Dark Academia, like I had fantasy, for a long time because of the ways that it's overwhelmingly white, and frankly at this point in my life, I am tired of the exclusionary narratives. However, this type of book is what YA needs more of. I mean, what is more appealing than two queer icons overthrowing and literally burning down a white supremacist society within their institution? It's amazing. Chiamaka is a fierce star and Devon is a beam of light and together they brought so much power and nuance to something I had written off. The fact that they are both dark skinned was also incredibly important to me because of the lack of dark skinned female representation across media (as well as with boys), and Black boys are typically only given one story to tell. This was refreshing for their representation but also saddening because their experiences are incredibly real and horrifying. I know there are sinister places like Niveus out there and it's disgusting to say the least. I think that readers of this book will read of Chi and Devon's solidarity with one another and hopefully be inspired to demolish the racist systems that be—because they are e v e r y w h e r e. 
I think what is great about this book is that it discusses the toll it takes on students who are made to feel "privileged" to be in a place like Niveus. The fact that it is a shared experience of so many that continuously work hard to prove themselves and then be reminded consistently that they don't 'belong' is frustrating, and I'm glad that this book, as others do as well, calls out gatekeeping in education. Things go beyond microaggressions and so-called jokes, and to see Devon and Chiamaka overcome that meant so much. Yes, they are fictional but they represent people like the author and people like myself who are brought to dark places because of the impact these things take. 
The bar is set high! This is an extremely promising and game-changing debut. I haven't read many thrillers, but now it is definitely one of my favorite types of stories to read. If you are a fan of Tiffany D. Jackson (who is my all-time favorite thriller author), you are going to love what Àbíké-Íyímídé has cooked up. She is already an idol of mine, and I am already ready to pre-order her next book!
Content Warnings for Ace of Spades: death, car accident (hit and run), racism, homophobia, mention of N word, fetishization, physical violence, drugs/drug trade, alcohol consumption, stalking, white supremacy
PRR Writer, Jackie Balbastro