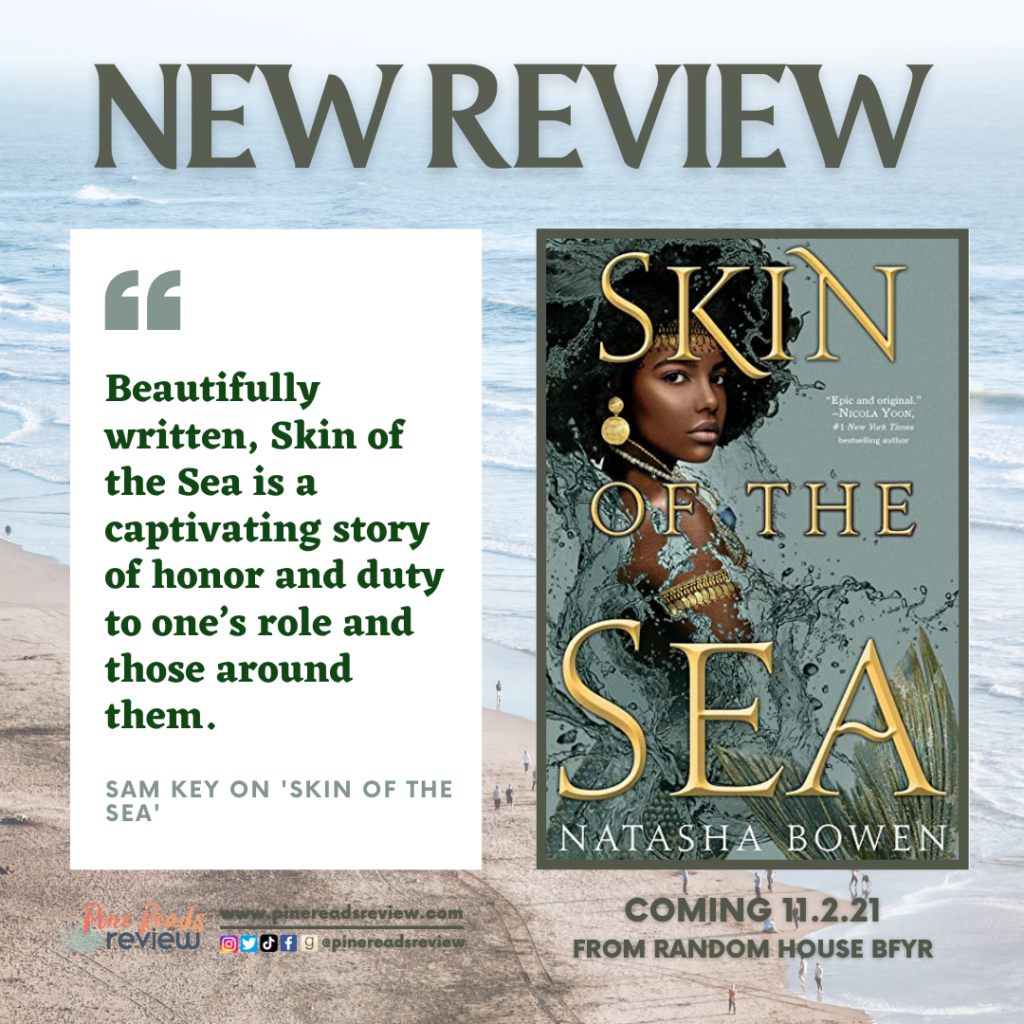 Skin of the Sea by Natasha Bowen
Coming November 2, 2021 from Random House Books for Young Readers; 336 pages
Content Warnings: Violence, enslavement, death, suicide, abuse, sexual harassment, severe injuries
About the Author: "Natasha Bowen is a writer, a teacher, and a mother of three children. She is of Nigerian and Welsh descent and lives in Cambridge, England, where she grew up. Natasha studied English and creative writing at Bath Spa University before moving to East London, where she taught for nearly ten years. Her debut book Skin of the Sea was inspired by her passion for mermaids and African history. She is obsessed with Japanese and German stationery and spends stupid amounts on notebooks, which she then features on her secret Instagram. When she's not writing, she's reading, watched over carefully by Milk and Honey, her cat and dog." (Bio taken from author's website.)
Find Natasha Bowen on the following platforms:
---
"But you are not a girl anymore… You are more than that. We are more than that. Gathering souls to bless is what we were created to do."
Simi serves the Gods as a Mami Wata, a mermaid whose duty is to collect the souls of those who lose their lives to the ocean and guide them to the Supreme Creator. She is to do nothing more and nothing less. When she accidentally saves a living boy, Kola, she breaks an age-old oath that threatens the safety of the Gods and herself. But Kola is hiding something from her, and there is more amiss than meets the eye. To obtain the objects she needs to restore balance, Simi must brave angry Gods and a world seemingly bent on stopping her. As Simi journeys closer to the truth of it all, she realizes much more is at stake than simply the fate of her people—so is the future of the world.
To say the least, Natasha Bowen has completely blown me away with her debut. Beautifully written, Skin of the Sea is a captivating story of honor and duty to one's role and those around them. Simi is a wonderful main character; her commitment to her duties as a Mami Wata is so admirable. She weighs what she is instructed to do versus what she feels morally called to do. Simi is compassionate, courageous, and incredibly smart. I absolutely adored the larger cast of characters as well. Kola, Yinka, Bem, and Issa are marvelously complex and interesting, and they all challenge each other to change and grow throughout the course of the novel. I also enjoyed the sparks between Simi and Kola—specifically how the romance felt so natural and did not overwhelm the plot. It was also incredible to see a cast that is celebrated and uplifted for their African features and heritage. It is high time the world had a strong, Black mermaid! Overall, Skin of the Sea is an incredible tale of Black Girl Magic and the sacrifices required to ensure a better world. I can only hope for a sequel so I get to see more of Simi and this amazing story!
(Pine Reads Review would like to thank NetGalley and the publisher for providing us with an ARC in exchange for an honest review. Any quotes are taken from an advanced copy and may be subject to change upon final publication.)
PRR Writer, Sam Key