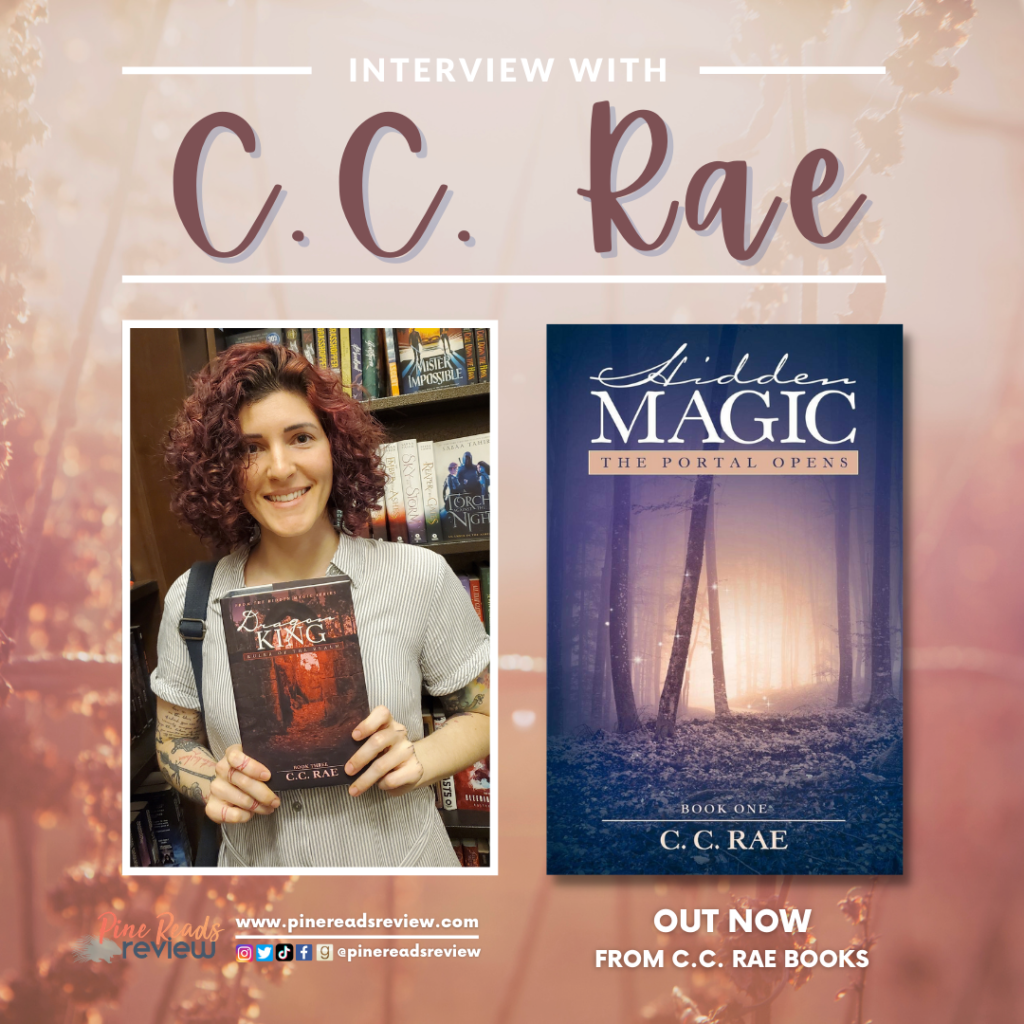 About the Author: "C.C. Rae lives in Arizona where she continues to work on the Hidden Magic Series, currently three books with three more books to come. She began the series while in high school, and attended the University of Arizona to study English Literature and Creative Writing with the desire to publish and connect with readers. Rae endeavors to use fantasy to address the challenges of women's right to autonomy, and the struggle to understand ourselves while embracing our identity in the face of oppression." (Bio and headshot provided by author.)
Find C.C. Rae on the following platforms:
---
A very special thank you to C.C. Rae for the following interview! Her YA fantasy series Hidden Magic is out now. Look out for new updates on her Webtoon Hidden Magic High School!
---
Taylor Quinn: I just want to start off by saying thank you so much for doing this interview. I really loved your characters and their adventures, and I am very excited to chat with you. To start things off the main setting of Hidden Magic: The Portal Opens is Yuma, Arizona. Nicole goes to Cibola High School just like you did! Growing up in Yuma, what inspired you to put this magical twist on your hometown and high school? 
C.C. Rae: That definitely stems from the desire to write your own adventure and your own kind of escape. I think a lot of us get numb to the mundane repetition of our lives. Growing up we are all forced into the same route because all kids have to go to school, and you look for your little escapes from this. In middle school I was really into this anime where this girl escaped into this other world, but as much as I love it, I realized it was problematic in other ways. I didn't really look up to this female character, so I wanted my own adventure and wanted to cater it to myself. And very, very, very early one Nicole was me. She was my little self insert going off on this adventure that I just needed to escape. I wanted to create this sort of magic that was hidden behind the curtain. It was right there, and it could whisk you away if you look for it or if you happen upon it. I wanted this town to feel a little more magical. I wanted to feel like it could happen here. As much as I love the forests in Seattle and the oceanside places, little desert places have their own magic. I wanted Yuma to feel like it had its own magic. I also love Tucson, so naturally the books go from Yuma to Tucson. It was just really important to me. 
TQ: In many ways I found Nicole to be a very selfless character. Even though her life was in chaos, and she wasn't really sure of anything that was going on around her, she was driven to protect her family. She was willing to risk everything to save the people she loved. What do you hope readers take away from following her through the story?
CC: I felt that when I was growing up I identified more with the male characters because the boys get to go off on their own adventures. The girls are not present or their only priority is to find love. I mean I love love and there is romance in my books, but I wanted the girl to be the one saving the day and facing challenges head-on.
I hope anyone sees Nicole as the example that struggling is fine, that having love and support in your life is more important than succeeding at something. For Nicole she has this family that she wants to protect, but they also want to protect her. It's this constant push and pull, which is what relationships are. I want people to value all the kinds of love in their lives. My books have romance, yes, but it's also a testament to relying on other people and valuing all the different kinds of relationships in your life. Nicole and Raiden are important, but it's about the challenges that relationships face more than it is about them being in love. Everything that happens pulls on the relationship Nicole has with her family, too. She has to decide how much she wants them to be involved, and how afraid she is to endanger them, but yet realizing she needs them. It's a constant challenge to understand that we all are strong, but we also have moments where we need to allow ourselves to be weak and rely on others. 
TQ: Though Raiden and Nicole are the main characters we follow on this journey, we have so many side characters to adore! And they are all unique in their own ways. Where did you find the inspirations for them all?
CC: I drew a lot from my familial relationships for the relationships between Nicole and her brothers and Nicole and her dad. Their relationships are really similar to the relationships I share with my sisters and my dad. But as individuals, Nicole, Raiden and Gordan are each different distinct parts of myself. Nicole started as a self-insert, but at some point she grew into her own person. She retained the physical things I wanted to see in characters when I was growing up. She is my independent and my identity as a woman
Raiden is more like the embodiment of my anxiety. He is a seer, and the Sight for me was like a physical manifestation of what anxiety is. Constantly worrying about the future and what you can't control. He deals with PTSD of his own, but his gift of the Sight embodies my anxiety.
Gordan embodies my identity as an empath, and the struggles of feeling too much. It's draining, but it is a gift that allows him – allows me – to connect with people. He gets to be a lens to help the reader understand the characters, too. And the three of them form this friendship where they balance each other and bring a different perspective to seeing and understanding each other. 
TQ: Without sharing too many spoilers, I have to say I have a new OTP that includes a certain dragon after finishing the series! Your story contains so much representation. How important was this for you to include?
CC: It's incredibly important for me. Even as a cis-woman, I recognized at a very young age that we all want to see ourselves in stories. Our found family grows over the years, and you realize how magical and complex the people in your life truly are, and they deserve to be seen and validated just as much as you do. So this story started as a representation of me, but it grew into being a representation for the other people in my life that I love. My characters grew and developed on their own. I didn't necessarily see the relationship between some characters forming the way it did. They were just who they were, and it was as simple as that. 
TQ: On the back of Hidden Magic: The Portal Opens, you said you have been working on this series since you were 14! What's your outlining, writing, and revising process like? How did it feel to finally see your stories published as a book? 
CC: I do not recommend anyone write a series the way I wrote Hidden Magic! I did not outline, and it was utterly chaotic. As a 14 year-old, I was just writing a story. It wasn't originally meant to be a book or a book series, but it grew and it got more complex. In telling a friend about what I thought could happen after that story was finished, I realized "WAIT! There is a third book!" They just kept growing and developing on their own. But in that process of the story growing, my skills were growing, too, so my writing at age twenty was much better than it was at fourteen. I had read more and learned more about the craft. I think the biggest thing about writing is that you learn what you like and what you don't and that grows as you grow, so revising is a fluctuating process. With that being said though at some point you have to realize like your first book will always be your first book. We are always going to keep growing and getting better, so it is natural to go back and edit, but you have to accept it for what it is and move forward!
TQ: In the process of publishing your books, you changed publishing routes. What was that transition like?
CC: It wasn't that difficult because I was able to use the exact same printer. I left the self-publisher and went into doing it myself. The biggest challenge was learning how to format the books myself. I've always had this "do it yourself" attitude, so I was determined to learn it and figure it out, and my dad was super supportive about it, too. So while it was frustrating, it was a relief to have total creative control over my books! 
TQ: If I am correct, you still have three more books in this series. What can you share about those?
CC: I have plans for a prequel about Gordan, which will require a lot of research on my part. I love rooting fantasy into history, and I love doing research and getting to jump into history and folklore because I get to stitch all of these cultures and stories together. 
The other two books come after this trilogy and are related to Nicole and Raiden, but they aren't the main characters anymore necessarily. We get to explore the reincarnations of the fera and see what happens when the two worlds come back together. It's hinted at in the books that you can't keep the two natural worlds split forever, so we get to explore what happens to our world when magic comes barreling back in.
TQ: You started a Webtoon that is like an AU version of the HIdden Magic series title Hidden Magic High School. Where did you get inspiration to start this series and could you summarize it for those who may not be familiar with that platform?
CC: I decided eventually that it would be a fun project to try. I've grown very attached to these characters, and after finishing the third book, I felt very sad to part ways with them. I've always been an artist, and I really wanted to get back to that. I had to decide if I wanted to do the books purely as themselves or if I wanted to do something a little bit different. I was teaching at Cibola at the time, so it was really fun to explore the idea of how my characters would deal with being in this world. So it's a high school alternate universe, but they are still the same people. 
I didn't want to lose the magic, so the catalyst of the story is that Gordan ends up trapped here. He's isolated here and that sets off a spiraling change of events in the other realm because he is no longer there. Nicole is the fera and Raiden is still a Seer, but it's their journey through high school and dealing with mental health. Magic is stirring, and these characters have to navigate how hard it is to be a teenager and navigate high school.
TQ: One of my favorite connections between the books and the Webtoon is Caeruleus and Raiden's friendship. In the Webtoon we watch it form from the beginning, but in the books we watch it rekindle. How did this feel different to write? What did you enjoy about writing them from this perspective?
CC: One of the saddest things about the books is that you don't really get the substance of their relationship as children because it is all in the past. In the comic I get to explore how they became best friends, and even though it's developing as they are teenagers the story is still the same as the backstory for the books. We know how important Raiden and his mother were to Caeruleus in the books, so it's fun getting to show how they become his family, essentially. The comic is so important for them and their relationship because I get to explore this relationship.
I really wanted the story to be different enough that people who read the books would still be interested in reading the comics, and vice versa. It offers two different experiences without being redundant. It's tempting to draw the iconic scenes from the book (which is on my to-do list for my patreon page!) but I really wanted to explore and study these characters in a different light.
TQ: Are we going to see other characters like Fen, Asi, Keren, Gwyn, and Andrus in the Webtoon?
CC: YES! I don't want to spoil anything, but there will be another Webtoon series after Hidden Magic High School where we will get to see more familiar faces from the books!
TQ: A quick round of rapid-fire questions! When did you know that you wanted to be a writer?
CC: Absolutely, the first time I got to the end of Hidden Magic as a sophomore. I finished and realized "Woah! I have a book! I wanna do that." And what was the point in writing it if I wasn't going to share it? That was the first time I realized that it was what I wanted to do. From that point on I reached out to my English teachers and asked about publishing, and I taught myself about the publishing industry, and after all of that my dad really encouraged me onto the self-publishing path. In the end you'll find people who will love your story, and that is all that matters. 
TQ: If you could describe Nicole, Raiden, Gordon, and Mitch each with one word, what would they be?
CC: That's hard! Nicole's one word would be tenacity. She is just so determined even when she is broken. She finds a way to do what she needs to do for the people who need her. 
Raiden's word would be loyalty. He is this pure, loving, loyal person. He meets Nicole and is just like "I'm going to be here for you." He's my sweet, soft boy!
Gordon's word would be compassion. He's our empath, and he truly understands people – even those who don't want to be understood. He can control himself, which is something you have to learn as an empath. He is a compassionate person and that's what matters.
Mitch is just pure hilarity. He definitely is the funny brother. He acts like he doesn't take anything serious. He really is just joy and hilarity. He was much needed.
TQ: What is the best writing advice you have received? What about the worst writing advice?
CC: The best advice would be to just write what you know. For me it has really morphed into writing what you love. If you love it and you enjoy it, then other people are likely to enjoy it as well. You have to love it if you are going to put that much time and effort into writing it. 
The worst writing advice would be the concept that you can force yourself to write. Yes, write often, but, personally, I find that when I have writer's block, it never helps to force anything out. I do not write well if I force it. If I have writer's block, I'll move to a different creative outlet. Sometimes those other outlets will inspire you and help you get out of that funk. That is just me though, everyone is different!
TQ: Lastly, what writing advice would you like to share with any aspiring authors who wish to create their own magic?
CC: You have to know what matters to you and what you want to share. I've spent many hours at bookstores doing book signing, and I've heard so many people who say "I want to write a book, but I don't know what I want to write." It's such an odd thing for me to hear that the desire to write a book comes before even knowing what you want to write. Writing a book is a difficult thing to do if you don't have a story you want to tell. Just sit down and ask yourself what matters to you. It'll be easier to write if it is something that matters to you. For me it matters to talk about what it means to be a woman or finding and embracing your own identity. If you have what matters to you, you'll find a way to say it. 
PRR Writer and Editor, Taylor Quinn
---
Pick up a copy of C.C. Rae's books here, or her Webtoon can be found here!