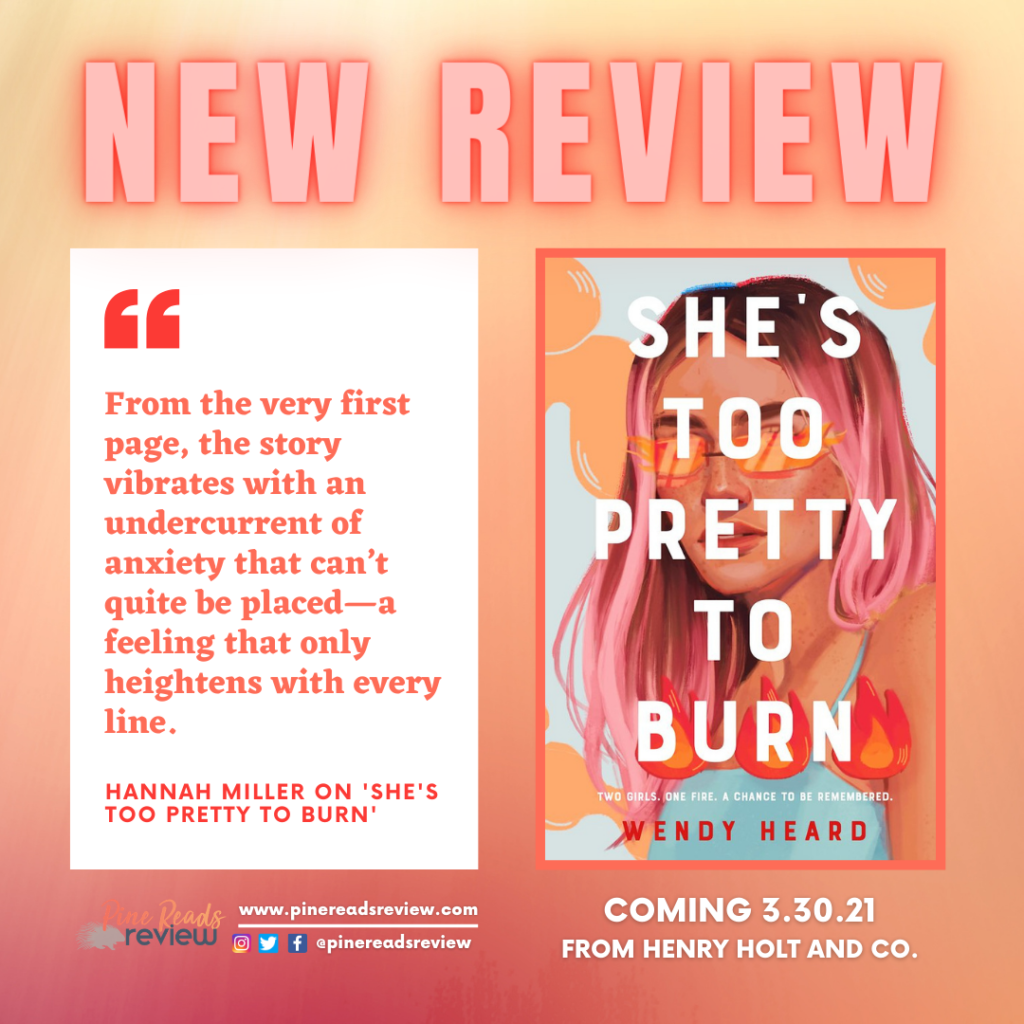 She's Too Pretty to Burn by Wendy Heard
Henry Holt and Co.; Releases March 30, 2021; 336 pages
Content Warning: neglectful parent, drowning, fire, emotional abuse, kidnapping, violence, murder/death, dubious consent, animal death, social anxiety
Author bio: "Wendy Heard is the author of two adult thrillers: The Kill Club and Hunting Annabelle, which Kirkus Reviews praised as 'a diabolically plotted creep show from a writer to watch.' She's Too Pretty To Burn, which Kirkus called 'a wild and satisfying romp' in a starred review, marks her YA debut. She is a member of Sisters in Crime, International Thriller Writers, and Mystery Writers of America, and is a contributor at Crimereads.com and Writer's Digest. Wendy lives in Los Angeles, California." (Bio taken from the author's website.)
Website: https://www.wendyheard.com/
Twitter: @wendydheard
Instagram: @wendydheard
---
"I lifted the camera, and I took her picture. That was it. That was the beginning."
It's summer in San Diego, and when reserved star-swimmer Mick meets charismatic photographer Veronica at a party, sparks fly as an intense and intangible connection forms between them. But when Mick reluctantly allows Veronica to snap her photo (something she's terrified of doing), this seemingly innocuous moment sets a perilous series of events in motion that will change both girls' lives forever. Accompanied by Veronica's artsy and insatiable best friend Nico, they soon find themselves spiraling headlong into an electric romance tainted by obsession, dangerous twists, and even murder.
Wendy Heard's debut YA is a heart-pounding, sapphic thriller loosely inspired by Oscar Wilde's seminal novel, The Picture of Dorian Gray. As is true in the original work, She's Too Pretty to Burn explores the intersections of art and power, desire and obsession. The complex dynamic between Mick, Veronica, and Nico bears striking resemblance to that between Dorian, Basil, and Henry in that both trios find themselves inextricably drawn to one another, yet their shared fate is one twinged with a looming sense of doom. With each succeeding chapter—alternating between the perspectives of Mick, Veronica, and Nico—Heard turns up the heat through sharp prose and slow-burn tension. From the very first page, the story vibrates with an undercurrent of anxiety that can't quite be placed—a feeling that only heightens with every line. There's no mistaking the aptness of the title, as the book seems to revel in the simultaneously destructive and intoxicating nature of our collective search for beauty—to capture it, and to control it. One thing's for sure: don't miss this thrilling story!
She's Too Pretty To Burn releases March 30, 2021.
(Pine Reads Review would like to thank NetGalley and the publisher for providing us with an ARC in exchange for an honest review. Any quotes are taken from an advanced copy and may be subject to change upon final publication.)
PRR Assistant Director, Hannah Miller