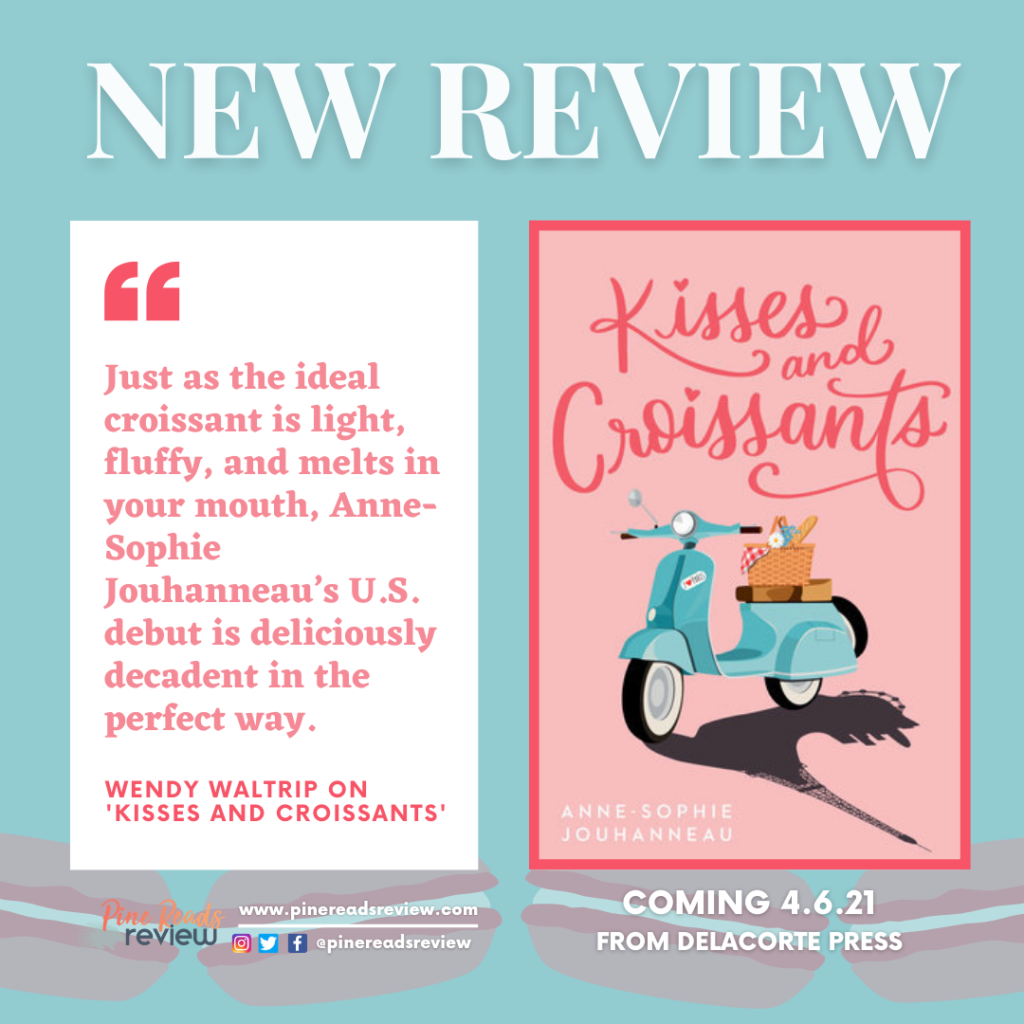 Kisses and Croissants by Anne-Sophie Jouhanneau
Delacorte Press; Releases April 6, 2021; 320 pages
Content Warnings: Divorce, car accident, underage drinking
About the Author: "Anne-Sophie Jouhanneau is a bilingual French author of young adult fiction and nonfiction. Her books have been translated into seven languages. Kisses and Croissants (Delacorte Press, 2021) is her U.S. debut. After graduating university in France, she moved to Amsterdam to begin a career in advertising. She then spent a few years in Melbourne before settling in New York City, where she lives with her Australian husband and their American cat." (Bio taken from the author's website.)
Website: https://www.asjouhanneau.com
Twitter: @asjouhanneau
Instagram: @asjouhanneau
---
"Since I've been in Paris, nothing has turned out how I imagined it would. I spent months dreaming of this summer here, but I could never have pictured anything like this."
Seventeen-year-old Mia is going to have the best summer of her life. At least, she hopes so. She's been accepted into a prestigious Parisian ballet summer program, but with only six weeks in Paris, Mia's dreams are fighting for precedence. Dream #1: Earn an audition with one of the world's best ballet companies to set up a future career as a professional dancer. Dream #2: Solve a ballet-centered family mystery. Dream #3: Fall in love, in the city of love. With time running out, Mia must decide where her heart truly lies: with the charming French boy she may just be falling for, or with her passion for ballet that could lead to a brilliant career in the spotlight. Yet there's more to Paris than Mia first believes, and the key to unlocking all of her dreams may be even closer than she realizes.
Just as the ideal croissant is light, fluffy, and melts in your mouth, Anne-Sophie Jouhanneau's U.S. debut is deliciously decadent in the perfect way. Mia's passion for ballet shines through on every page, and I absolutely loved exploring one of my favorite cities at her side. Mia's not perfect (who is?), but her flaws make her realistic and the growth she experiences is both emotional and heartwarming. And speaking of heartwarming, sign me up for a sweet summer romance in the city of love! The romantic elements are flirty and fun, but also heartbreaking in the most genuine way. All of the characters are so developed and each go through their own journey of self-discovery. While Mia is our main tour guide for the story, I found myself also enjoying the time spent with her roommate, Audrey. Readers can identify with so many fantastic themes in this novel: love, passion, perseverance, family, and more. Kisses and Croissants is parfait for those who enjoy the magic of traveling, the desire to follow a dream, and the enchantment of falling in love.
Kisses and Croissants releases April 6, 2021.
(Pine Reads Review would like to thank NetGalley and the publisher for providing us with an ARC in exchange for an honest review. Any quotes are taken from an advanced copy and may be subject to change upon final publication.)
PRR Assistant Director, Wendy Waltrip