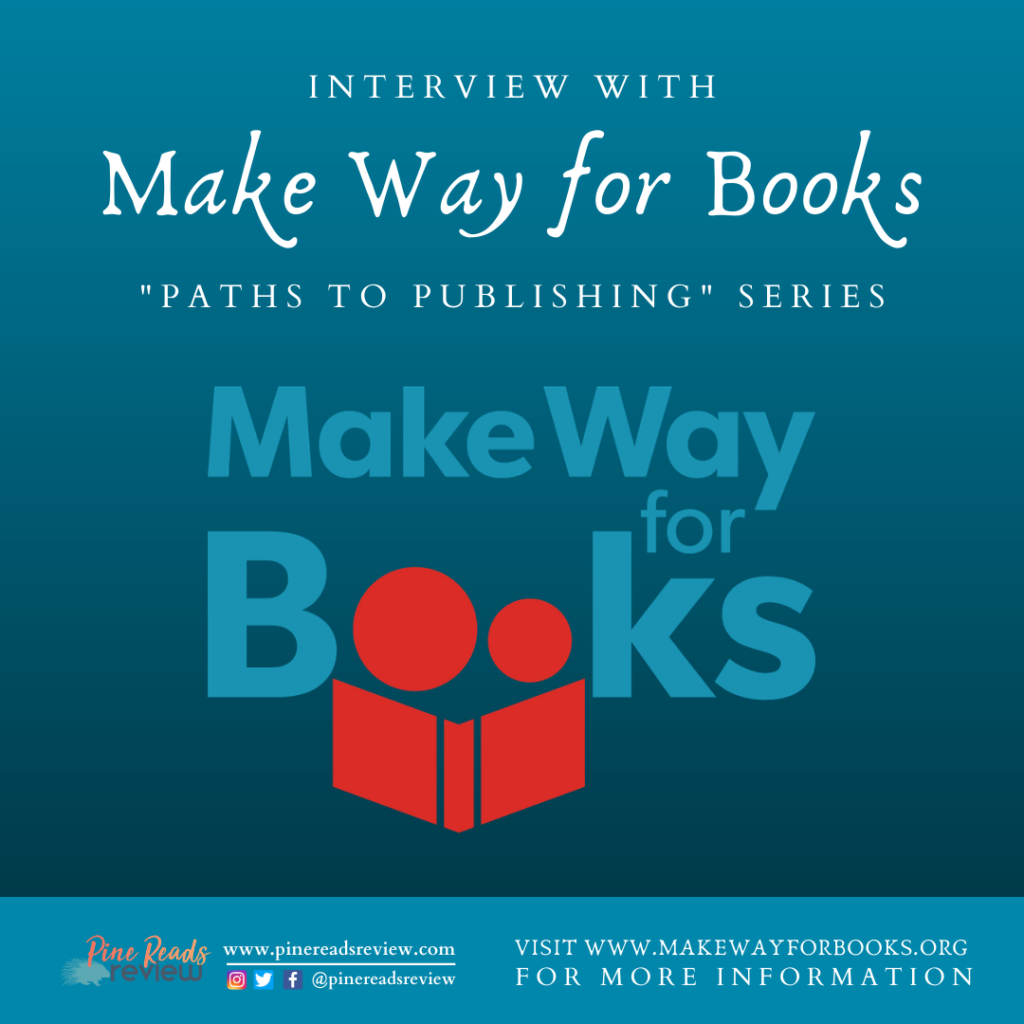 About Make Way for Books: Make Way for Books is an early literacy nonprofit that provides proven programs, services, and resources to 30,000 young children, parents, and educators throughout southern Arizona each year. Our mission is to give all children the chance to read and succeed. We provide proven programs to ensure our youngest children discover the joy of books, develop critical emergent literacy and language skills, and start school ready. We reach young children in the critical birth to 5 years to build a foundation for all future learning. Our theory of change is that we get to every caregiver in a child's life and ensure that, that adult understands their incredible power to impact their child's literacy, love of learning, and success. (MWFB "About Us")
---
"Paths to Publishing" is a new interview mini-series from Pine Reads Review. Join Hannah Miller and Wendy Waltrip as they chat with industry professionals from all backgrounds about the various ways to break into the literary world. Keep an eye on our website and social media for more updates on this ambitious project! Our next interview is with ABLA Associate Agent, Paige Terlip, whose video will be posted on Friday, April 9th.
---
A huge thank you to local early literacy nonprofit, Make Way for Books, for participating in the following interview. In the first part of the video, the Pine Reads team sits down with MWFB Digital Director, Fernando González, and MWFB App Distribution Specialist, Jose Ledesma, for a chat on the organization's mission, their digital app, reading recommendations, and more! In the second half, Hannah Miller speaks with Cheyenne Lopex, former PRR intern and current MWFB App Distribution Specialist, about advice for aspiring writers, running a submissions inbox, and various other topics. Find MWFB on Twitter (@MWFBaz), Instagram (@makewayforbooks), and Facebook (@makewayforbooksaz).
Don't forget to download the MWFB digital app for free on both Apple and Android devices. The app has tons of amazing features like activities, videos, and most importantly, Read Now books in both English and Spanish that you can read anywhere at any time.
Additionally, for the month of March, MWFB is accepting picture book submissions for possible publication on their app. For more information, visit their submissions web page here.
---
About Fernando González: Fernando has a bachelor's in Psychology and Native American studies and has extensive experience in Montessori education, early education, and early literacy. Fernando is passionate about teaching everything from languages to martial arts. Formerly a Family Literacy Specialist, Fernando now directs the development and distribution of the Make Way for Books App with the goal of using technology to create equitable access to books for families everywhere.
About Jose Ledesma: Jose became acquainted with Make Way for Books as a content contributor while studying at the University of Arizona. He is completing his undergraduate degree and aspires to continue his education in a Creative Writing MFA program. Jose's fondest memories as a child were drawing, reading, and being read to, and it is those memories that drive him now toward making literature available to children everywhere. Jose loves writing fiction, hitting the gym, playing with his rambunctious nephew, and having adventures with his partner.
About Cheyenne Lopex: Cheyenne graduated with her bachelor's degree in 2019 from the University of Arizona. She spent most of her free time as an undergraduate volunteering at the Children's Diamond Center where she shared her favorite books, arts and crafts, and science experiments with families. Cheyenne believes that books and stories contain a magic that cannot be found anywhere else, and she's excited to be a part of the Make Way for Books team and help spread that magic to kids.
(All bios are taken from the MWFB website.)
PRR Assistant Directors, Hannah Miller and Wendy Waltrip