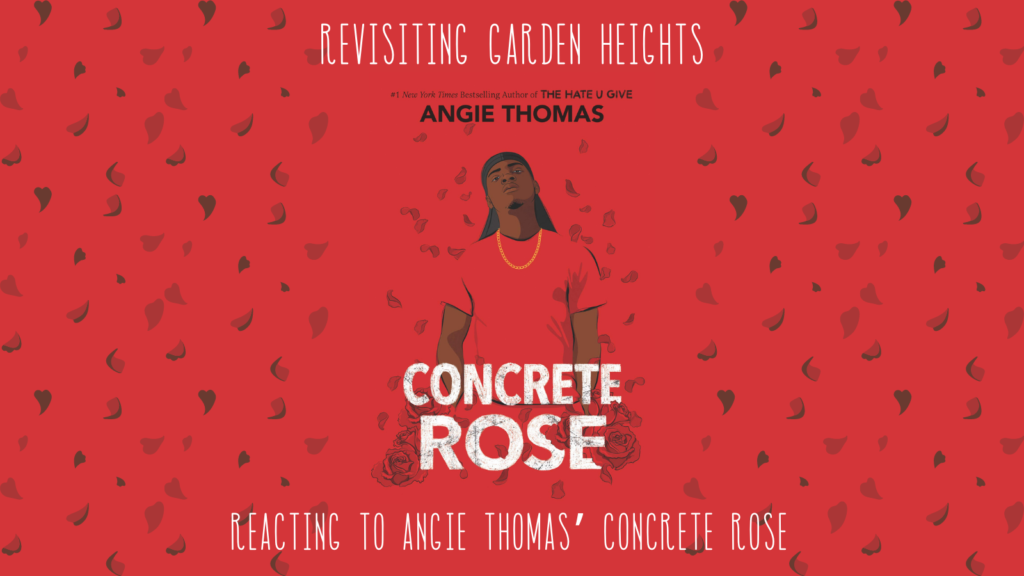 "I like to be reminded that beauty can come from much of nothing." — Concrete Rose by Angie Thomas
Personally, I adore prequels, usually because it feels like reuniting with characters I grew up with—which in the case of Angie Thomas, I kind of did. I was a senior in high school when I first read The Hate U Give, and it changed the course of my life forever. Now I'm a senior in college and Thomas' new book continues to inspire my dreams of becoming a published author. After devouring Concrete Rose, it's safe to say that I officially have a new favorite Angie Thomas novel.
First of all, we have to talk about the cover because how many books out there feature a Black teen boy in a durag front-and-center? Secondly, since I loved Maverick and Lisa in The Hate U Give—especially their genuine love for one another, their community, and their kids—I was extremely happy to get a prequel featuring their lives as teens. Revolutionary in its own right, Concrete Rose showcases many themes that are so rarely explored in young adult literature, particularly teen fatherhood and postpartum.
Maverick Malcolm Carter is only seventeen, and it's as if life has come to a halt. Ever since his father was incarcerated when he was eight years old, Mav has been expected to follow in his footsteps and take on gang life. Everyone in Garden Heights knows of Big Don, a notable King Lord, but Maverick isn't sure he wants to be known in the same way as his father. Unfortunately, with his mother, Faye, holding down two jobs just to make ends meet, Maverick is forced to help provide for his family the only way he can: by dealing until he can get out of the game. But with one baby already and another on the way, Mav finds himself torn between going straight and earning good money for those who depend on him.
Maverick is just a high school kid trying to finish school, do good by his mother, and maintain his relationship with his girlfriend Lisa, but his life is rocked by multiple events that would make anyone want to give up. His story was always awe-inspiring when read from the perspective of his daughter Starr, but to read about all his teen trials directly deepened his already complex and heart-rending journey. The support system that Maverick has is incredible, but his efforts to bloom outside of the confines of gang life and the expectations placed on Black boys are gut-wrenching.
In a similar vein, what I love most about Thomas' books is the celebration of community. Garden Heights may not be a real place, but it feels like home. (I mean, honestly, I'm still yearning to taste Ms. Rosalie's freeze cups.) I can relate so much of Mav's experiences in his neighborhood to my own, and it is beyond reassuring that I don't need to be ashamed of situations, people, or even poverty.
Concrete Rose is about family, grief, love, perseverance, coming-of-age, bravery, growth, and just real life. Thomas infuses so much heart and humor into this story, and as such a huge fan of the Garden Heights books, it feels bittersweet to end at the beginning. I hope we eventually return back to the Garden, but for now we can all wait in high anticipation for the upcoming adaptation of On The Come Up as well as Thomas' story in the forthcoming anthology Blackout (releasing June 22, 2021)!
So, if you're a fan of The Hate U Give, please pick this book up. It features so many callbacks and characters we need more of. Thomas brought so much to literature when she published her first novel, and you know what, she's doing it again with this one. She's given us a teen Maverick who represents so many boys who are forced into a life they never dreamed of living. Despite any and all mistakes he's made, Maverick is still a beacon of hope, and I love his character for it. From the intimate moments between Maverick and Lisa to the overall balance of portraying trauma and heartwarming moments, this book is a must-read!
Trigger Warnings for Concrete Rose: Gun violence, gang violence, mentions of drive-by shootings, drug dealing, murder, drug use, postpartum depression, incarcerated family
PRR Writer, Jackie Balbastro