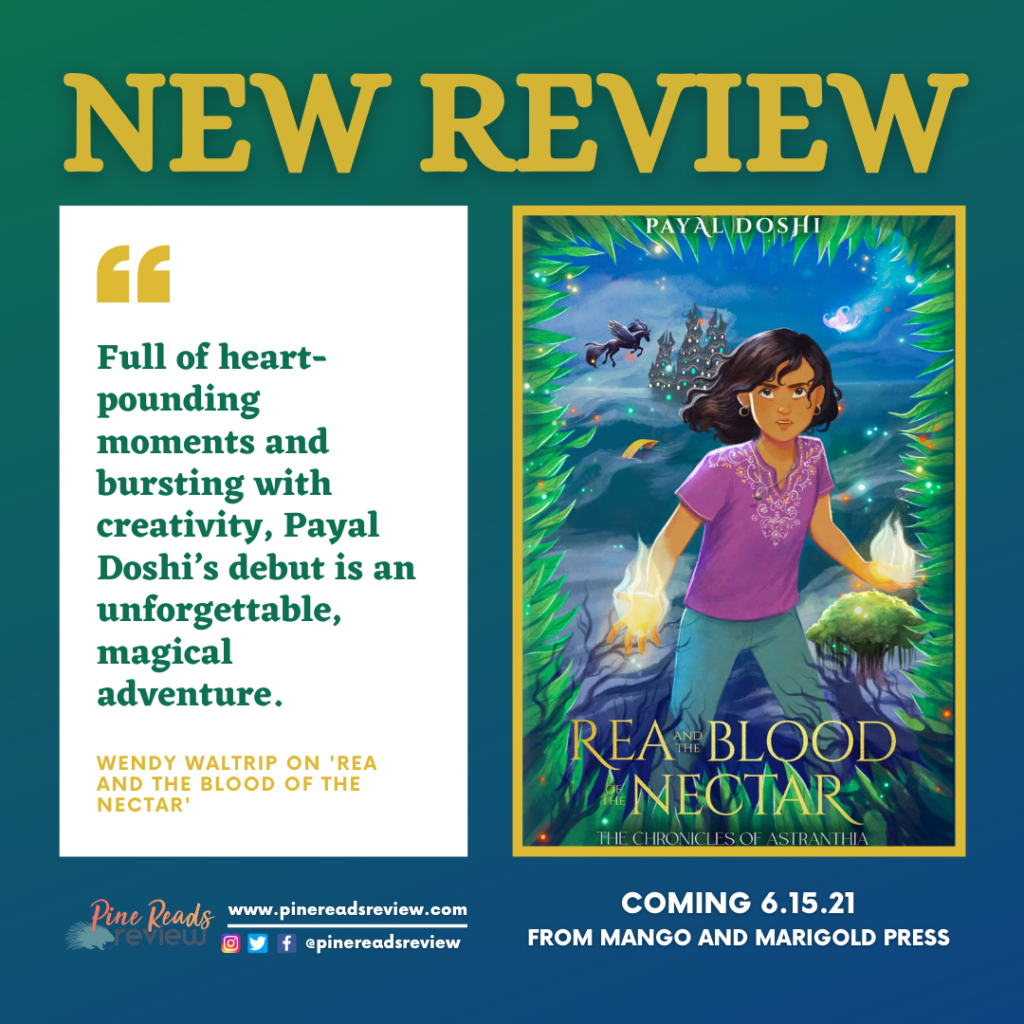 Rea and the Blood of the Nectar by Payal Doshi
Coming June 15, 2021 from Mango and Marigold Press; 350 pages
Content Warnings: Blood, attempted suicide, death of a loved one, violence, some intense action scenes, murder
About the Author: "Payal Doshi has a Masters in Creative Writing (Fiction) from The New School, New York. Having lived in the UK and US, she noticed a lack of Indian protagonists in global children's fiction and one day wrote the opening paragraph to what would become her first children's novel. She was born and raised in Mumbai, India, and currently resides in Minneapolis, Minnesota with her husband and two-year-old daughter. When she isn't writing or spending time with her family, you can find her nose deep in a book with a cup of coffee or daydreaming of fantasy realms to send her characters off into. She loves the smell of old, yellowed books. Rea and the Blood of the Nectar, the first book in The Chronicles of Astranthia series is her debut middle grade novel." (Bio taken from the author's website.)
Find Payal Doshi on the following platforms:
---
"'The time is upon us now for our history to be rewritten.'"
On her twelfth birthday, all Rea Chettri wants is to beat her twin brother Rohan in a cricket match. But when she sneaks out to do just that at the midnight match, Rohan doesn't make it home. With Rohan nowhere to be found, her Amma acting like he's gone forever, and her grandmother behaving strangely, Rea has no choice but to turn to the practically ancient fortune-teller in their small town of Darjeeling, India. Following clues from the fortune-teller, Rea and her friend Leela accidentally end up portaling into the otherworldly realm of Astranthia, a land full of strange inhabitants like paries, serpent-lilies, and banshees. They discover that Rohan has been captured to complete a magical rite and that Rea herself has magic…except, she has no clue how to use it. With time running out and the odds stacked against them, Rea and her friends must uncover long-buried secrets and face a ruthless enemy if they want to save Rohan and the land of Astranthia. Otherwise, they may not make it out of Astranthia alive.
Full of heart-pounding moments and bursting with creativity, Payal Doshi's debut is an unforgettable, magical adventure. Rea is a brilliant character and the oh-so-real heroine we all need. With her courage and stubborn pride, she reminded me of myself at twelve…well, myself if I'd had to go on a death-defying adventure to save my nonexistent twin brother. Readers will be able to identify with themes of family complexities, discovering oneself, and fighting for what's right—but maybe without the magic. And speaking of the magic, I absolutely loved learning about each otherworldly creature and the fascinating magic system. Both settings, Darjeeling and Astranthia, bring the story to life so vividly that it seems as if the pages become a window to another world. Fans of races against the clock and magical middle-grade adventures will enjoy this sensational story.
Rea and the Blood of the Nectar releases June 15, 2021.
(Pine Reads Review would like to thank NetGalley and the publisher for sending us an ARC in exchange for an honest review. Any quotes are taken from an advanced copy and may be subject to change upon final publication.)
PRR Assistant Director, Wendy Waltrip