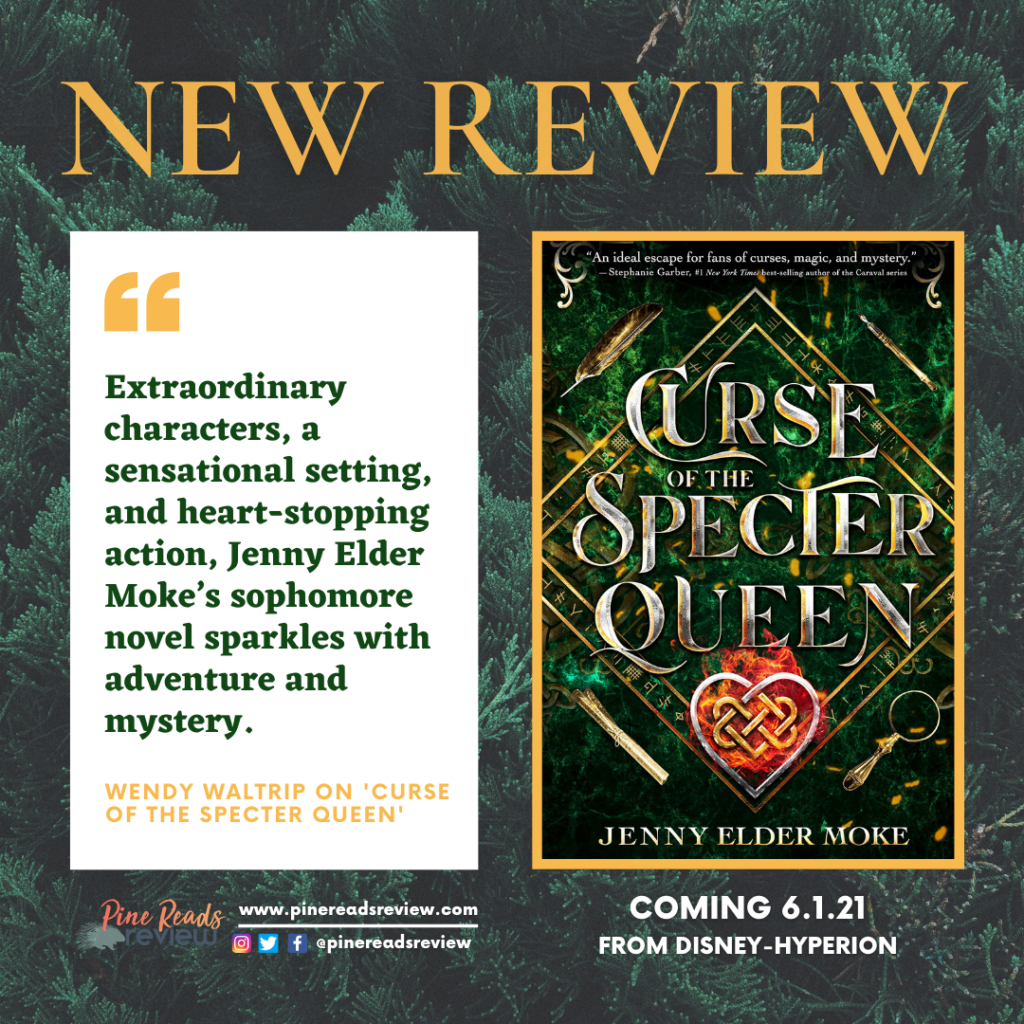 Curse of the Specter Queen by Jenny Elder Moke
Coming June 1, 2021 from Disney-Hyperion; 352 pages
Content Warnings: Fire, sexism, some intense action sequences, some violence, murder, mentioned death of a loved one, human sacrifice, blood, possession
About the Author: "Jenny Elder Moke writes young adult fiction in an attempt to recapture the shining infinity of youth. Her debut novel, HOOD, released in 2020 and was a JLG Selection, a Mayor's Book Club selection, and received critical acclaim. Her new series kicks off in 2021 with CURSE OF THE SPECTER QUEEN. When she is not writing, she's gathering story ideas from her daily adventures with her two irredeemable rapscallions and honing her ninja skills as a black belt in Tae Kwon Do. Jenny lives in Denver, CO with her husband and two children." (Bio taken from the author's website.)
Find Jenny Elder Moke on the following platforms:
---
"She was not helpless, nor was she hopeless. She had knowledge and skills of her own. Skills she could use to help herself. To maybe even save the world."
When her father didn't return from the Great War, cipher-solver Samantha Knox set aside her childhood dreams of becoming a famous archeologist and withdrew to work in an antique bookstore. She's happy among her books, but everything changes when a mysterious diary arrives at the shop—along with two ruthless men intent on retrieving it. All of a sudden, Sam is thrust into a mystery full of ancient relics, spine-chilling rituals, and a vengeful goddess bent on the destruction of the world. To stop the unthinkable from happening, Sam, her best friend, and her childhood crush must embark on a high-stakes adventure into the wilds of Ireland, solve an intricate cipher, and undertake a treasure hunt before time runs out. Will Sam save the day with her ingenuity and wit? Or will the world collapse before she can?
With extraordinary characters, a sensational setting, and heart-stopping action, Jenny Elder Moke's sophomore novel sparkles with adventure and mystery. Pitched as a female-driven Indiana Jones escapade, it's clear that this will be the next big cryptograph-filled series. Set in the 1920s, Elder Moke does a fantastic job of constructing a historical fiction that feels absolutely real. From rural Illinois to the RMS Olympia to the green hills of Dublin, each setting is lush and vivid. The three protagonists contrast beautifully: a sensible academic, a reckless thrill-seeker, and a clever cryptologist. Solving the mystery with this trio is an unforgettable and thoroughly enjoyable experience. Fans of elaborate puzzles and races against the clock will love this fast-paced historical fiction.
Curse of the Specter Queen releases June 1, 2021.
(Pine Reads Review would like to thank NetGalley and the publisher for providing us with an ARC in exchange for an honest review. Any quotes are taken from an advanced copy and may be subject to change upon final publication.)
PRR Assistant Director, Wendy Waltrip