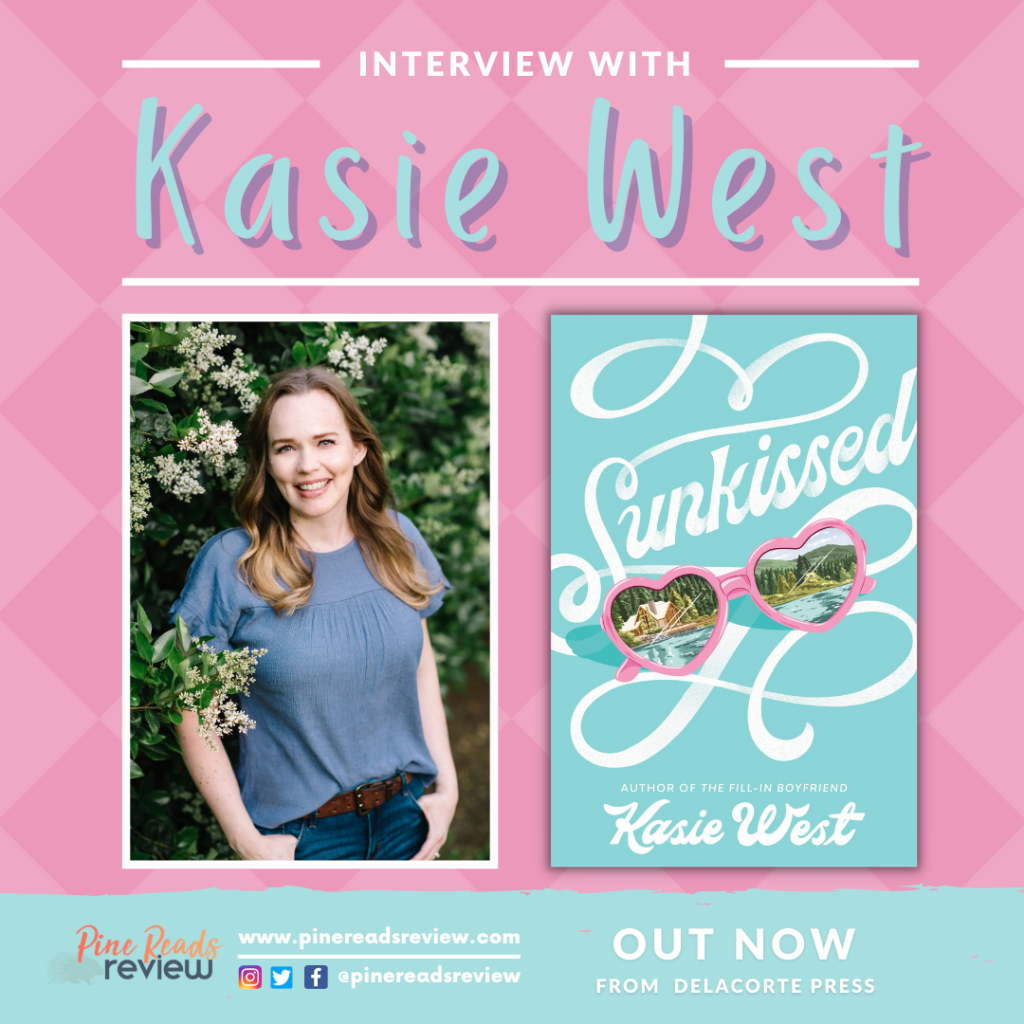 About the Author: Kasie West is the author of many novels, including The Fill-In Boyfriend, P.S. I Like You, and On The Fence. Her books have been named ALA-YALSA Quick Picks, Junior Library Guild Selections, and ALA-YALSA Best Fiction for Young Adults books. In the summer months, you can find Kasie on the California Coast with her family escaping the hundred-degree heat of the Central Valley. (Bio and headshot sent by the author.)
Find Kasie West on the following platforms:
---
A huge thank you to Kasie West for the following interview! Don't miss Kasie's many books or her recently released novel Sunkissed (out now from Delacorte Press!). Check out our review of Sunkissed here!
---
Wendy Waltrip: First off, I just want to thank you so much for taking the time to talk with me. I've read and loved all your books, so this is super exciting! Your latest book, Sunkissed, was just released on May 4th, and I can't wait for everyone to read it (spoiler: it's fantastic)! What can you tell us about the world and characters of this fabulous summer story?
Kasie West: Thank you so much for having me, and for loving my books! And I'm so glad you enjoyed Sunkissed. This was such a fun story for me to write. It's about a girl who spends the summer at a camp with her family and finds out upon arrival that there is no internet. This forces her to spend the summer pursuing other interests. Including, of course, a cute boy! He's an employee so completely off limits, but that just makes it all the more of a challenge.
WW: All your books cover such fun and creative topics, from getting locked in a library to winning the lottery and more. Is there anything that often inspires these ideas? What have you found that can really get the wheels in your mind turning? Did anything specific inspire Sunkissed?
KW: You know, I'm inspired by so many things. Each of my books has come about in a different way. The Distance Between Us and By Your Side, for example, were inspired by places/settings. Pivot Point was inspired by a movie. On The Fence was inspired by a person. So yes, I find that ideas are sparked by getting out and doing and seeing things. Sunkissed was also inspired by a movie: Dirty Dancing. It's one of my all-time favs and I let it create the spark of an idea for my own summer camp coming-of-age story.
WW: In Sunkissed, both Avery and Brooks are struggling to figure out what they want to do in their lives and how to balance their families and their interests. What message are you hoping to pass on through your characters about charting the course of one's life?
KW: I never go into writing with a specific message I hope to pass onto readers. I find that readers take the message/lesson from the story that was meant for them. I just tell the character's stories and oftentimes readers relate to the struggles. I guess if there was an intentional message it might be: try new things, get out of your comfort zone, stand up for yourself.
WW: One of my favorite elements of Sunkissed was the bond between Avery and her family. What would you like readers to take away from the portrayal of family in this novel?
KW: Family can be both the biggest struggle and the biggest blessing in life. I know, personally, the most anguish I've felt has been within family conflict and the happiest I've felt has been family relationships. I guess I just want readers to know that life isn't always bliss, families aren't always perfect, but those relationships can be some of the best you have. Be open with the people closest to you. Share your fears and hopes with your parents and/or siblings. Listen to the fears and hopes of your parents and siblings. We all have them. And being there for each other is so important.
WW: What were your favorite moments in Sunkissed to write? Were there any parts that you found more difficult to write?
KW: Well, I always love writing the moment when the couple finally gets together. It builds and builds the entire book and then finally, the tension is broken and they realize or express their feelings. It's my very favorite. And this book was no different. So yes, the entire cabin scene was so fun for me to write. And then the second scene in the cabin (after the kiss) was also one of my favs. It's hard to give specifics without giving spoilers. As for the parts that were difficult to write: the entire middle. Just kidding. Sort of. I do find that there is a part in the middle of books where I ask myself, "What are you doing? Is anyone even going to like this? Is this interesting at all? Why are you torturing yourself like this?" But mainly that's because I've come to some point in the story where I have no idea what I'm doing or what's going on and I have to just push through and revise all the boring parts out later. And it happens for every single book and every single book I forget that it happens and am convinced I've forgotten how to write. It's quite a cycle of self-doubt I have myself on. I do get through it. Obviously. lol
WW: You were first published in 2013 with Pivot Point and The Distance Between Us, and your contemporary novels especially have since become extremely popular. How have you seen the industry change from 2013 to 2021?
KW: Extremely popular might be a bit of an exaggeration, but I'll take it. Ha! I think the market has changed in many ways since 2013 but at the same time, hasn't changed that much. Perhaps the most significant way was that shortly after I debuted, We Need Diverse Books was founded. It pushed to the forefront a much-needed dialogue about diversity in publishing. It's an important discourse that needed to be had out in the open rather than behind closed doors and in private messages. I'm glad for the openness, but there is still a long way to go. Every year, the statistics come out about representation in publishing, and those numbers haven't changed much, despite the discourse. So if you, readers, like my books, may I also recommend some other authors that I know you will love: Maureen Goo, Axie Oh, Leah Johnson, Brandy Colbert, Pintip Dunn, Sandhya Menon, just to name a few.
WW: What originally drew you to the literary world? Have you always wanted to be an author, or is that something that you found out later in life?
KW: I've always been a reader. Since I was young, I have loved to read. It is and always has been one of my favorite things to do. I have a reader heart. But no, I never knew I also liked to write. It wasn't until I was much older, graduated from college, and had four kids, that I decided to try my hand at writing. And that's because I had an idea that wouldn't leave my brain. I told my husband about it and he said, "You should try writing it." And since I was already thinking the same thing but had no idea how to get started, all I needed was that tiny little push and I took off. I became obsessed with it for a little while. It occupied all my thoughts. That first book I wrote turned out to be…well…not great. But it was my practice book. And it gave me the writing bug because I haven't stopped since.
WW: What does a typical writing day look like for you?
KW: I am not an organized person in any aspect of my life, including writing. I'm pretty laid back, prone to procrastination, and get distracted easily. And then my husband went and read a book where the author talked about how creative people tend to procrastinate; it's part of their nature and creative process. Because "what if a better idea/plot/storyline comes to them in the meantime" (that is the excuse the book gave us). Do you know what happened as a result of this? I now feel justified in my habits. Sigh. I guess it doesn't matter, I wasn't changing the habits anyway. Lol. But anyway, all that to say that I don't have a typical writing day. Every day varies. I will say that deadlines are important for me because they provide me with much needed motivation and give me a timeline for my procrastination. And I do think about my projects a lot, even if I'm not actively sitting behind my laptop (in front of? Behind?). Most of my writing takes place at night between the hours of 9pm and 2am. Those hours make my mornings pretty non-existent. And in the afternoons, I like to spend time with my family.
WW: Having gone through the entire publishing process many times, if you could give any advice to the version of yourself just getting started (or to any aspiring authors out there), what would it be?
KW: I think the advice I would give my past self is, take a breath, you have time. It's not a race. I used to really put a lot of pressure on myself to hurry up and wait. Because that really is the name of the game in publishing: waiting. There is a lot of it. Waiting for feedback, waiting for covers, waiting for release date. Just live in the moment and try not to look too far ahead because the next step isn't going to be the final step, so you might as well enjoy the step you're on. That's what I would tell myself, but I probably wouldn't listen because I'm a bit stubborn.
WW: Finally, what's next for you? Any projects currently in the works? When might we see another book?
KW: Yes! I just turned in an edit for my next book with Delacorte which will come out May 2022 (I think?). I don't have the final title for it yet, but I will announce it as soon as I do. And again, I'm going to be super vague, but I love the book! It's a contemporary romance (of course) and it's one of my favs. I really hope everyone enjoys it. But first, SUNKISSED!
PRR Assistant Director, Wendy Waltrip