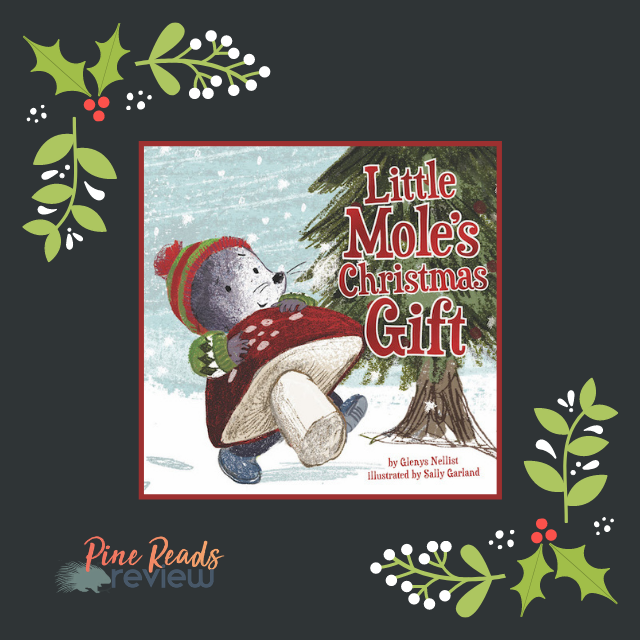 Little Mole's Christmas Gift by Glenys Nellist
Illustrated by Sally Garland
Beaming Books; 2020; 32 pages
About the Author: "Glenys Nellist is the author of multiple children's books, including Little Mole Finds Hope and the popular series Love Letters from God and Snuggle Time. Her writing reflects a deep passion for helping children discover joy in the world. Glenys lives in Michigan with her husband, David." (Bio provided by Beaming Books publicist.)
Website: https://www.glenysnellist.com/
Twitter: @GlenysNellist
Facebook: @GlenysNellistAuthor
Instagram: @glenysnellistt
About the Illustrator: "Sally Garland was brought up in the small town of Alness in the Highlands of Scotland and studied illustration at Edinburgh College of Art. She currently lives and works in Glasgow, with her partner and young son. Garland has loved drawing and has had a passion for children's literature and illustration since she was young. She now has many years of experience working as a children's illustrator. Her current influences include vintage picture book illustration from the 1950s and 1960s." (Bio provided by Beaming Books publicist.)
Website: https://cargocollective.com/SallyGarlandIllustration
Instagram: @sally_garland_illustration
Twitter: @vinegarandbrow1
---
"Little Mole, your kindness is the biggest, most perfect Christmas gift I have ever received."
Little Mole has the perfect gift for his mama—the biggest mushroom he has ever seen. As he begins to make his way back to his mama, he comes across other animals in need and shares pieces of his mushroom with them. Each piece is shared for different reasons: food, shelter, or comfort. As he continues helping others, he hopes his mother will appreciate his gift for what is left of it. However, Little Mole's mother teaches him that his kindness is the best gift someone can give.
This picture book deftly shows that spreading kindness and being thoughtful pays off, a theme that both children and parents can connect with. The adorable illustrations that depict Little Mole's acts of kindness make this a delightful and visually pleasing book for young readers. Overall, Nellist demonstrates that it's not the gift itself that matters most, but the thought behind it—a message that will help children in all aspects of life, not just gift-giving, especially during the holiday season.
(Pine Reads Review would like to thank Beaming Books for sending us an ARC in exchange for an honest review. Any quotes are taken from an advanced copy and may be subject to change upon final publication.)
PRR Writer, Adrienne Park
Pick up your copy today!