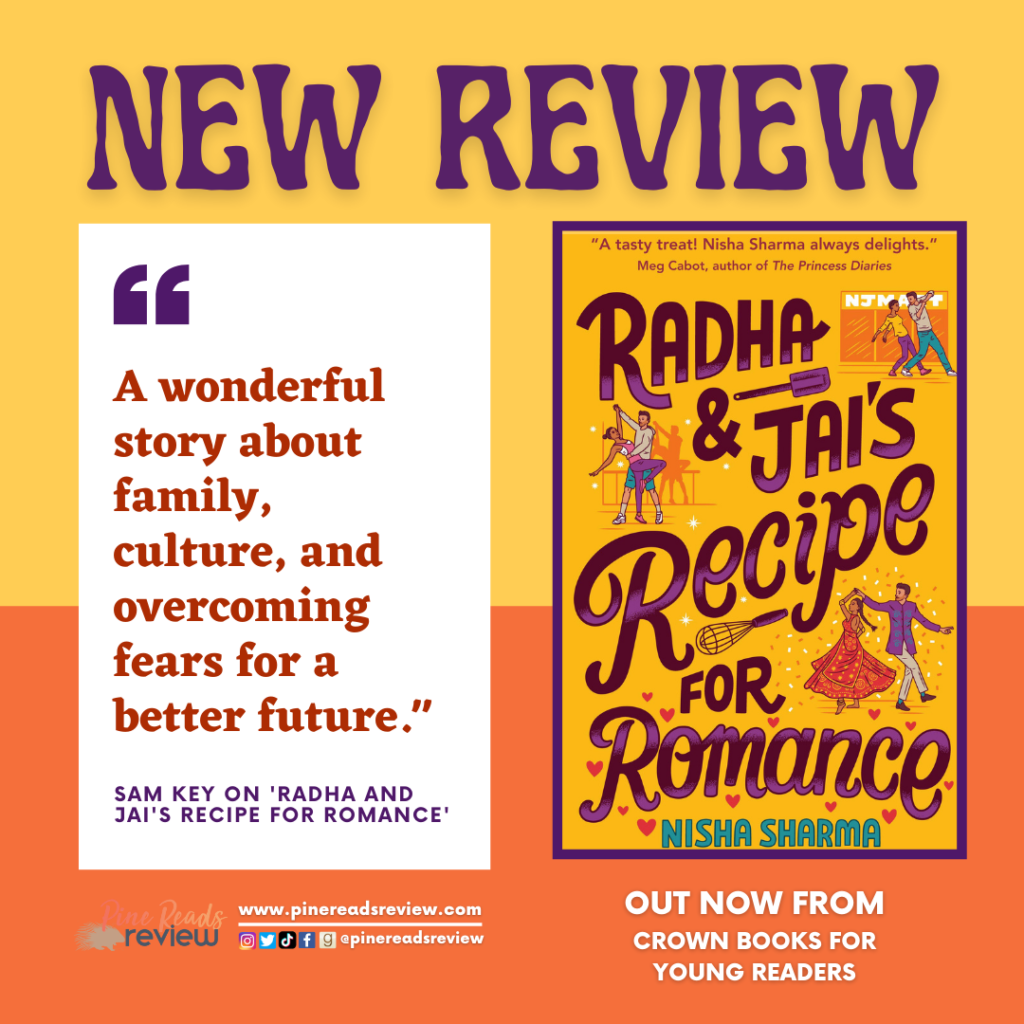 Radha and Jai's Recipe for Romance by Nisha Sharma
Out Now from Crown Books for Young Readers; 336 pages
Content Warnings: Divorced parents, infidelity, strong language, anxiety, panic attacks, familial medical emergencies
About the Author: "Nisha Sharma is the author of the critically acclaimed YA novel My So-Called Bollywood Life and the follow up, Radha and Jai's Recipe for Romance. She also writes adult contemporary romances including The Singh Family Trilogy and If Shakespeare was an Aunty Trilogy (Launching March 2022). Her writing has been praised by NPR, Cosmopolitan Magazine, Teen Vogue, Buzzfeed, Hypable and more. Nisha credits her father for her multiple graduate degrees, and her mother for her love of Shah Rukh Khan and Jane Austen. She lives in New Jersey with her Alaskan husband, her cat Lizzie Bennett and her dog Nancey Drew. You can find her online at Nisha-sharma.com or on Twitter and Instagram @nishawrites." (Bio taken from author's website)
Find Nisha Sharma on the following platforms:
---
"But I also learned about choices. I don't want any of you to walk away from tonight with regrets, only memories of the choice you made to be a part of this team. As long as you go out there and love every moment of it, then… well, you've succeeded."
Radha is at the height of her Kathak career, when a family secret sends her spiraling out of the competition world and dancing altogether. Starting fresh for her senior year, Radha and her mom move to New Jersey where she attends the Princeton Academy of the Arts on the premise that she will not have to perform. Jai is the captain of the Bollywood dance team at the Academy and top of the senior class- but with his family's strained financial situation college is out of the question. Radha and Jai stumble into each other's lives (literally), and the sparks fly instantly. But Radha must face her past and Jai must wrestle his future if the two are to ever get their happily ever after.
Sharma delivers again on another amazing YA rom-com! I loved Radha, and connected with her instantly. I grew up a competitive dancer myself, and was brought back into the high stakes world of competition with Radha. Watching Radha grapple with her anxiety was one of the best parts of this book. Radha's healing was not linear – she had good and bad days, her "dance joy" came and went, as it would in real life. It made her journey feel so much more real. I also loved the emphasis the story had on family. Jai had a wonderful biological family and found family to which he was unfailingly loyal. Radha was able to form connections with her father and cousin that she had never been able to due to her packed dance schedule. Radha and Jai's relationship was so cute and fun, and was one of the healthiest relationships I've had the pleasure of reading. Watching them learn, grow, and support each other was so fun and refreshing. Overall, Sharma has created a wonderful story about family, culture, and overcoming fears for a better future.
PRR Writer, Sam Key