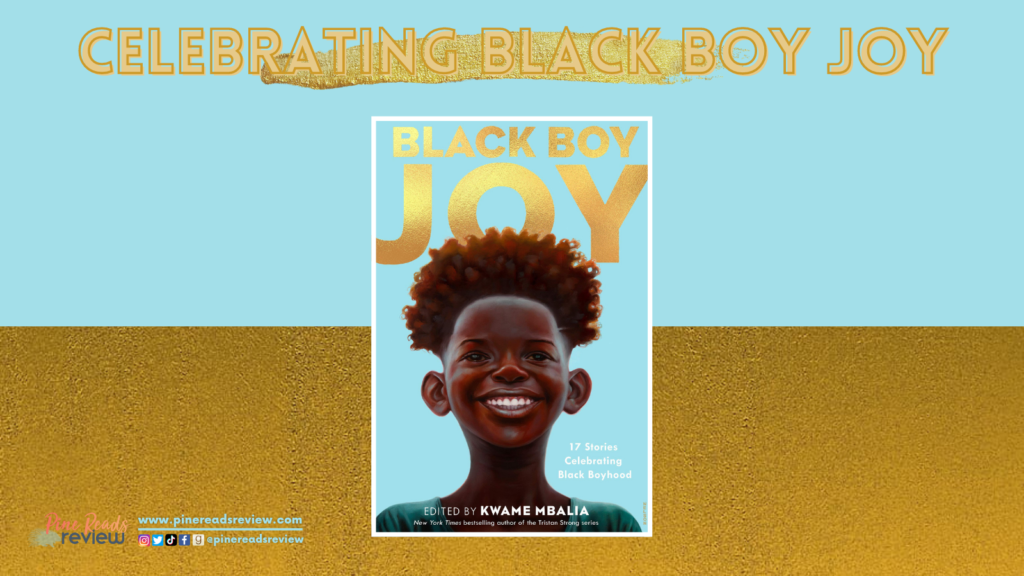 Content Warnings: Police brutality, death of a loved one, racism, anxiety, depression, COVID-19, pandemic discussions
What is joy made out of? Is it made of bubbles, talking lizards, spaceships and fun music? Is joy the love we feel for those closest to us, the love we feel for ourselves?
Black Boy Joy, a collection of short stories, comics, and poems, opened my heart to finding what joy means, to feeling profound sadness, to feeling close to loved ones, and everything in between. These stories explore the power of love at an age where things are not always easy, where transitions are made, and where magic is found. I have fallen in love, cried, laughed and smiled with all the characters as they explored what joy means to them, and how love can be truly transformational.
Although every story in this collection was exceptional and profoundly joyful, there are four that tugged a little harder at my heart strings and that will stay with me for years to come.
---
"Fear is just Forgetting Everything's All Right" – The Legendary Lawrence Cobbler by Julian Winters
This story has all the right ingredients: some chili powder, a dash of peaches, a sprinkle of cinnamon and a heaping cup of familial love, and self discovery. It was a perfect mix as I rode along through Von's journey of accepting himself and his sexuality. When Von takes on his school's baking championship, he makes mistakes and deeply crushes on his competitor Noah. Von takes on finding confidence in himself, and finding out what it means to be loved unconditionally for who he is inside, which was inspirational. As a girl around Von's age I used to aspire to be a pastry chef, and I related to his struggles of finding his way through deep feelings and learning from his mistakes along the way. Although this one made me cry, (just a little), I found a joy in Von's story that made me smile in the end.
---
"They ain't gonna mess up my groove…slick!" -The Definition of Cool by Varian Johnson
Sometimes all you need is some good music and some cool moves to lift your spirits up. This story was exactly that. Desmond is desperate to be the cool kid in school, as I am sure everyone who has ever been young can relate to. He wanted to fit in, but more than that he wanted to dance and express his love for Juice Box Squad. This one hit close to home, because when I was his age, fitting in was everything. Even now as an adult, fitting in seems to be the easiest route. But with a little help from the adults in his world, and even his older brother, Desmond goes through a journey of self discovery and finds out what it means to truly be himself in a world that tried to make him fit in. For anyone who has ever felt like they were made to stand out, this story will make you realize the joy in being yourself.
---
"My mother used to say we make mistakes and learn from them. Maybe making mistakes isn't too bad after. Getting the best out of them—like making a new friend—is what matters, right?" -Five Thousand Light-Years to Home by Suyi Davies Okungbowa
Although most of the stories in Black Boy Joy are contemporary YA, there are a few that bring in aspects of magic and science, that add another layer of fantasticalness that resonated deeply for me. This story follows Keziah as he goes through the motions of moving, something every child has experienced in one form or another. His parents are uprooting him from his familiar home, and he thinks there is no chance he could make friends in this new place. However, when a talking lizard from space takes him on a magical journey, Keziah finds a friend, and a chance to start anew in this unfamiliar apartment complex. As someone whose life was uprooted all at once at the same age as Keziah, I understood his struggles. Okungbowa wrote a story that tugged at my heart strings, and showed a younger me that I am not alone no matter where life takes me. Friends are life's sweetest gift, and delving into Keziah's magic journey allowed me to find courage in starting anew, just like he did.
---
"Your truth. Go ahead and stand right there and say what you've always wanted to say!" -The Gender Reveal by George M. Johnson
Throughout the entire collection, there are multiple stories that delve into representation for BIPOC characters, and stories of discovering queerness and dealing with police brutality, and so much more. This story was particularly powerful in telling the story of Malcom, and how they wanted to come out as nonbinary to the people they care about most. It delved into how Malcom found courage in understanding what his dad and grandmother had been through in the generation before him, and how they were loved no matter who they were. This story explores finding one's self even when it is scary to be true to who you are at first. In the end, this story was profoundly joyful because it showed the importance of stepping into yourself and how powerful the love of a community can be.
Every story deserves to be told, and this collection has changed my life in all the best ways. I journeyed through the book expecting to find happiness, but quickly realized that I had found something much more meaningful: love. Find yourself a copy of this collection, because you won't want to put it down. In a world of darkness and troubles, these stories will bring light and understanding.  Reading these stories has shown me that joy can be found anywhere; you just have to be open to feeling it. 
(Pine Reads Review would like to thank NetGalley and the publisher for providing us with an ARC in exchange for an honest review. Any quotes are taken from an advanced copy and may be subject to change upon final publication.)
PRR Assistant Director, Mikayla Kaber