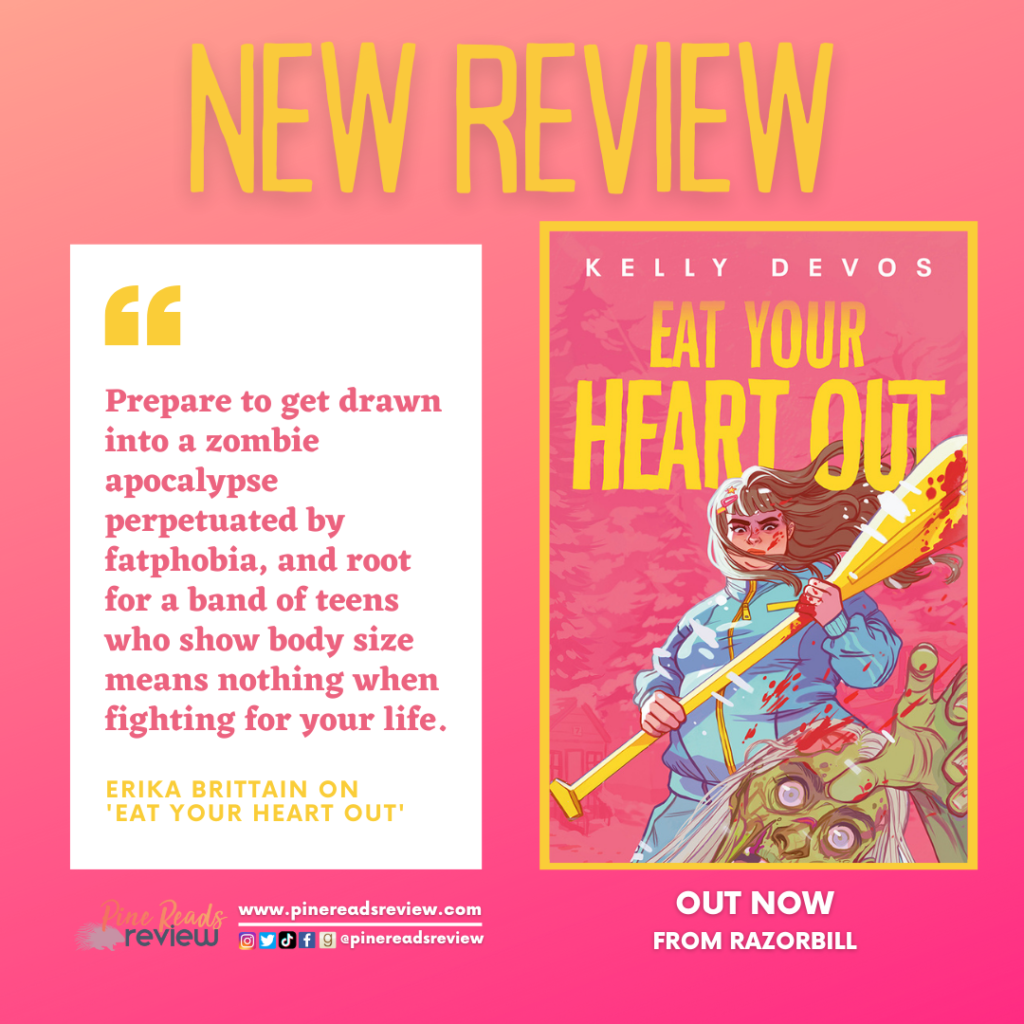 Eat Your Heart Out by Kelly deVos
Out Now from Razorbill; 352 pages
Content Warnings: Strong language, fatphobia, body shaming, unhealthy eating restrictions, violence, gore, body horror, teen pregnancy, mentioned sexual content, character death(s), grief, remarried parent, parental affair
About the Author: "Kelly deVos is from Gilbert, Arizona, where she lives with her high school sweetheart husband, amazing teen daughter and superhero dog, Cocoa. She holds a B.A. in Creative Writing from Arizona State University. When not reading or writing, Kelly can typically be found with a mocha in hand, bingeing the latest TV shows and adding to her ever-growing sticker collection. Kelly is represented by Chloe Seager of the Madeleine Milburn Literary Agency in London. Her work on body positivity has been featured in the New York Times as well as on Vulture, Salon, Bustle and SheKnows. Her debut novel, Fat Girl on a Plane was named one of the "50 Best Summer Reads of All Time" by Reader's Digest magazine. Her second book, Day Zero, is available now from Inkyard Press/HarperCollins." (Bio taken from the author's website.)
Find Kelly deVos on the following platforms:
---
"The gray thing. The monster.
It comes into the open.
I can't breathe.
It's coming.
For us."
Welcome to Camp Featherlite for Overweight Teens! This totally normal weight loss camp can be found in the remote forests of Flagstaff, Arizona. A perfect location to be stranded at during an unexpected blizzard! Join six happy teens (who are not at all opposed to the fatphobic and suspicious advertisement of this camp) in their first steps of the ultimate health and wellness journey (that most definitely will not end in a zombie apocalypse!). Just give up your cellular devices, eat some totally harmless diet bars, and be ready to enjoy classic camp activities! Hurry and sign up now… before it's too late!
Eat Your Heart Out is a campy (no pun intended) quick read that marries comedy and horror, providing insight to the small and big consequences of fatphobia. I enjoyed the book for three main reasons: the satirical take on diet culture, the moments where the story pokes fun at horror movie tropes, and the vivid imagery that made me feel like I was watching a movie. It truly is a perfect summer read. Told in six points of view, with each character cast as a different horror movie archetype, the story offers various perspectives to the villainization of fat people in today's culture. Eat Your Heart Out flips the idea that plus size people are "monstrous". Instead, the hyper-athletic flesh-eaters, borne out of the idea that obesity is something to be cured, are the monstrous creation. These themes are accompanied by fast-paced action scenes, chilling moments of suspense, and general butt-kickery. Prepare to get drawn into a zombie apocalypse perpetuated by fatphobia, and root for a band of teens who show body size means nothing when fighting for your life. 
For more insight on the writing of Eat Your Heart Out, check out our upcoming interview with author Kelly deVos!
PRR Writer, Erika Brittain