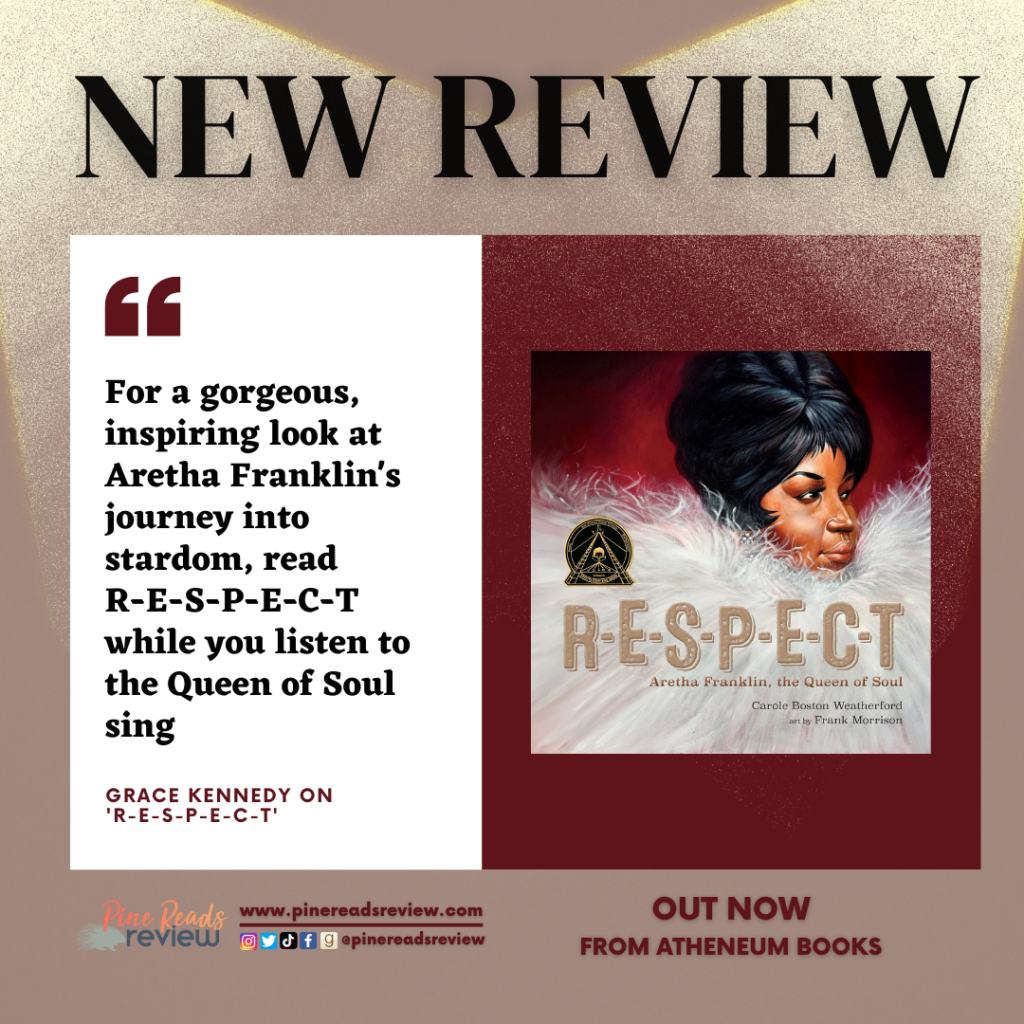 R-E-S-P-E-C-T: Aretha Franklin, the Queen of Soul written by Carole Boston Weatherford and illustrated by Frank Morrison
Out Now from Atheneum Books for Young Readers; 32 pages
Content Warnings: Divorce, absent parent
About the Author: "New York Times best-selling author Carole Boston Weatherford recently released Beauty Mark: A Verse Novel of Marilyn Monroe and R-E-S-P-E-C-T: Aretha Franklin, the Queen of Soul. Her 50-plus books include the Caldecott Honor winners Freedom in Congo Square, Voice of Freedom: Fannie Lou Hamer: Spirit of the Civil Rights Movement, and Moses: When Harriet Tubman Led Her People to Freedom. She won a Coretta Scott King Author Honor for Becoming Billie Holiday, NAACP Image Awards for Moses and for Gordon Parks: How the Photographer Captured Black and White America, the Arnold Adoff Poetry Award for The Legendary Miss Lena Horne, and an SCBWI Golden Kite and WNDB Walter Award for Schomburg: The Man Who Built a Library. Among her most popular titles are Freedom on the Menu: The Greensboro Sit-ins andThe Roots of Rap: 16 Bars on the 4 Pillars of Hip Hop. Baltimore-born, Weatherford teaches at Fayetteville State University In North Carolina." (Bio taken from author's website)
Find Carole Boston Weatherford on the following platforms:
About the Illustrator: "Frank Morrison is the award-winning illustrator of many books for young readers, including Jazzy Miz Mozetta, winner of the Coretta Scott King/John Steptoe Award for New Talent; Little Melba and Her Big Trombone and Let the Children March, both of which were Coretta Scott King Illustrator Honor books;  Muhammad Ali; How Sweet the Sound; and The Roots of Rap. Before becoming a children's book illustrator and fine artist, Morrison toured the globe as a break-dancer. He lives in Georgia with his family." (Bio taken from back of book)
Find Frank Morrison on the following platforms:
---
"Aretha's crowned as Queen of Soul, our own royalty."
Aretha Franklin is known as the Queen of Soul for her incredible musical prowess and transformation of R&B and soul music. R-E-S-P-E-C-T takes readers through her awe-inspiring musical journey, from her childhood beginnings in gospel to performing original works for huge crowds—even in front of multiple presidents! Aretha Franklin's talent was recognized from a young age by her father, Clarence, a preacher and gospel singer himself, as she learned to play piano by ear and sang in a church choir with her sisters. At the incredible age of fourteen, Aretha recorded her first studio album, Spirituals. Adorned with Frank Morrison's rich oil paintings referencing Aretha's life and music, this gorgeous picture book contrasts a young girl's early days with some of her greatest achievements in an unapologetically glamorous description.
Though I had been familiar with Aretha Franklin's musical talents before reading this book, its profound storytelling and lush illustrations inspired me to look further into her amazing accomplishments. I hadn't known that she was the first woman to be inducted into the Rock and Roll Hall of Fame, nor had I realized how connected her music and her activism were, I'm ashamed to admit. Though I'm very much an amateur art critic, I knew from my first glance at the cover that Frank Morrisons' illustrations are each a poignant work of art. The little details in the illustrations referencing Aretha's most famous songs, and the imagery of her as a queen, make the book an extra special experience. The rhyming lines and themed words for each page are clever and well-titled. For a gorgeous, inspiring look at Aretha Franklin's journey into stardom, read R-E-S-P-E-C-T while you listen to the Queen of Soul sing.
PRR Assistant Director, Grace Kennedy