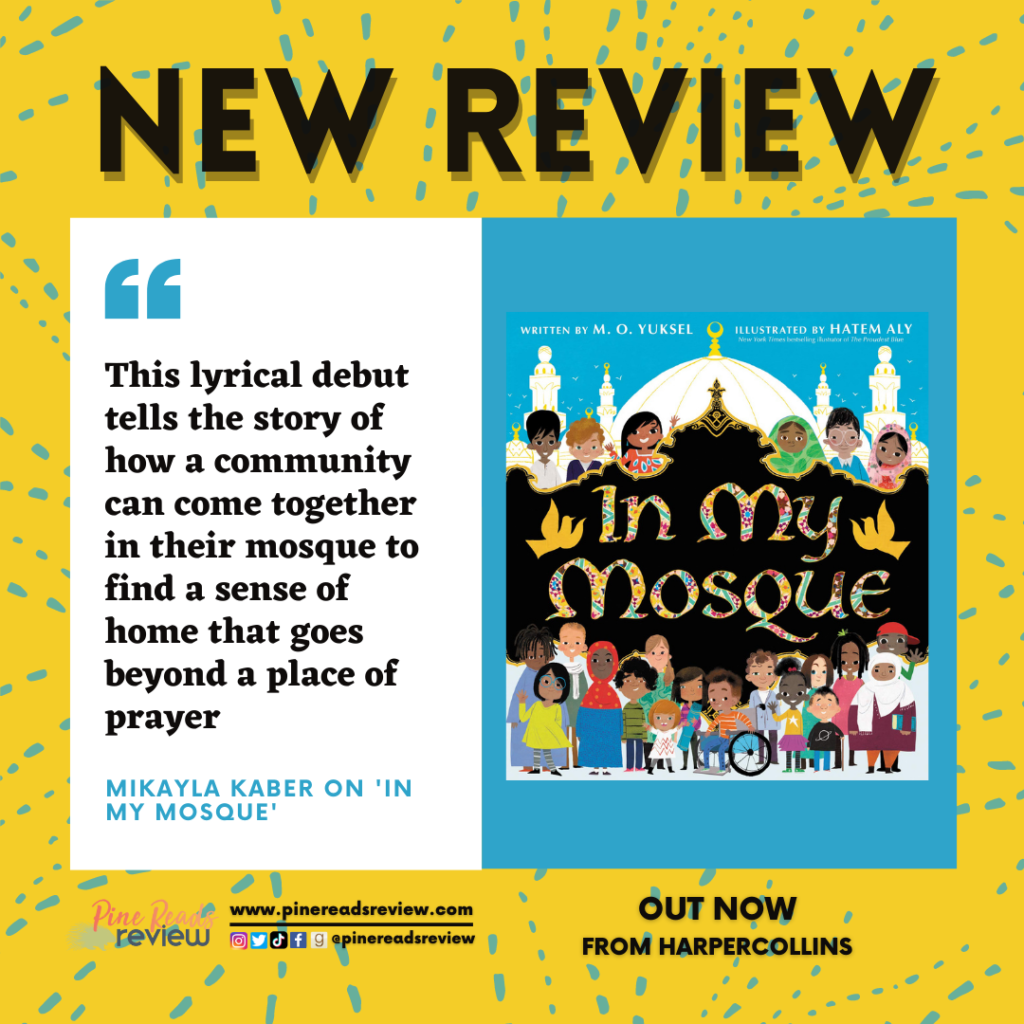 In My Mosque written by M. O. Yuksel and illustrated by Hatem Aly
Out Now from HarperCollins; 32 pages
About the Author: "M.O. Yuksel loves writing stories about diverse historical figures, and fascinating cultures. Before becoming a full-time writer, M.O. Yuksel worked in the education field for over twenty years as an administrator, manager, and teacher. She was born in Turkey and immigrated to the U.S. when she was seven years old. She has a bachelor's degree in English Literature from Fordham University, and a master's degree in International Affairs from Columbia University. When not writing, M.O. Yuksel is usually on the soccer field cheering for her kids, or traveling to exotic places and immersing herself in the local culture. She loves nature, bike riding, and indulging in shameless amounts of chocolate. She teaches yoga and meditation when she's not bouncing off the walls from the chocolate-induced sugar-high. Once in a while, she'll venture to teach her friends how to pronounce her real name – Munevver (Mar-vel-ous). But her friends never make it past the Mar and prefer to use her nickname – Mindy." (Bio taken from the author's website.)
Find M.O. Yuksel on the following platforms:
About the Illustrator: "Hatem is an Egyptian-born illustrator who currently lives in beautiful New Brunswick, Canada, with his wife, son, and more pets than people. He has illustrated many books for young people that earned multiple starred reviews and positions on the NYT bestsellers including THE PROUDEST BLUE with Ibtihaj Muhammad & S.K . Ali, IN MY MOSQUE with M.O. Yuksel, the Newbery Honor winner THE INQUISITOR'S TALE by Adam Gidwitz, THE UNICORN RESCUE SOCIETY series also by Adam Gidwitz with several amazing co-authors, MEET YASMIN with Saadia Faruqi, RAJ's RULE(FOR THE BATHROOM AT SCHOOL) with Lana Button, and HOW TO FEED YOUR PARENTS by Ryan Miller. He has more upcoming books and projects in the works." (Bio taken from illustrator's website.)
Find Hatem Aly on the following platforms:
---
"In my mosque, we are a rainbow of different colors and speak in different accents."
This lyrical debut tells the story of how a community can come together in their mosque to find a sense of home that goes beyond a place of prayer. Anyone can learn about being harmonious and kind to one another, hear words of wisdom from the Qur'an, meet new friends, hear aunties and grandfathers chatting and singing, and so much more. This story is a beautiful tale of how mosques are a place of gathering and coming together to pray and help one another.
In My Mosque tells of how in a place of worship there are blooming stems of friendship, family, compassion, and love which are able to grow because of the nurturing community tending to the garden. This book prompts a larger conversation about Islam and how anyone can be a part of this beautiful community no matter the color, the accent, the age, or anything else. It is poetic yet simple in describing how members of the community are all learning and praying in a place they consider home. Yuksel also includes a backmatter page about the world's mosques, and a glossary of terms to help understand the religion and the place of worship. This allows for even further conversation and investigation into the world's second largest religion and the importance of mosques around the globe.
In terms of illustration, the captivating and colorful designs by illustrator Hatem Aly drew me into the mosque with patterns and shapes that captured the natural beauty of the Muslim place of worship. The cover immediately caught my eye, with the large scripted title filled with a rainbow of color and all the members of the community surrounding it. In a true rainbow of color, Aly welcomes anyone who reads the book into the festive and innately detailed world of the mosque. I felt as though the illustrations went hand in hand with the poetic verses in shaping a simple yet gorgeous story about community and religion. This story has opened up my heart to learning more about different places of worship and religions across the globe. If you are looking for a book to open up your heart to compassion and community, this is the story for you.
PRR Assistant Director, Mikayla Kaber