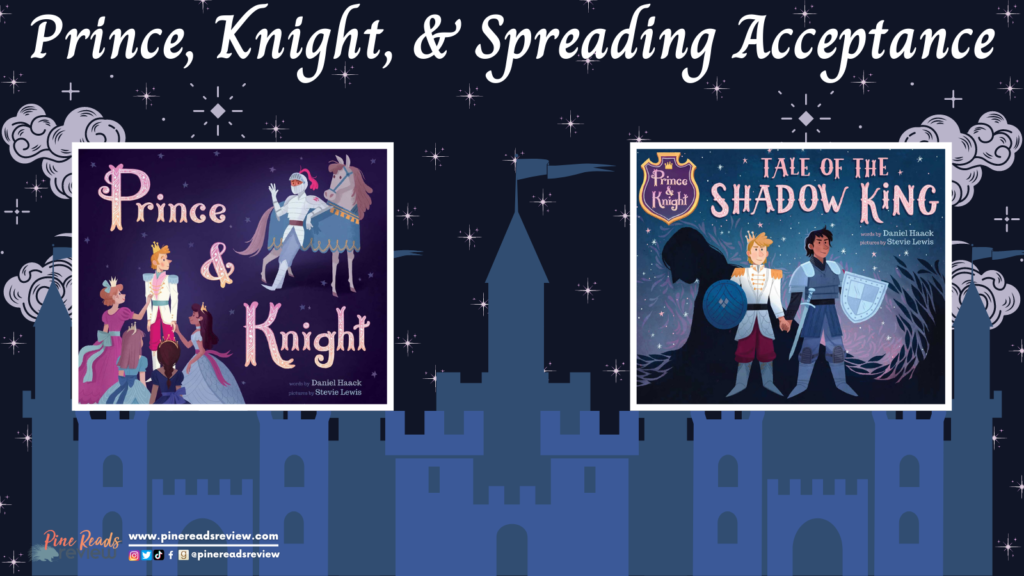 I am a longtime admirer of picture books, and I'm always trying to find books that I can appreciate and that the kids in my life will want to pick up. I'm usually on the hunt for BIPOC books and/or LGBT+ inclusive works, so the excitement I had when I came across Prince & Knight by Daniel Haack and Stevie Lewis was immense.
Prince & Knight is a picture book that chronicles Prince's search for a partner so he can take the throne. His parents search far and wide for a bride for him, but the Prince does not feel anything for the women he meets. Unfortunately, while the monarchs are away from their kingdom, a dragon threatens their land and leaves the people defenseless. The Prince rushes home to save the kingdom, and when he arrives, he comes across a brave knight. Together they fight the dragon and discover the love that the Prince was looking for all along. 
Haack's book is lovely, and the color palette Lewis employs is reminiscent of so many of my favorite Disney tales that I thought of them and other animated favorites as I read this book. Although, I enjoyed this story entirely on its own merit, Lewis' experience as an illustrator shows throughout this book because of her care for landscape, lighting, and overall making an immersive story—rather than making something minimal solely because these are "kid's books." I appreciate her work so much and can't wait to see more from her, as well as from Haack, whose words made the book possible in the first place.
I'm always on the hunt for books that celebrate differences but don't aim to stop and make anything a "teachable moment." I love this book for how it normalizes love while avoiding queer pain or even the slightest bullying, as I think that is the best way to confront topics in material made for children. By introducing acceptance first and foremost, hate is naturally shunned. The way that the Prince's parents simply accept the fact that their son is happy literally brought me to tears. I think there need to be more stories in the picture book realm—and in the adult genre as well—that are this fun, magical, and embedded in queer joy.
Haack and Lewis came together for the first time to bring us Prince & Knight in May of 2018, and only a few months ago they came out with a follow-up titled Prince & Knight: Tale of the Shadow King. Both are immaculate.
When I picked up Prince & Knight, I was so pleased to know that it had a sequel story. Tale of the Shadow King is a triumphant story about how people can help restore the light in one another's life through love and acceptance. The book opens with Prince and Knight, who are now married and incredibly happy, but suddenly there is a looming darkness that could overcome their kingdom entirely. They are informed that the cause of all the darkness is the mysterious Shadow King. Their journey is long and dangerous, and readers are left to question if they will overcome it all and bring back the light to their kingdom. 
(Spoiler Alert: They do that and much more!) Oh my god, I LOVED Prince & Knight: Tale of the Shadow King! The art and writing is on par with the first book, which is beyond beautiful, and there are more sweet moments between the couple and more action. I also really love how in the first and second book, the 'villains' are handled with care. The dragon is not slayed, but is instead made less of a threat. The Shadow King is humanized as not just someone to defeat, but someone the couple helps out of their own darkness—one brought on by hatred that came with the King's queerness. This story showcases empathy, inclusiveness, and understanding.
Overall, these books are wholesome, sweet, and most of all push towards ensuring open, unapologetic queerness, which is so needed—forever and always! Honestly, I could read many more works from this duo. I highly recommend picking these books up for their gorgeous and detailed artwork, as well as for how cute these stories are.
Wishing everyone a very happy Pride Month!
PRR Writer, Jackie Balbastro