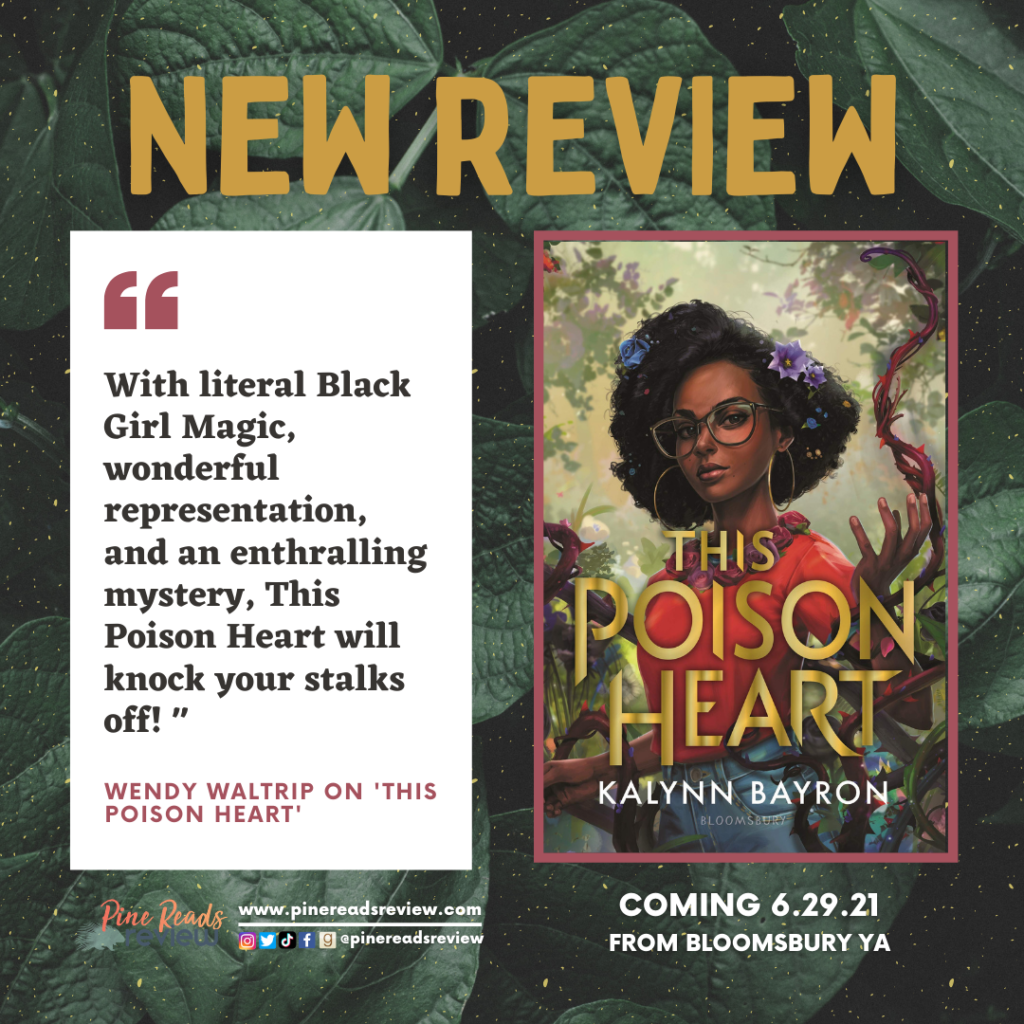 This Poison Heart by Kalynn Bayron
Coming June 29, 2021 from Bloomsbury YA; 384 pages
Content Warnings: Murder, death of a parent, blood and gore, decapitation, dismemberment, strong language
About the Author: "Kalynn Bayron is the bestselling author of CINDERELLA IS DEAD. She is a classically trained vocalist and when she's not writing you can find her listening to Ella Fitzgerald on loop, attending the theater, watching scary movies, and spending time with her kids. She currently lives in San Antonio, Texas with her family." (Bio taken from the author's website.)
Find Kalynn Bayron on the following platforms:
---
"My friends were pulling away from me, my parents were worried about me, school was a mess, and this power squatting inside me was trying to break free. How much more of this could I take before I reached a tipping point? Before I did something I couldn't take back?"
For seventeen-year-old Briseis, Brooklyn is a safe haven. It's full of concrete and pavement, perfect for someone who wants to hide their unusual gift with plants. Because no one can know that with a single touch, Bri can grow plants in minutes—or that poisonous plants don't seem to affect her. But when Bri's aunt dies and leaves her a crumbling mansion and forty acres of land in rural New York, Bri and her parents decide to take a chance and move there for the summer. With no one around for miles, Bri finally has the chance to experiment with her gift, and when she discovers a secret garden on the property, it feels like fate. Except Bri isn't the only one interested in plants. Mysterious strangers begin showing up and asking for remedies from the old apothecary in the house. Peculiar letters reveal hidden rooms. And Bri finds part of the garden only she can enter, a part filled with poisonous plants. All Bri wants is to finally find somewhere she can fit in. But when secrets from long ago are disclosed and her family is targeted by a nefarious group searching for an immortality elixir and a deadly plant, Bri must learn to control her gift if she wants to protect her family's past, present, and future.
After absolutely loving Cinderella Is Dead, I had high hopes for Kalynn Bayron's next novel, and I was not disappointed. This Poison Heart will wrap its vines around you and refuse to let you go until you've read the final page. Briseis is a fantastic protagonist, and I loved watching her bloom throughout the book. Her moms are also now two of my favorite literary parents ever! Their relationship with Bri is so healthy and fun, and I wish I could join them for a movie sometime! Bayron does an excellent job combining elements from The Secret Garden with Greek mythology in unexpected ways. I also can't wait to see how the seeds of romance planted in this book will grow in the sequel. With literal Black Girl Magic, wonderful representation, and an enthralling mystery, This Poison Heart will knock your stalks off!
This Poison Heart releases June 29, 2021.
(Pine Reads Review would like to thank NetGalley and the publisher for providing us with an ARC in exchange for an honest review. Any quotes are taken from an advanced copy and may be subject to change upon final publication.)
PRR Assistant Director, Wendy Waltrip