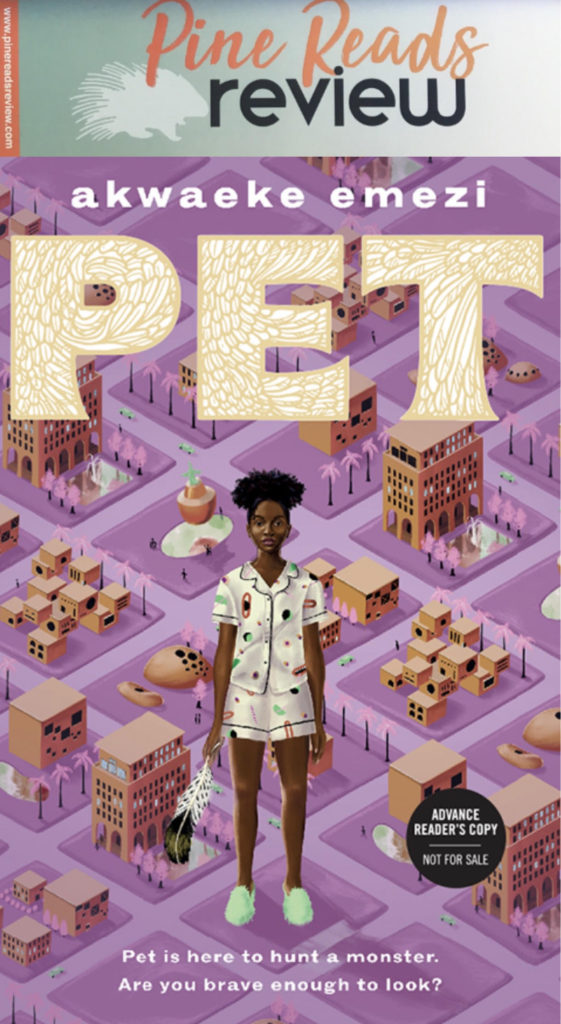 Pet by Awaeke Emezi
Make Me a World (Penguin Random House), 2019, 208 pages
Trigger Warnings: Blood, implied child abuse
About the Author: Akwaeke Emezi makes their young adult debut with Pet on the inaugural Make Me a World list. An honoree on the National Book Foundation's "5 Under 35" list, a long-list nominee for the Carnegie Medal for Excellence, and a short-list nominee for the Center for Fiction's First Novel Prize, Akwaeke continues to receive accolades for their adult debut, Freshwater. The autobiographical novel also received rave reviews from the New York Times, the Wall Street Journal, the New Yorker, and the Los Angeles Times, among others, as well as starred reviews from Library Journal and Booklist. Their sophomore adult novel, The Death of Vivek Oji, is forthcoming in 2020 from Riverhead.

Learn more about Akwaeke at Akwaeke.com or on Twitter at @azemezi.
"The truth does not change whether it is seen or unseen… A thing which is happening happens whether you look at it or not. And yes, maybe it is easier not to look. Maybe it is easier to say because you do not see it, it is not happening."
What if I told you a town called Lucille had figured out how to vanquish its monsters—corrupt politicians and policemen, abusers, murderers, and more—and reformed gun laws and prisons and other crooked structures as we know them? Lucille exists sometime in the distant future, after all the monsters have been defeated and children only hear about the global horrors we currently face every day. But when Jam accidentally conjures a horned and feathered creature named Pet from a different dimension, she must muster all her courage to hunt what she believed to be extinct: a hidden monster lurking in Lucille. Jam and Pet must work together to protect and save Jam's best friend, Redemption, from a dangerous truth while Jam questions everything she knows.
Pet is a whirlwind of a novel, not very long in length but boasting an unexpected depth. At first, Emezi's writing style and voice struck me as simple and (maybe) a little boring. However, I found that by the end of the book, this was anything but true. Pet features a vast range of diverse characters, from Jam—a black transgender teen girl—to Redemption's three parents—one of whom uses they/them pronouns—to Ube, the town's wise librarian who uses a wheelchair. Pet touches on some heavy issues, so if you're thinking a younger teenage protagonist and concise language seem more juvenile, this novel makes its own space in the YA sphere. Emezi successfully weaves important themes about identity, questioning what you've been taught, and being brave enough to fight your world's monsters in this emotionally charged and complex tale about a girl, her best friend, and a monster-fighting creature in their fight to stand up for what's right.
PRR Writer and Web Editor,
Caroline Ross
Pick up your copy here!