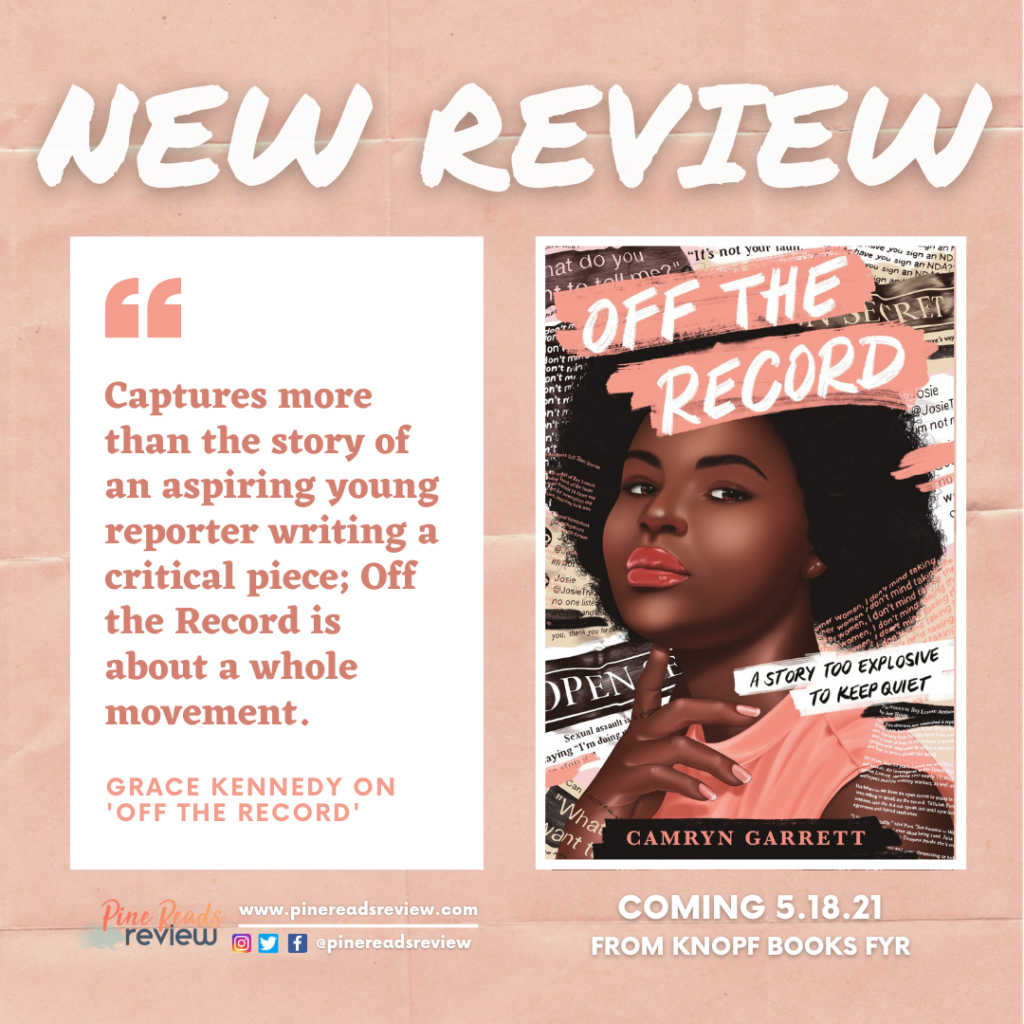 Coming May 18, 2021 from Knopf Books for Young Readers; 320 pages
Content Warnings: racism, fatphobia, mentions of anxiety, mentions of conversion therapy, bullying, sexual assault, sexual harassment
About the Author: "Camryn Garrett was born and raised in New York. In 2019, she was named one of Teen Vogue's 21 Under 21 and a Glamour College Woman of the Year. Her first novel, Full Disclosure, received rave reviews from outlets such as Entertainment Weekly, the Today Show, and The Guardian, which called a "warm, funny and thoughtfully sex-positive, an impressive debut from a writer still in her teens." Her second novel, Off the Record, will be released May 18, 2021. Camryn is also interested in film and is a student at NYU's Tisch School of the Arts. You can find her on Twitter @dancingofpens, tweeting from a laptop named Stevie." (Bio taken from author website).
Find Camryn Garrett on the following platforms:
---
"I want to make things and be seen and understood, at least by a few people. What girl doesn't want that?"
Seventeen year-old journalist, Josie Wright, earns the opportunity of a lifetime when she wins a contest to write a celebrity profile for Deep Focus magazine. She sets off on a tour of some of the most glamorous cities in America to interview celebrities, eat expensive food, and attend press conferences with seasoned reporters for the first time in her nascent career. Her profile focuses on the handsome young actor, Marius Canet, whose glowing smile and down-to-earth personality might make even the most professional reporter a little weak in the knees. But, as Josie becomes entranced by the glittering world of show business, she also uncovers the uglier side of fame. A big name in the film industry has left a trail of pain behind him, and Josie begins to hear the stories of some of the people he's hurt. Confronted with a series of impossible choices, Josie must decide if she's willing to risk it all to publish the truth.
The brilliant Camryn Garrett refuses to be a one-hit wonder with her heart-wrenching second novel. Off the Record contains a whole host of story elements that had me turning each page with fervor: a flirtatious, forbidden romance between a reporter and her subject; a fat protagonist who is honest about her struggles with body image but isn't defined by them; and a vile antagonist getting their just desserts through the powerful force of female solidarity. Garrett's book shows the realities of approaching the topic of sexual abuse, and how even the most well-meaning individuals might have misconceptions. This electrifying novel captures more than the story of an aspiring young reporter writing a critical piece; Off the Record is about a whole movement.
Off the Record releases May 18th, 2021.
(Pine Reads Review would like to thank NetGalley and the publisher for sending us an ARC in exchange for an honest review. Any quotes are taken from an advanced copy and may be subject to change upon final publication.)
PRR Writer and Editor, Grace Kennedy