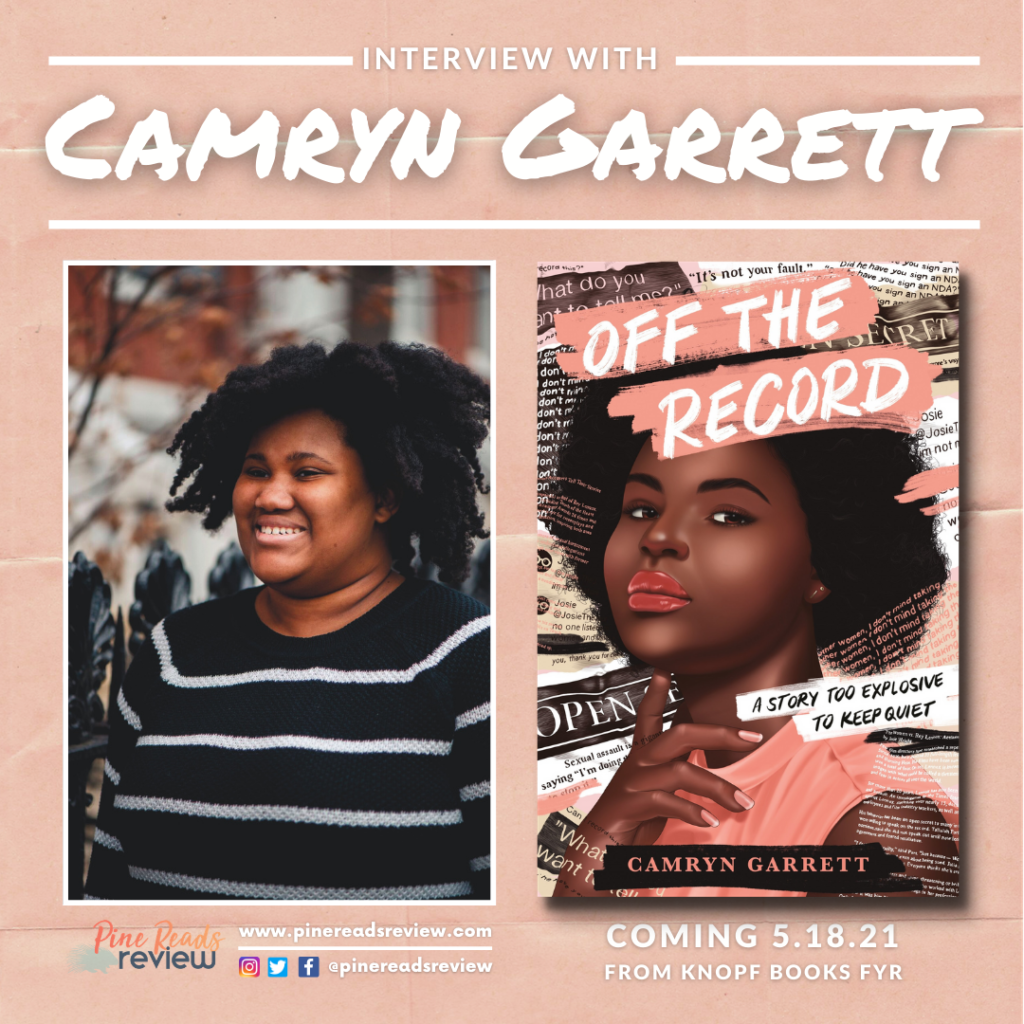 About the Author: "Camryn Garrett grew up in New York and began her writing career at thirteen, when she was selected as a TIME for Kids reporter, interviewing celebrities like Warren Buffett and Kristen Bell. Since then, her writing has appeared on MTV and in the Huffington Post and Rookie magazine, and she was recently selected as one of Teen Vogue's "21 Under 21: Girls Who Are Changing the World." When she's not writing, she studies film at NYU, and she's a proud advocate for diverse stories and storytellers in any medium. Her first novel, Full Disclosure, received rave reviews from outlets such as EW, Glamour and SLJ, which said in its starred review, "Readers will fall in love." Off the Record is her second novel." (Bio provided by author's publisher).
Find Camryn Garret on the following platforms:
---
A huge thank you to Camryn Garrett and her publicist, Lili Feinberg, for making this interview possible! Read on for a discussion on writing, representation, and Camryn's two incredible novels, Full Disclosure (out now) and the upcoming Off the Record (coming May 18th, 2021).
---
Grace Kennedy: First of all I want to thank you for giving me the chance to interview you! I found Full Disclosure to be one of the most brilliant YA books I've read in a long time, and am looking forward to reading Off the Record ASAP! To start off, how did writing your second book feel compared to writing your debut? Did you feel more confident in your abilities now that you had a published novel under your belt?
Camryn Garrett: I wrote the second book before I even started edits on the first book, so it was a really self-indulgent process, at least writing the first draft! Lots of authors talk about how difficult the second book is to do, so I feel like I got to bypass that. I felt pretty confident, way more than I do now. 🙂
GK: As a bi girl myself, I was so excited to see that Full Disclosure had so much queer character representation! With Claudia being an ace lesbian, Lydia being bi, Simone having two dads—it seemed like almost everyone could see themselves in this book. I also found it interesting to read about Simone having some indecisive feelings about her sexuality and labels, which differed from many of the other LGBT+ YA books I've read. Why did you decide to make Simone less certain about her sexuality than other characters?
CG: It's funny because I was more confident about my sexuality when I was writing the book, but had almost inklings of the same feelings that Simone had about not being queer enough or knowing if she was "allowed" to identify as bi. Now that I'm really up in the air about my sexuality and feel more confused, I'm really glad that I wrote a character like that.
GK: We hear a LOT about musicals in Full Disclosure, and I have just got to know—are you a musical fan yourself? Do you have a favorite?
CG: I am a fan of musicals! I grew up in a suburb of New York City, so going to Broadway to see a show was a big thing my family did or even a cool field trip we got to do. I really loved The Prom; it was so much fun to see on stage, before the movie came out! We sat behind a school from Indiana, where the show was set, and it was tons of fun to see their reactions.
GK: One of the stellar qualities about Full Disclosure is how it balances sex-positive humor and warmth with quite a few deep, emotional moments. Was it difficult to balance making this book funny and enjoyable to read while also seriously addressing things like racism and HIV stigma?
CG: I don't really think so! But this is sort of a pattern for me that I do with other books. I think life has lots of heavy moments, but there are always positives and great moments, and I personally find it hard to get through books without them.
GK: What was the most difficult part about getting your first book published?
CG: Rejection is hard! But mostly, I think it's super hard to figure out how to revise on your own when you don't have an agent/editor/that one person whose opinion you completely trust. I write screenplays too and that's something I struggle with on that end, too. Critique partners are great, but in the quest to get feedback, you're bound to get a lot of conflicting notes. It can be hard to tell which ones work best.
GK: This past year has been pretty bleak. Due to the pandemic, people are struggling with financial trouble, displacement, isolation from loved ones, and worsening mental health to name just a few things. The current political climate hasn't made things any better. Has this combination of stressors made it more difficult for you to write over the past year?
CG: Yes!!!! YES! I've written a lot of first drafts that I actually don't want to move forward with, which is very, very new for me. Usually, once I've reached the 30k word mark I know the book is safe, but it just hasn't been the case this year. It's super hard. I'll have droughts where I don't have any ideas and then moments where I have a ton, but none of them stick after a week. I'm trying to take it one day at a time.
GK: Your first two books have been categorized as YA novels—have you thought about writing anything aimed towards middle grade audiences or other age groups?
CG: I wrote the beginning of an MG last year and I think it fell apart due to the pandemic brain fog, honestly. And I was really adamant about writing an adult novel earlier this year, although I don't feel the urgency anymore (I might again in a few months, ask me later!). I'm balancing school with writing right now, so I think I'm trying to remind myself that I don't have to do everything all at once. But yeah, especially with Beverly Cleary passing, I've been reminiscing on the books that shaped me when I was younger and really want to tap into that.
GK: Off the Record addresses topics that are relevant to the MeToo movement. This movement has been occupying space in so many people's minds over the past several years—and its root causes have occupied the minds of women forever—but was there anything in particular that inspired you to write about it now?
CG: I wrote the first draft in 2019, which I think was the height of the media attention on the movement, so it was sort of everywhere. I really wanted to reckon with the way the movement forced me to rethink aspects of my own life, whether it be interactions I later realized were really inappropriate or ways I interacted with movies made by dangerous people. Writing was a great way to work through all of that.
GK: Have there been any books you've read over the past year you either enjoyed or found especially relevant to you?
CG: Many! I started reading graphic novels, and the Heartstopper series by Alice Oseman made me so happy and gave me so much hope. The Secret Lives of Church Ladies was quite possibly the best book I read in 2020, but I also loved The Black Kids by Christina Hammonds Reed, which was so amazing and so far from what I had been expecting. I recently read Perfectly Parvin by Olivia Abtahi, which comes out the same day as Off the Record, and I want it to be made into a TV show immediately! Writers and Lovers by Lily King is getting adapted by Toni Collette and I'm so so happy; it's been one of my favorite books of 2021!
PRR Writer, Grace Kennedy