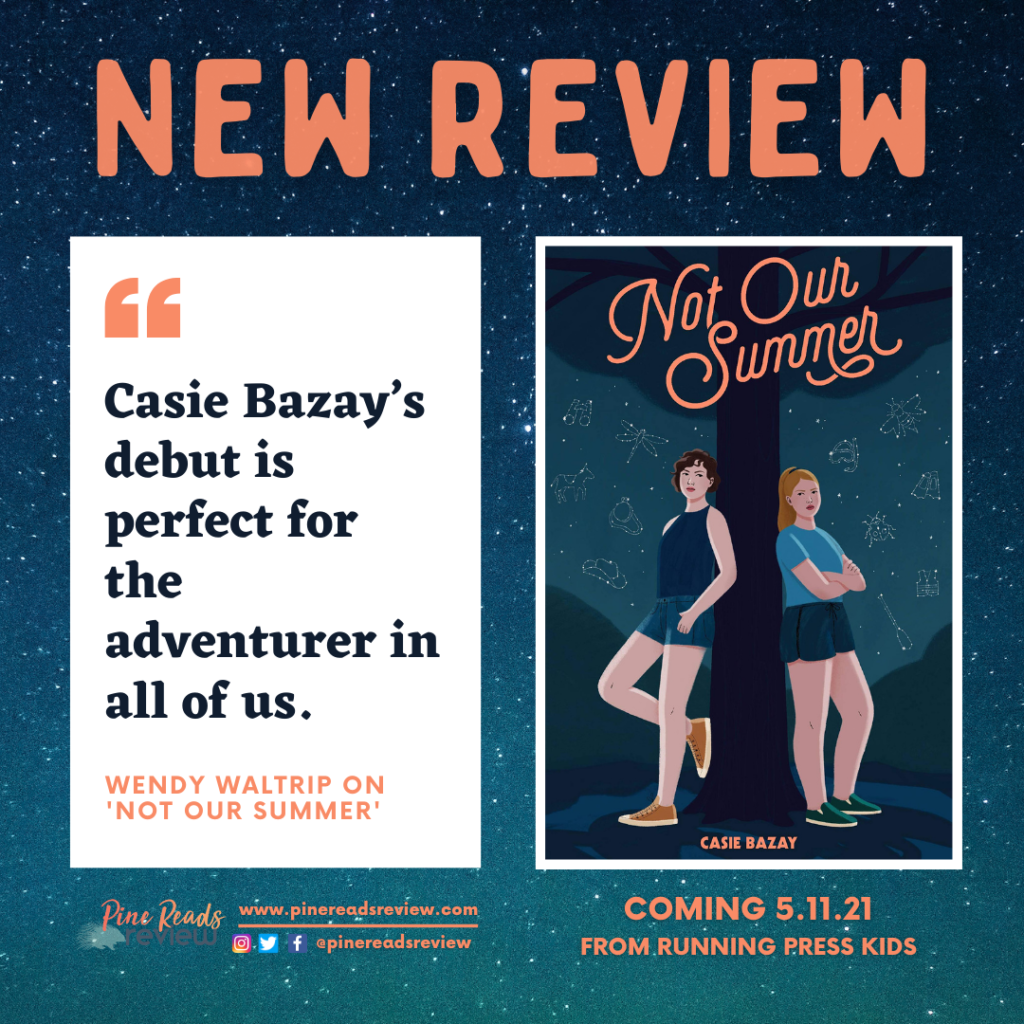 Not Our Summer by Casie Bazay
Coming May 11, 2021 from Running Press Kids; 288 pages
Content Warnings: Strong language, smoking, death of a loved one, mentioned death of a child, drug use, mentioned infidelity, hospital scenes, divorce
About the Author: "Casie Bazay is a former middle school teacher who now works as a freelance writer, editor, and author. In her spare time, she enjoys exploring the great outdoors, spending time at the barn with her horses and goats, reading, and watching movies. Casie lives on a hay farm in Oklahoma with her husband and two children but loves traveling to new and exciting destinations whenever she can." (Bio taken from the author's website.)
Find Casie Bazay on the following platforms:
---
"Maybe Grandpa thought he could change things between our families with all his tasks, or whatever these dumb trips are, but he was wrong. There's no way in Hades we'll ever be friends."
Complete opposites K. J. and Becka have only seen each other a couple of times in their lives before, never mind the fact that they're cousins. And due to the feud between their mothers, they'd rather not spend any time together at all. But when their grandfather dies and leaves them a large amount of money with the stipulation that the two estranged cousins must go on five specific trips around the country together first, K. J. and Becka are forced into closer quarters than they've ever been before. Yet with every trip they complete—facing daunting tasks like riding mules into the Grand Canyon and white-water rafting on the Chattooga River—they find themselves beginning to grow closer. That is until the real truth behind their family feud is revealed, changing everything. Will they be able to overcome the past and face the future together? Or will the family divide become deeper than ever before?
Casie Bazay's debut is perfect for the adventurer in all of us. Bazay's depiction of the many settings is spot-on and brimming with exquisite details. As I read, I found myself wanting to join the cousins on their trips, albeit without the awkward silences. All of the characters, not only the two protagonists, are well-developed with natural strengths and weaknesses. The dual narration supports the story flawlessly, and I especially enjoyed the seamless addition of the epistolary form as the two girls are presented with several of their grandfather's letters. My main takeaway? It felt real, like this is a story that two cousins-at-odds might actually experience. Fans of road trip stories and narratives with complex family relationships will love this adventurous and genuine tale.
Not Our Summer releases May 11, 2021.
(Pine Reads Review would like to thank NetGalley and the publisher for sending us an ARC in exchange for an honest review. Any quotes are taken from an advanced copy and may be subject to change upon final publication.)
PRR Assistant Director, Wendy Waltrip