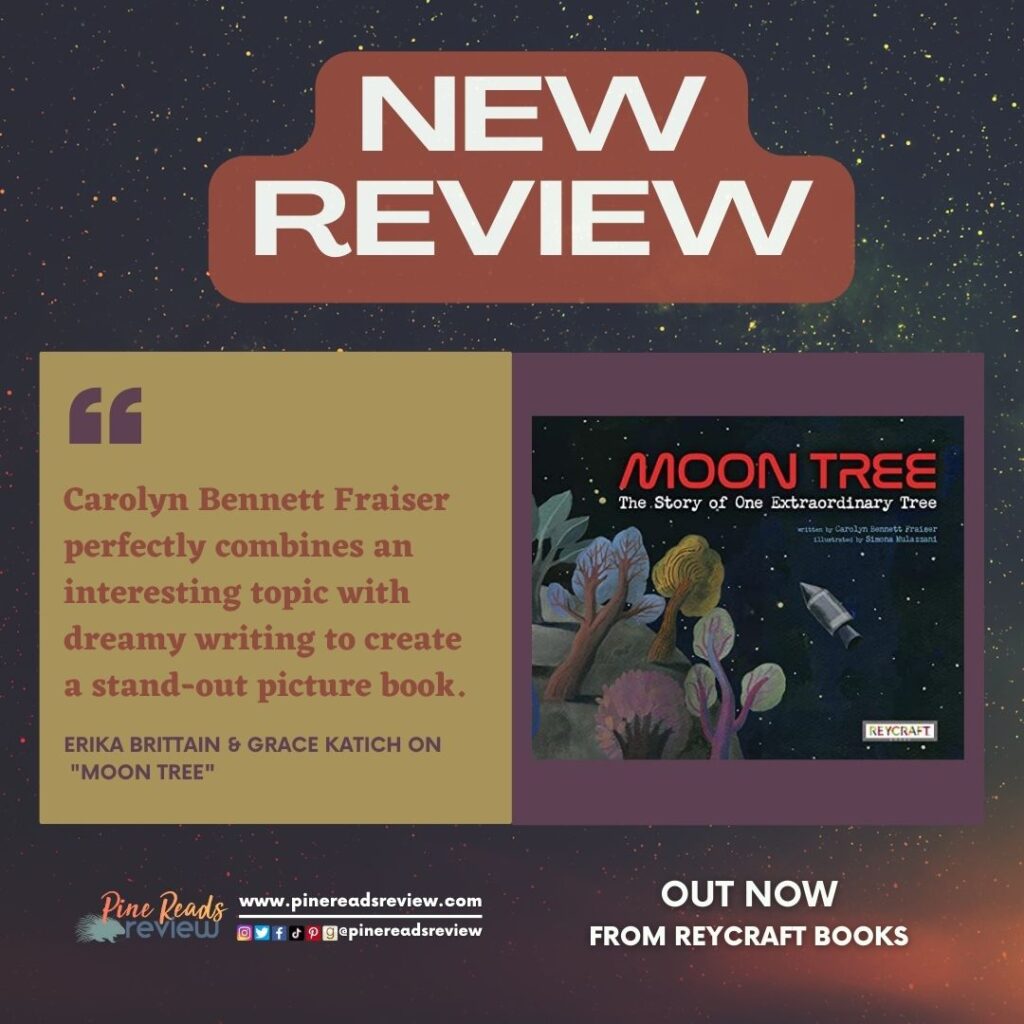 Moon Tree written by Carolyn Bennett Fraiser & illustrated by Simona Mulazzani
Out Now from Reycraft Books; 32 pages
About the Author: "Carolyn Bennett Fraiser is a writer and graphic designer for non-profit organizations and the author of more than 1,600 articles published for adults. Currently, Carolyn volunteers on the administrative team of her local Society of Children's Book Writers and Illustrators (SCBWI) chapter and teaches creative writing workshops for teens in her hometown in Brevard, North Carolina, where she stumbled across the town's local moon tree" (Bio taken from the book).
Find Carolyn Bennett Fraiser on the following platforms:
About the Illustrator: "Simona Mulazzani was born in Milan, Italy, but now lives and works in the town of Pesaro. After art school, she studied scientific illustration and began working on packaging design, TV commercials, and animation. She is an adored children's book artist in Italy and has illustrated over 100 books internationally. In 2005 and 2013 she received a Silver Medal from the Original Art Show at the Society of Illustrators, in 2007 and 2011 a White Ravens award, and in 2016 the Andersen Prize as Best Illustrator (the most important Italian children's book prize). Her works have been exhibited in both Italy and abroad" (Bio taken from the book).
Find Simona Mulazzani on the following platforms:
---
"Together they search through piles of old newspapers, and stacks of photographs until they find… / a story about a container of seeds that circled the moon."
Moon Tree: The Story of One Extraordinary Tree tells the real-life journey of astronaut Stuart Roosa and the tree seeds he took to outer space. Roosa took these tree seeds in the same spacecraft that circled the moon during the Apollo 11 mission. After Roosa came back to earth, the seeds were potted as an experiment. Would they still grow? Yes, they would! These growing trees, called "moon trees," were planted across the United States. In this poetic picture book, readers learn the forgotten facts about moon trees—from the people who grew the trees to the students who now study them!
Carolyn Bennett Fraiser perfectly combines an interesting topic with dreamy writing to create a stand-out picture book. What stood out to us in Moon Tree is that the characters are constantly referred to as "ordinary". We have ordinary trees, an ordinary boy, and an ordinary girl. This repeated description contrasts greatly with the fact that this is so extraordinary—it's literally out of this world! The "ordinary trees" are really plants that circled the moon; the "ordinary boy" is really NASA astronaut Stuart Roosa; and the "ordinary girl" is a real person who sparked an interest in these forgotten pieces of history. In addition to the poetic contrast of word choice and the reality of the story, we also appreciate how this use of "ordinary" can make this major scientific event accessible for children. Stuart Roosa was just an ordinary young man who took his interests and did something great. The young girl who discovered moon trees is just like young readers: curious, imaginative, and determined. While this is a nonfiction picture book and definitely very educational, this underlying motivational theme really stood out to us. Another thing that made this book particularly special: our very own campus (the University of Arizona) has a moon tree! The tree is housed in the Kuiper Building, and any reader in Tucson needs to see it in person!
(Pine Reads Review would like to thank the author and the publisher for sending us an ARC in exchange for an honest review. Any quotes are taken from an advanced copy and may be subject to change upon final publication.)
PRR Writers, Erika Brittain & Grace Katich
---