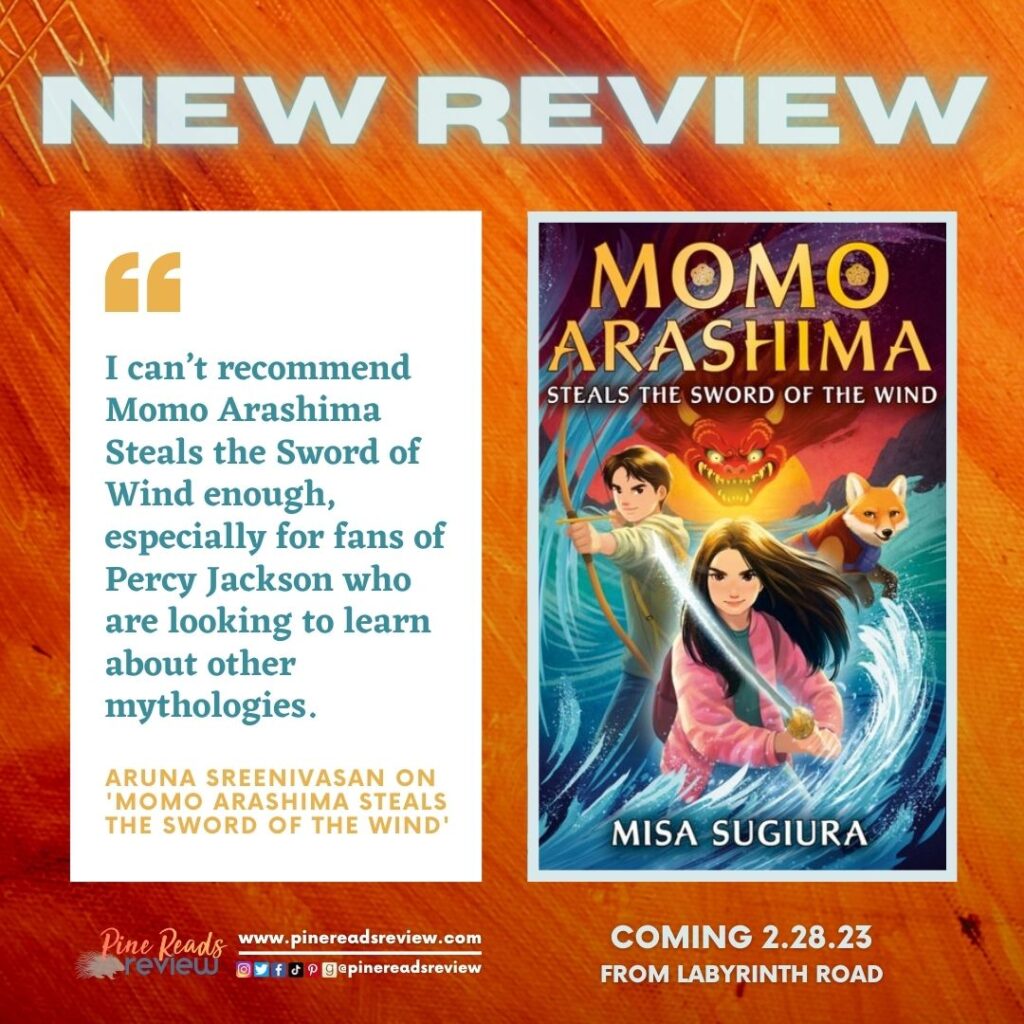 Momo Arashima Steals the Sword of Wind by Misa Sugiura
Coming February 28th, 2023 from Labyrinth Road; 384 pages
Content Warning: fantasy violence, bullying, mentions of loss of parent
About the author: "Misa Sugiura's ancestors include a poet, a priestess, a samurai, and a stowaway. Her first novel, It's Not Like It's A Secret, won the Asian Pacific Islander American Librarians' Association's Award for Young Adult Literature; her highly acclaimed second novel, This Time Will Be Different, made the Best of 2019 lists of YALSA, Kirkus Reviews, the New York Public Library, and the Chicago Public Library. Her short story, "Where I'm From" appears in Come On In, a young adult anthology of stories about immigration. Her latest book, Love & Other Natural Disasters, has been praised by the American Library Association as 'hilariously awkward' and 'honestly poignant.' You can find her online at misasugiura.com and @misallaneous1 on Twitter and Instagram" (Bio taken from author's website).
Find Misa Sugiura on the following platforms:
---
"A little daughterly disobedience never hurt anyone, especially when it comes to saving lives."
All Momo Arashima wants is a normal life―one where she doesn't have to worry about her absentminded, heartsick mother and where the mean kids at school would just leave her alone. She never should've believed in her mother's magical stories, much less told her peers about them. But then a shikome attacks Momo on her twelfth birthday, and, while escaping, she runs into her former best friend-turned-popular-jock, who can also see the shikome. Oh, and a talking fox with a penchant for alliterative insults saves them. Turns out her mother's "make-believe" stories are anything but. In fact, her mother is a Shinto goddess who can no longer protect an important passageway to Yomi, the land of the dead, and now the world is in grave danger. Momo, along with Niko the talking fox and Danny the ex-best friend, must embark on an epic journey to discover who Momo really is, what it means to be a hero, and save the world. Totally normal stuff.
This is middle grade fantasy at its best! Misa Sugiura spins a hilarious, dynamic tale set in a world influenced by Japanese Shinto belief, wherein Momo, Niko, and Danny face plenty of trials and tribulations. I was hooked right from the start―even before the Shinto world was fully unveiled, the bullying that Momo endures, just because the kids at school view her as "other," adds a heavy dose of unfairness that infuriated me enough to keep turning the pages. And I wasn't the only angry one―Momo is, too. Momo's anger at the injustices of bullying, the deviousness of cold-hearted kami (gods), and the cruelty of Izanami, the Queen of Death, is easy to sympathize with, and how she learns to deal with her anger is admirable. Even more so when you remember that she's only 12 years old! Momo's inspiring determination made me utterly adore her and root for her every step of the way.
On their journey, Momo, Danny, and Niko grapple with mythical beings such as kami, yо̄kai, and oni. They are introduced to us in a style reminiscent of Percy Jackson and the Olympians―even if you aren't familiar with the belief system, the book presents everything in a memorable and fun way, easily digestible for readers of all ages. Throughout it all, Sugiura tackles heavy themes, such as the complexities of transracial adoption and toxic masculinity, with a careful and considerate hand. They are all woven into the story in a way that is accessible for a middle grade audience and add another layer of dimension to an otherwise lighthearted fantasy romp.
I can't recommend Momo Arashima Steals the Sword of Wind enough, especially for fans of Percy Jackson who are looking to learn about other mythologies. This book is the first installment of a forthcoming series, and I can't wait to plunge back into Momo's story in book two. 
(Pine Reads Review would like to thank NetGalley and the publisher for sending us an ARC in exchange for an honest review. Any quotes are taken from an advanced copy and may be subject to change upon final publication.)
PRR Community Outreach Lead, Writer, and Editor, Aruna Sreenivasan
---