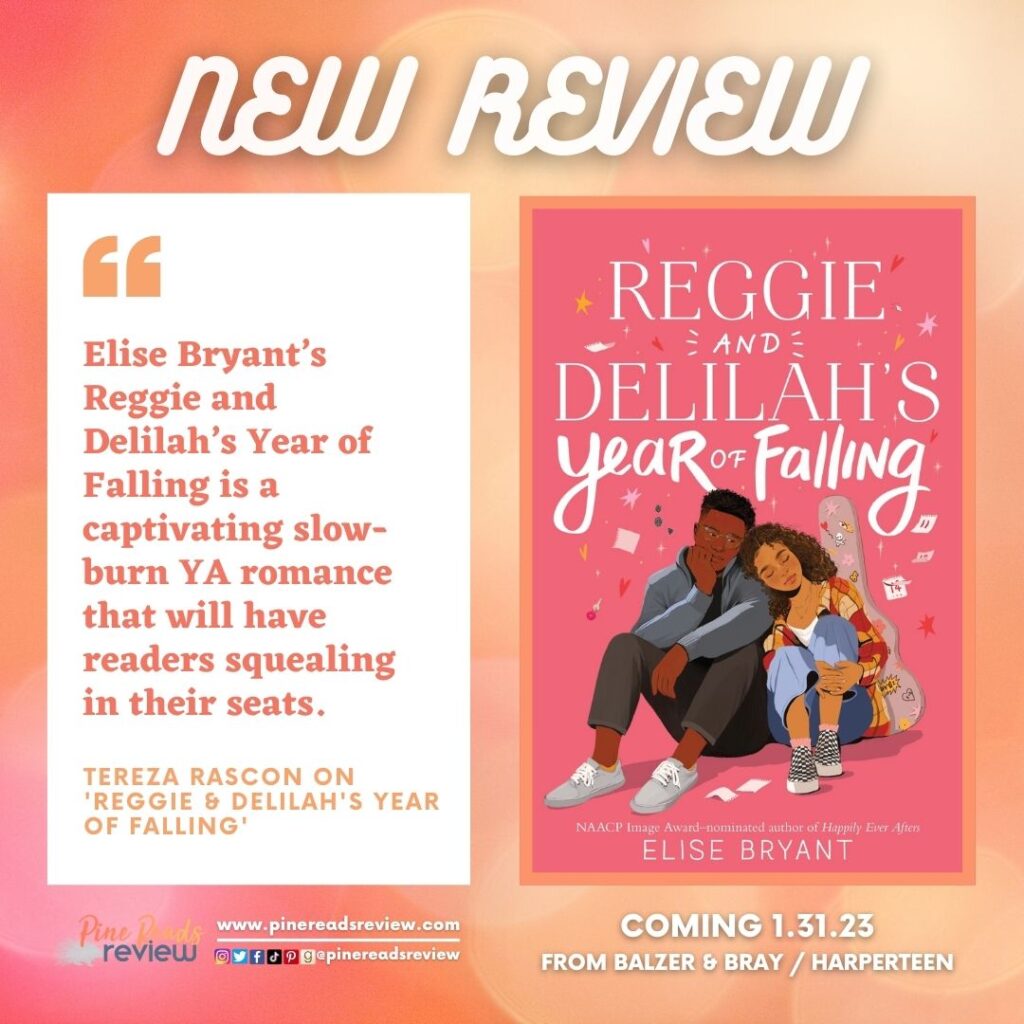 Reggie and Delilah's Year of Falling by Elise Bryant
Coming January 31, 2023 from Balzer & Bray/Harperteen; 400 pages
About the Author: "Elise Bryant is the NAACP Image Award-nominated author of Happily Ever Afters, One True Loves, and Reggie and Delilah's Year of Falling. She was born and raised in Southern California. For many years, Elise had the joy of working as a special education teacher, and now she spends her days writing swoony love stories and eating dessert. She lives with her husband and two daughters in Long Beach" (Bio taken from author's website).
Find Elise Bryant on the following platforms:
---
"Finally. I feel like I've leapt off the cliff at last, but I'm not falling. I'm flying."
On New Year's Eve, two teenagers meet for the first time at a local club. There is Delilah, who usually works at her friends' punk band's merch table, but is convinced to sing with them one night. Although she comes off as indifferent, she struggles with letting her true self shine. Then there is Reggie, a nerdy, D&D-loving guy who spends his Saturday nights leading campaigns with his friends and writing anonymous critiques about the game. Despite his passion, he is constantly discouraged from his interests by his family and is forced to hide behind an alias from online trolls. However, when he meets Delilah for the first time, he presents himself confidently, unwilling to let anyone put him down due to his interests. The chance encounters continue as every holiday reunites the teenagers. Delilah is inspired by Reggie's confidence, while Reggie continues to pretend to be the guy that Delilah wants him to be. As they fall deeper in love with one another, it sparks a burning question. What will happen once they see through each other's facades?
Elise Bryant's Reggie and Delilah's Year of Falling is a captivating slow-burn YA romance that will have readers squealing in their seats. Reggie and Delilah have unique endearing characteristics which shine through their interactions with one another. Bryant does an amazing job providing a balance of internal and external dialogue that reveals more about the character's motivations and desires without being explicit. The references to D&D and music sprinkled throughout the novel help readers, especially those already familiar with the topics, become engrossed in their thought processes. What amazed me the most about this novel was how Bryant approached the topic of race and the uncomfortable truths that come with it. It explored the idea of how Blackness can sometimes be seen as a novelty, how there are pressures in being the "right" kind of Black, and how these characters, despite being proud of their Black identity, struggle with people only defining them solely by that trait.
Overall, I found Bryant's novel to be truly inspiring, offering readers not just a delightful teenage romance but a chance for readers to see themselves reflected in these characters, and find the courage to be true to themselves and others.
Reggie and Delilah's Year of Falling releases January 31, 2023.
(Pine Reads Review would like to thank NetGalley for sending us an ARC in exchange for an honest review. Any quotes are taken from an advanced copy and may be subject to change before final publication.)
PRR Writer, Tereza Rascon
---