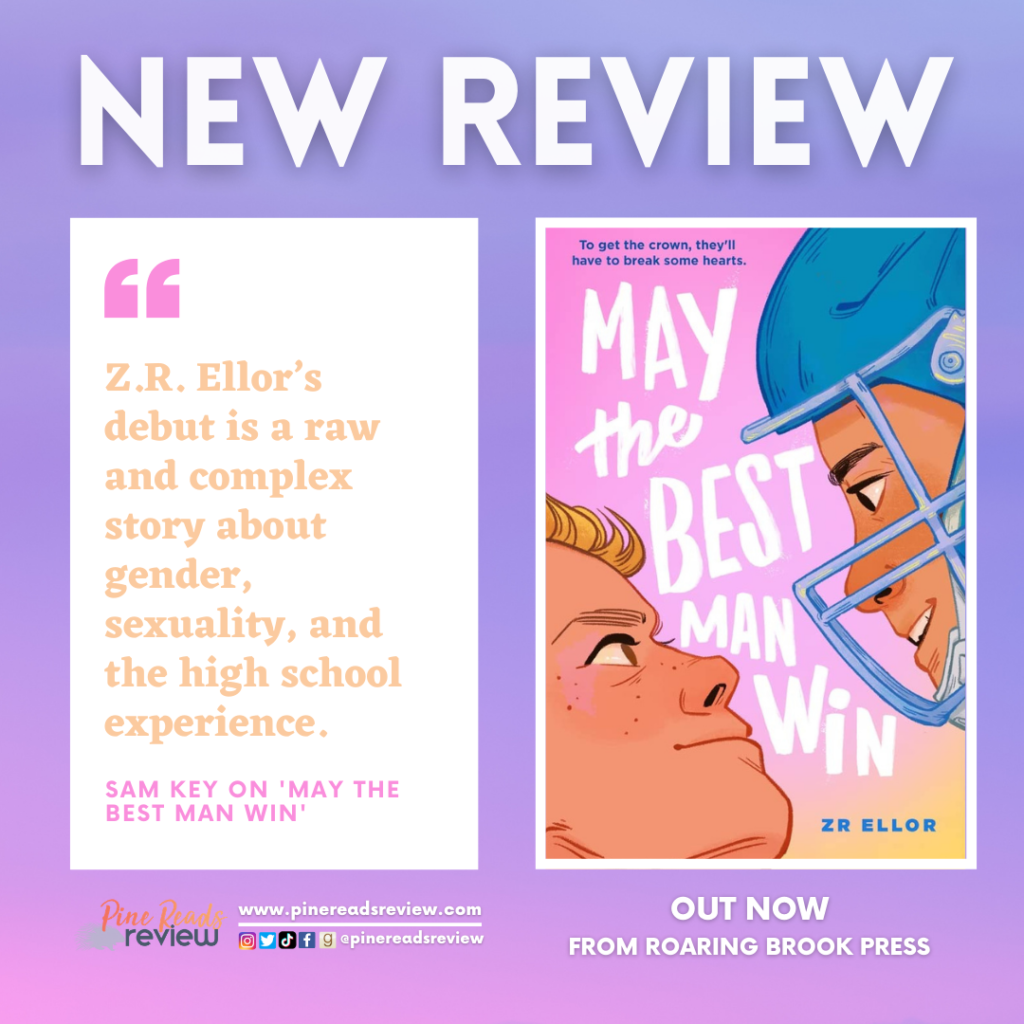 May the Best Man Win by Z.R. Ellor
Out Now from Roaring Brook Press; 384 pages
Content Warnings: Homophobia, transphobia, racism, profanity, sexual content, sexual harassment, bullying, death of a family member, ableism, abuse, underage drinking/smoking, divorce
About the Author: "Z. R. Ellor (he/him) is the author of YA contemporary novels MAY THE BEST MAN WIN and ACTING THE PART, and the adult fantasy SILK FIRE (written as Zabé Ellor.) He holds a BA in English Lit and biology from Cornell University. When not writing, he can be found running, playing video games, and hunting the best brunch deals in Washington D.C.." (Bio taken from Goodreads)
Find Z.R. Ellor on the following platforms:
---
"What cis people don't get is that it's not the wrong clothes, the wrong name, the wrong pronoun. It's the strangling feeling, like you've been buried alive and are struggling to breathe, like you don't exist. That the most important part of you is invisible and, thus, unreal. If people don't see me as a boy, then they don't see me at all."
Exes Jeremy Harkiss and Lukas Rivers want nothing more than to win the title of Homecoming King. After recently coming out as transgender, Jeremy is determined to forge his own path during senior year. Winning the Homecoming King title will ensure his classmates accept that he is a boy, as he truly is. Lukas has been grasping for stable ground after the loss of his older brother and being dumped by his then girlfriend—who's now his rival for Homecoming. Winning the title will open up opportunities and connections for the stability Lukas so desperately needs. As the exes face off in the campaign for the crown, their rivalry threatens to overwhelm and cancel Homecoming altogether. To save Homecoming for everyone at Cresswell Academy, Jeremy and Lukas will have to face each other, the ghosts they carry, and the feelings they never truly left behind.
Z.R. Ellor's debut is a raw and complex story about gender, sexuality, and the high school experience. Don't be fooled by the pink cover—this story deals with multiple heavy themes. While I loved the alternating points of view and trans and neuro-divergent main characters, I did find myself struggling to grow a connection with Jeremy and Lukas. Jeremy juggles transitioning, transphobia, and a school board that doesn't protect him; he's angry, and understandably so. However, his anger drives him to make some pretty questionable decisions at the expense of others, making him a hard character to root for. I was so excited to see autistic representation in Lukas, but I felt it was written a bit superficially and only ever brought up when it was convenient for the plot. I would have loved to see Lukas's experience with autism, systemic and internal, explored in greater depth than it was. That being said, the side characters are wonderfully diverse, and the story really brings to light many trans issues in today's world. Flaws and all, May the Best Man Win is a relevant story of love, acceptance, and finding your authentic self.
PRR Writer, Sam Key