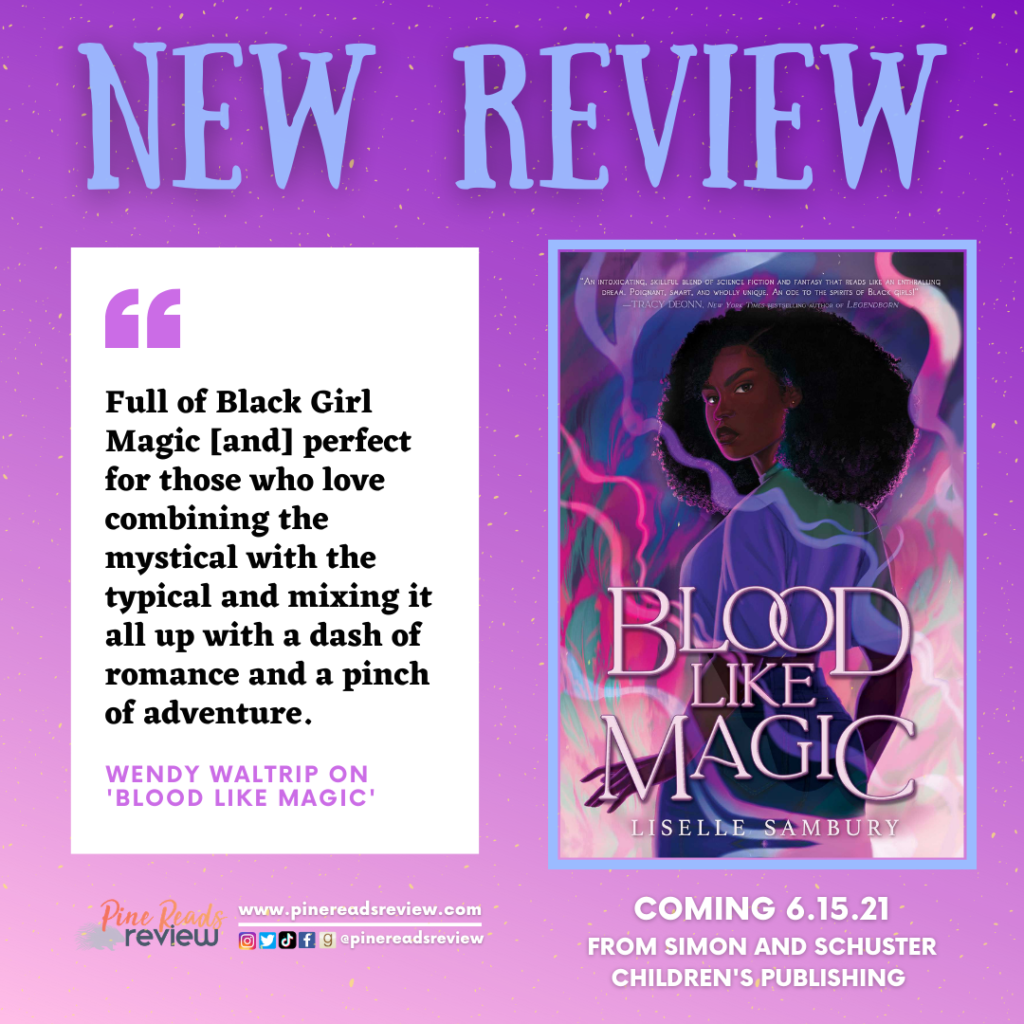 Blood Like Magic by Liselle Sambury
Coming June 15, 2021 from Simon and Schuster Children's Publishing; 496 pages
Content Warnings: Whipping scene within the context of slavery, gun/police violence, discussion of and character with an eating disorder, blood/gore/violence, death of a loved one, substance abuse/addiction, mentions of child neglect, non-sexual nudity, murder, emotional manipulation, kidnapping
About the Author: "Liselle Sambury is a Trinidadian-Canadian author who grew up in Toronto, and her brand of writing can be described as 'messy Black girls in fantasy situations.' In her free time, she shares helpful tips for upcoming writers and details of her publishing journey through a YouTube channel dedicated to helping demystify the sometimes complicated business of being an author. She is represented by Kristy Hunter at The Knight Agency." (Bio taken from the author's website.)
Find Liselle Sambury on the following platforms:
---
"There aren't always good or bad decisions. Only options, and the ability to choose them."
Sixteen-year-old Voya Thomas has been waiting for her Calling for years. In order to come into her full power as a witch, she must pass her magical trial by making a choice. Voya's never been good at making decisions, but the one thing her family didn't expect was for Voya to fail her Calling. When her ancestor allows her one more chance to complete the trial, Voya agrees…and is thrust into the horrifying position of having to choose between lives. Voya's task is to destroy her first love, and if she fails, her entire family will lose their magic. Desperate to save her family's magic, Voya signs up for a genetic matchmaking program to discover who her first love is—and finds herself paired with the infuriating Luc. But as secrets that connect them begin to emerge and the stakes climb even higher, Voya must decide between killing the guy she's maybe falling for or being responsible for the ruination of her bloodline. With everything on the line, can she make the right choice?
Liselle Sambury's debut is both beautiful and haunting, intricately weaving themes of choice, family, and love into the very fiber of the book. As one of my most anticipated reads of the year, it definitely did not disappoint! Voya is a wonderful protagonist: so sincere and real that you can't help but connect to and root for her. The rest of the characters also come alive in their own unique ways, especially Voya's large and chaotic family. I'd love to spend time in their hectic household! One of my absolute favorite elements of the novel, though, was the setting. The story takes place in 2049, and Sambury does an excellent job of creating viable technological and social advancements. I could really see the tech she designed being invented in our near future! Full of Black Girl Magic, Blood Like Magic is perfect for those who love combining the mystical with the typical and mixing it all up with a dash of romance and a pinch of adventure.
(Pine Reads Review would like to thank NetGalley and the publisher for providing us with an ARC in exchange for an honest review. Any quotes are taken from an advanced copy and may be subject to change upon final publication.)
PRR Assistant Director, Wendy Waltrip