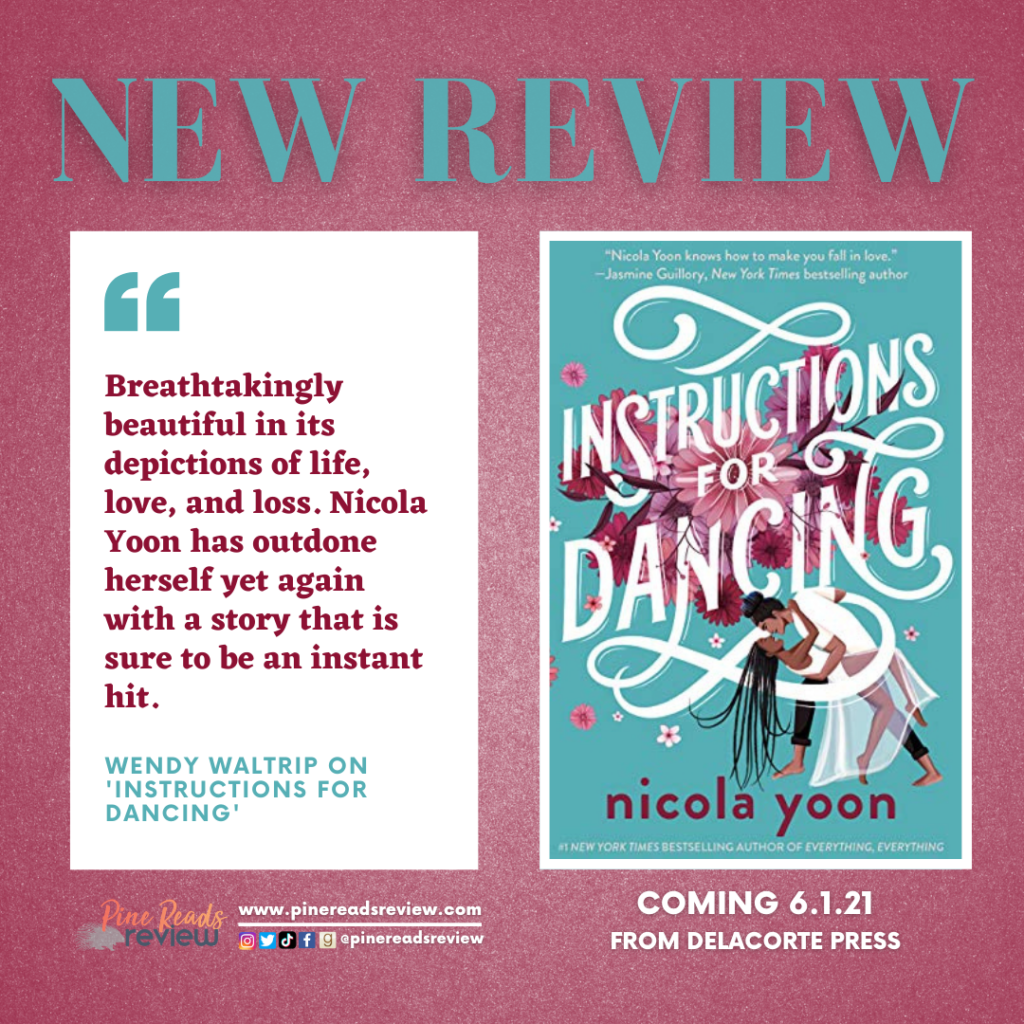 Instructions for Dancing by Nicola Yoon
Coming June 1, 2021 from Delacorte Press; 304 pages
Content Warnings: Divorce, infidelity, strong language, death of a loved one, depression, intimate scenes
About the Author: "Nicola Yoon is the #1 New York Times bestselling author of Instructions for Dancing, Everything, Everything and The Sun Is Also a Star. She is a National Book Award finalist, a Michael L. Printz Honor Book recipient and a Coretta Scott King New Talent Award winner. Two of her novels have been made into major motion pictures. She's also co-publisher of Joy Revolution, a Random House young adult imprint dedicated to love stories starring people of color. She grew up in Jamaica and Brooklyn, and lives in Los Angeles with her husband, the novelist David Yoon, and their daughter." (Bio taken from the author's website.)
Find Nicola Yoon on the following platforms:
---
"I remind myself that the only reason I'm entering this competition is so I can figure out a way to get rid of the visions. Despite how it might seem, this is not a love story."
Evie Thomas used to believe in love, but not anymore—not after her father completely ruined their family and broke her mother's heart. Fed up with the unrealistic romances of her favorite novels, she donates them to a Little Free Library—and meets a mysterious old woman. Only a few hours later, Evie witnesses a couple kiss and is struck by a vision of the beginning of their love story…and the end. Frantic to understand what's happening to her, Evie ends up at the La Brea Dance studio and meets an intriguing boy named X. When the two enter a ballroom dance competition together to help the studio, Evie is forced to question everything she thought she knew about love. With her heart on the line, is love truly worth the risk?
Instructions for Dancing is breathtakingly beautiful in its depictions of life, love, and loss. Nicola Yoon has outdone herself yet again with a story that is sure to be an instant hit. All the characters are so well-developed, and the setting sparkles with charming descriptions. Evie's not perfect (who is?), but her flaws make her realistic and the growth she experiences is both emotional and heartwarming. Even though Evie proclaims that "this is not a love story," the romantic elements are flirty and fun, but also heartbreaking in the most genuine way. While I enjoyed reading about Evie and X, my absolute favorite character is Fifi, who comes to life so spectacularly. Some of her scenes had me snorting with laughter! Readers can identify with so many fantastic themes in this novel: love, heartbreak, family, loss, and more. Instructions for Dancing is perfect for those who enjoy sweet romances that also portray the full reality of love.
Instructions for Dancing releases June 1, 2021.
(Pine Reads Review would like to thank NetGalley and the publisher for sending us an ARC in exchange for an honest review. Any quotes are taken from an advanced copy and may be subject to change upon final publication.)
PRR Assistant Director, Wendy Waltrip