MANGA MONDAY: Ouran High School Host Club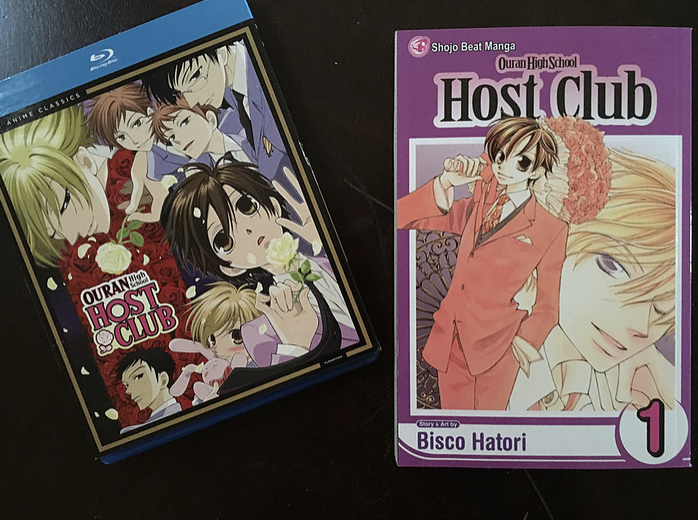 Trigger warnings: family neglect

About the Author: Bisco Hatori was born in Saitama, Japan and is best known for her series Ouran High School Host Club. When stuck trying to think up names for her characters, Hatori likes to listen to loud, upbeat music.
This is another series where I watched the anime first then started the manga. While I'm only a few volumes in, this series is just as good as the show!

"Besides, it doesn't really matter, does it? Guy, girl or appearance. It's what's on the inside that counts, right?"

Haruhi Fujioka is a scholarship student attending the prestigious Ouran High. One day Haruhi stumbles upon a seemingly empty music room only to find herself in the high school's Host Club! Panicking, she goes to leave and accidentally breaks an expensive vase, landing her in debt with the Host Club. To make up the debt, she becomes their lackey but what the Host Club members don't know—at first—is that Haruhi is a girl! In order to maintain her errand-boy job, the members of the Host Club decide to keep Haruhi's female gender a secret. Unimpressed with their richness and fame, Haruhi begins to change the Host Club members for the better, including their leader Tamaki Suoh. This series will make you laugh and cry, and wonder whether Haruhi will ever get out of her debt. Ouran focuses on and satirizes the cliches and stereotypes in high school, and discusses the importance of what's on the inside, not the outside.

Rating: 5/5 stars

PRR Writer, Meghan Reinholz
Want more slice-of-life manga series? Check out our reviews for: