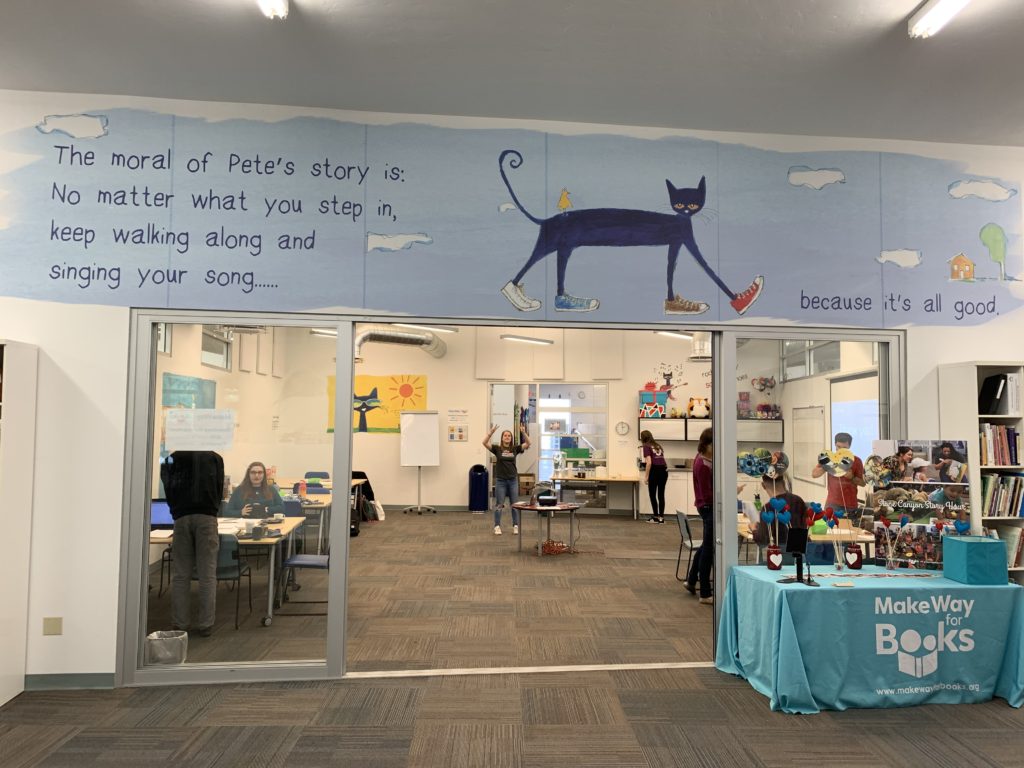 The Make Way For Books organization is an early literacy nonprofit in Tucson, Arizona. This organization partners with the Introduction to Publishing Children's and Young Adult Literature Market course offered at the University of Arizona. In this partnership, Make Way For Books looks for manuscripts that fit the intended ages 0-5. In the publishing course, the students work on creating stories for the app for a total of seven weeks. During this time, Make Way For Books meets with the groups twice for some additional feedback before submitting the final manuscript. Once the final manuscripts are submitted, Make Way For Books decides which stories are best fit for their audience.
If your groups manuscript was chosen, they would then attend the Make Way For Books Storybook Sprint event. This event was the time for the writers to meet with their editors and illustrator. This was the first Storybook Sprint event that Make Way For Books has ever done and it's inspired by the Book Dash event that takes place in Africa. The Book Dash event is a total of twelve hours and is where writers meet with illustrators, designers and editors to create new content for the children in Africa. Make Way For Books created their own event that's similar for the manuscripts chosen from the publishing course. This event was three and a half hours and the editors, writers, and illustrators come together to finalize the manuscripts and speak about illustration ideas.
My group's story A Royally Bad Hair Day was chosen to be published on the Make Way For Books app. Our story is a fantastical re-imagining of 'picture day' seen through the eyes of Lila, a young black princess, championing diversity and self-love. My partners and I were so excited that our story was chosen because our story is meant to empower young readers of color and further diversify picture books in the Children's marketplace. The Storybook Sprint Event was an unbelievable experience, especially because it's the first time any of our stories are being published. During this event, we got to experience what it's like to work in a fast paced editing environment. Our editor, Stephanie Pearmain, was very helpful in the ways of figuring out the main ideas of our story and the content that we wanted to get across. With this we were able to make the final edits of our story which helped with the illustrations for our story. Our illustrator, Megan Hellwig, was so amazing. She was so excited about the story and it really made our first experience one to remember. She did the illustrations of the story on her computer while we were making the edits, which was really impressive because we had limited time. She was able to give us an outline based off the main ideas we created with Stephanie and we could really see our story come together. We are so grateful for this partnership with Make Way For Books and our publishing course because it gave us an opportunity to get more diverse content in the industry.
PRR Writer, Ajia Barnes