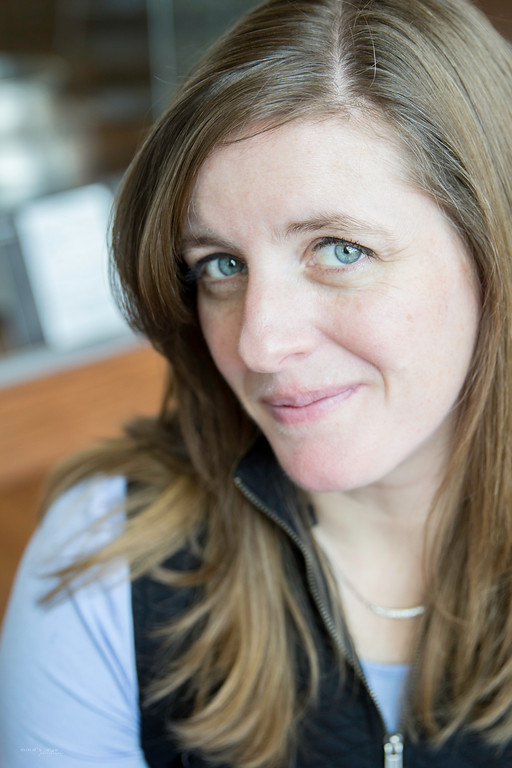 Janet Sumner Johnson lives in Northern Utah with her husband and three children. She sings in the shower, attends dance parties in her kitchen, and ruthlessly beats her kids at card games. She is the author of the picture book, Help Wanted, Must Love Books (Capstone, 2020), and the middle grade novel The Last Great Adventure of the PB&J Society (Capstone, 2016). You can learn more about her at janetsumnerjohnson.com.
Warning: This interview contains spoilers!
Christopher Lee: You debuted with The Last Great Adventure of the PB & J Society. What was it like to write your first novel? Did you always want to write Children's Literature?
Janet Summer Johnson: Writing my first novel was plain old fun. I didn't really know anything about the publishing world when I began, I just wrote for me. Now that I know more and have more expectations put on me, I sometimes have to remind myself why I write. It takes effort to get back to that joy of writing. Granted, the first draft was pretty awful, and I had to do a 100% rewrite, so I've come a long way, but writing for yourself is a real treat. And that's something I didn't really understand until after I was published.

I didn't decide I wanted to be an author until I was in my 20's. But once I took the plunge, there was no question that I would write children's literature. In fact, I never consciously asked that question, I just dove in. I love reading middle grade and YA books. I love the power of a well-written picture book. I love the hope and the growth you see in these stories. There's just something special about children's literature, and I'm so grateful to be a part of it.
CL: You've created this fun character of Captain Black Marge who brings in so much adventure and mystery. Was there a specific inspiration behind Black Marge and having a Pirate in the book?
JSJ: I'm so pleased you liked Cap'n Black Marge! When I was brainstorming ways for Annie to try to get money, finding a treasure was an early idea. I read Treasure Island as a kid and watched Goonies countless times. Adding Pirates to my story seemed like a good idea. But I needed my pirate to be a woman, so I read up on women pirates in history. Turns out there were quite a few. Fierce women like Anne Bonny and Mary Read left their mark in the pirating world. Their stories definitely influenced my character. A fun tid-bit for you, I took the name "Marge" from the movie Pee Wee's Big Adventure. Large Marge always cracked me up!
CL: There were a lot of heavy themes in the book. We see Jason's family struggle with poverty and hunger. Was it important to show the kids facing such hardships?
JSJ: So important. When I was redrafting this book (after that lousy first draft), it was the middle of the recession. I had a friend facing foreclosure on her house. I stopped in to visit one afternoon, and when I saw her kids, it really struck me. My friend, the adult, was not the only one going through a foreclosure. Her kids were going through it, too. They were facing the idea of getting kicked out of their house, leaving their school, their friends, everything. And while their mom may not have had much control, the kids had even less. I can still see the looks on their faces.

The point is, kids go through HARD stuff. All the heavy things we try to shield them from . . . kids face it. And so often, well-meaning adults tell them not to worry. We don't want kids to have to deal with it, and we think we're protecting them. So instead of having support from adults who love them, they are left to face these crazy hard things on their own.
Books remind you that you're not alone. They model ways to deal with hard things and help us see the bigger picture. This is why it's so important that we have books where kids face real hardships.
CL: Annie is so ambitious and fights so hard to help Jason, but we obviously see Jason leave at the end. Why did you decide to have Jason's family still leave as opposed to the kids finding a way for Jason to stay?
JSJ: I get asked this question a lot when I do class visits. I think we've been trained to always want that happy ending. We want to see things work out, because it gives us hope that maybe things could miraculously work out in real life, too. And sometimes they do. I really wanted that happy ending for Annie.
But when I got to that point while writing, it wasn't the right thing for the story. Because so often, things don't work out. Sometimes, we can give it our all and still not get the thing we want. But does that mean we failed? Does it mean we're destined to be miserable? Of course not! Life moves forward, and as sad as that moment is, we can still triumph. We can learn to cope and find happiness. We need books where things don't work out in the end to remind us that we aren't alone. To remind us that happiness is a choice and not a circumstance.
I hope my readers find the ending to be hopeful, even if it doesn't end the way they wanted.
CL: You've announced a new picture book coming out this spring. Were you excited to move into picture books?
JSJ: I'm thrilled to have a picture book coming out! Being a picture book author has been a dream of mine since I earnestly started writing. Despite being so much shorter, they are MUCH harder to write. But I've always loved a challenge. I love playing with words and making sure every word is the best it can be, I love searching for ways to make my ideas clear and concise, I love finding humor in a minimalist way. Plus, it's super cool having a talented artist draw pictures to go with your words. You see your writing in a whole new light!
CL: What do you hope young readers get out of your upcoming book?
JSJ: First, I hope it makes them laugh. Humor is so powerful. But I also hope they feel empowered to change their world for the better. We may not be able to control everything, especially other people, but we can control our choices and our actions. And when we stand up for ourselves, we are always better off.
And to parent-readers, I hope they get a kindly nudge to remember that childhood doesn't last forever. Enjoy it while you can!
Thank you so much for these thoughtful questions! It was a pleasure responding.
PRR Writer, Christopher Lee