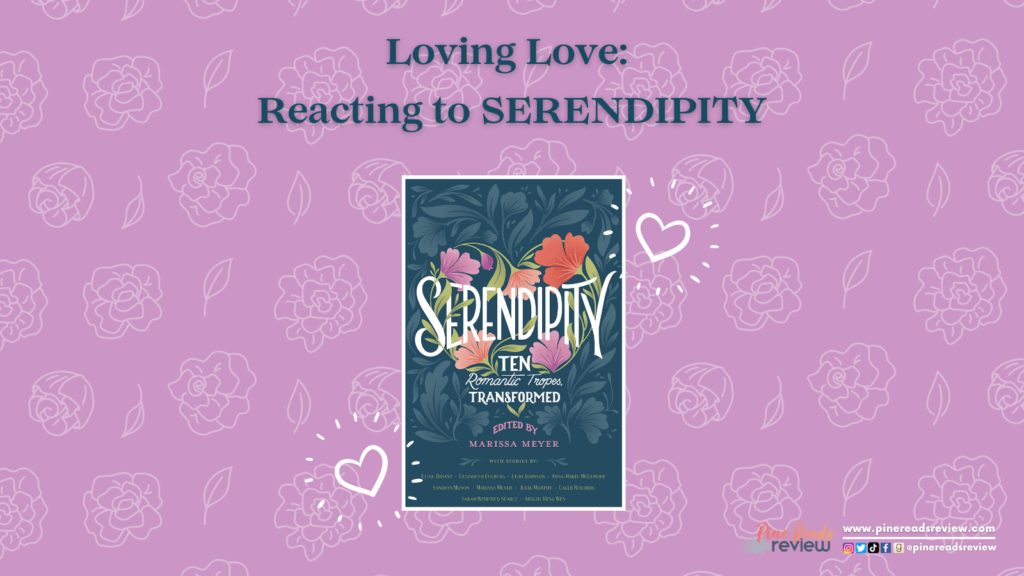 I really love love. I love the meet-cutes, the angst, the happily-ever-afters. And I especially love the tropes. So when I saw that ten superstar romance authors were creating a young adult romance anthology revolving around the romantic tropes, I was thrilled—and I immediately requested an ARC on NetGalley. I wasn't really expecting to receive said ARC, but when I did, I may have screamed in joy.
And trust me, Serendipity is worth screaming about.
Edited by Marissa Meyer and with stories by Julie Murphy, Leah Johnson, Abigail Hing Wen, Caleb Roehrig, Marissa Meyer, Sarah Winifred Searle, Elise Bryant, Elizabeth Eulberg, Anna-Marie McLemore, and Sandhya Menon, it's no wonder this anthology is the romance jackpot. With idiom algorithms and matchmaker apps, best-friends-to-lovers and enemies-to-lovers, secret admirers and grand gestures, Serendipity is chock-full of romantic goodness. While I enjoyed all the stories, three in particular stood out to me: "Bye Bye, Piper Berry" by Julie Murphy, "Anyone Else But You" by Leah Johnson, and "Shooting Stars" by Marissa Meyer.
Let's explore them together, shall we?
---
"Girl got cheated on by Boy. Girl faked relationship with Boy's Best Friend. Girl started to maybe fall for Boy's Best Friend? There was no script for how to survive this emotional double whammy." –"Bye Bye, Piper Berry" by Julie Murphy
Serendipity begins with Julie Murphy's take on a classic trope: the fake relationship. In dual-narrated "Bye Bye, Piper Berry," we follow Piper as she recruits her neighbor and friend Gabe to help her get back at her ex-boyfriend (and Gabe's best friend) who cheated on her. The solution? Fake dating, of course! But Piper doesn't realize that Gabe has been in love with her since first grade, and Gabe has no idea that Piper has started developing feelings for him as well. With squirrels, the musical Bye Bye, Birdie, and lots of cute scenes, Julie Murphy goes above and beyond with this trope. It's swoony, it's angsty, it's fabulous. And it's full of love!
---
"No phones, no internet, no keys. Just me, Jada, and the unholy weight of eight years of mutual resentment festering between us. It's my worst nightmare come to life: We're stranded together until morning." –"Anyone Else But You" by Leah Johnson
Ah, one of my favorite tropes: stranded together. In her story, "Anyone Else But You," Leah Johnson gives us senior class co-presidents Perry and Jada who are trying to shop for supplies for their school's Senior Send-Off but end up getting stuck in the Party Palace together overnight. It's Perry's worst nightmare, but there may be more to her relationship with Jada than she realizes. And when the doors are unlocked and they're welcomed back into the real world, how much of their evening stranded together will follow them afterwards? I adore Leah Johnson's writing, and "Anyone Else But You" was no exception. She did a wonderful job with the stranded together trope; it was everything I'd hoped for and more!
---
"When we see the bed, we both freeze." –"Shooting Stars" by Marissa Meyer
In her story, "Shooting Stars," Marissa Meyer tackles another one of my favorite tropes: one bed. Told from the perspective of chronically-awkward Misty, we get to see Misty's senior class trip to Yellowstone National Park—which of course includes Roman, the boy she's been in love with for years. Over the course of the trip, Misty and Roman are thrown together in the same train compartment, hotel room, and tent—all of which only have one bed. Marissa Meyer does a brilliant job of twisting this trope just enough so that we get to see the tension-filled situation again and again before finally, finally reaching a satisfying conclusion. Hats off to this fantastic writer and the editor of the anthology as a whole!
In summation, if you love love like I do, you'll surely love this anthology! With so many fabulous romance writers pulling the strings of the stories, how could you not? Whatever trope you're looking for, you'll find it in Serendipity: meet-cutes, angst, happily-ever-afters, and all. Moral of the story? Pick up a copy of Serendipity today because this is one anthology you aren't going to want to miss!
---
Content Warnings for Serendipity: Strong language, infidelity, toxic relationship, homophobia, classism, racism, mentioned kidnapping
(Pine Reads Review would like to thank NetGalley and the publisher for providing us with an ARC in exchange for an honest review. Any quotes are taken from an advanced copy and may be subject to change upon final publication.)
PRR Assistant Director, Wendy Waltrip