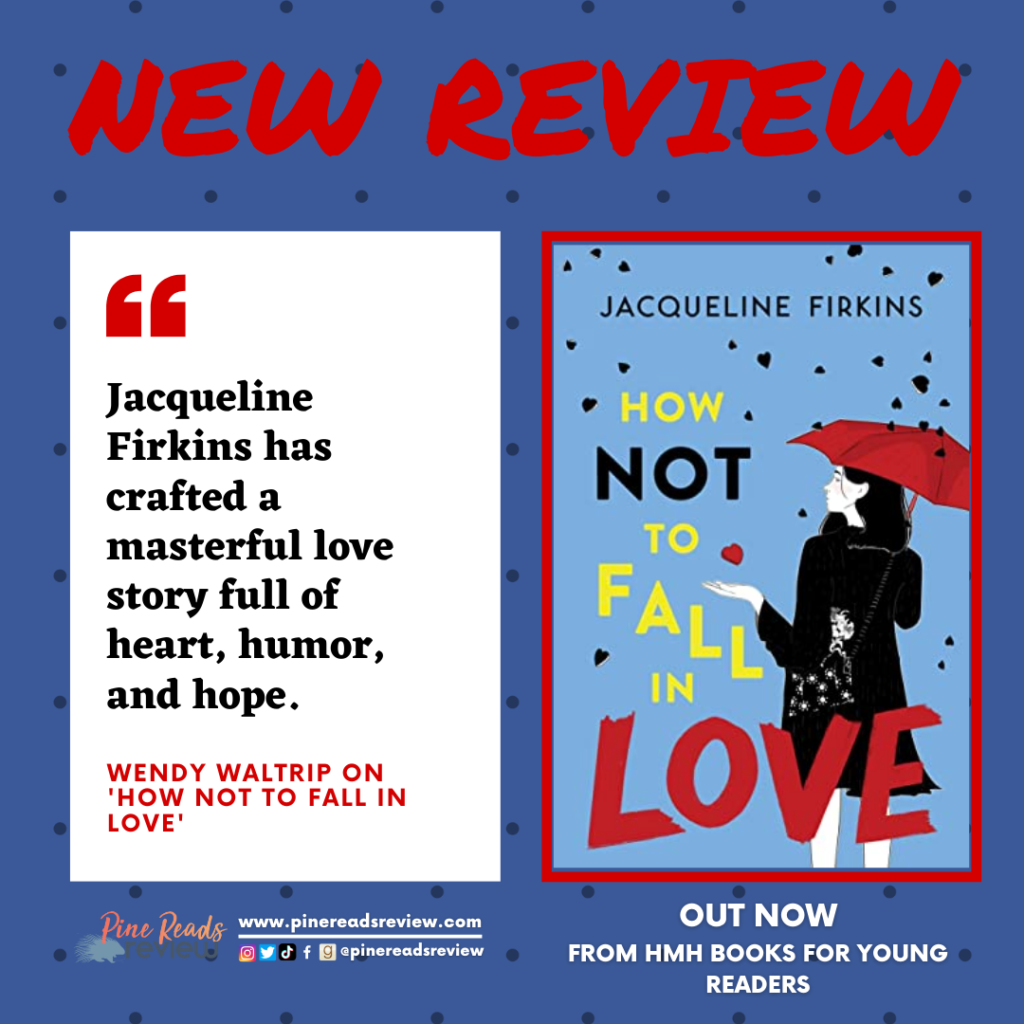 How Not to Fall in Love by Jacqueline Firkins
Out Now from HMH Books for Young Readers; 239 pages
Content Warnings: Strong language, mentioned eating disorder, toxic relationship, intimate scenes, underage drinking, anxiety, mentioned infidelity, absent father
About the Author: "Jacqueline's a writer, costume designer, and lover of beautiful things. She's on the fulltime faculty in the Department of Theatre & Film at the University of British Columbia where she also takes any writing class they'll let her into. When not obsessing about where to put the buttons or the commas, she can be found running by the ocean, eating excessive amounts of gluten, listening to earnest love songs, and pretending her dog understands every word she says." (Bio taken from author's Goodreads page)
Find Jacqueline Firkins on the following platforms:
---
"After working in this store from the time I was old enough to thread a sewing needle or tally a spreadsheet, it's hard to believe weddings have anything to do with love. Frankly, it's hard to believe in love at all."
Hardened cynic Harper has been working in her mom's wedding shop for years. She's seen everything from petty arguments to full-on screaming matches and has a hard time believing that love even exists. So when her hopeless romantic best friend and neighbor, Theo, comes to her nursing his umpteenth heartbreak, Harper makes a deal with him: she'll teach him how not to fall in love…but only if she proves she can date without falling in love too. At first, everything seems to be going great, but as the lessons progress, Harper realizes this love thing may not actually be so simple. When her feelings start complicating things, she has to decide whether to listen to her heart or her head—and figure out who was truly doing the teaching and the learning after all.
Jacqueline Firkins has crafted a masterful love story full of heart, humor, and hope. Harper and Theo are perfect foils of each other, and I had such a great time following their story. How Not to Fall in Love is fabulously full of fun characters, brilliant twists, and a fantastic best-friends-to-lovers romance. I especially enjoyed learning about LARPing along with Harper and how Theo's quirks aren't put down but applauded. The world could use some more zany people! The wedding shop setting absolutely sparkles with charm, and I really loved the dynamic between the three women who work at the shop: Harper, her mom, and Pippa. Firkins doesn't shy away from discussing the very real internal turmoil that love can cause, and I think she does an excellent job with it. Overall, How Not to Fall in Love is perfect for fans of fun and flirty teen romances.
(Pine Reads Review would like to thank NetGalley and the publisher for providing us with an ARC in exchange for an honest review. Any quotes are taken from an advanced copy and may be subject to change upon final publication.)
PRR Assistant Director, Wendy Waltrip