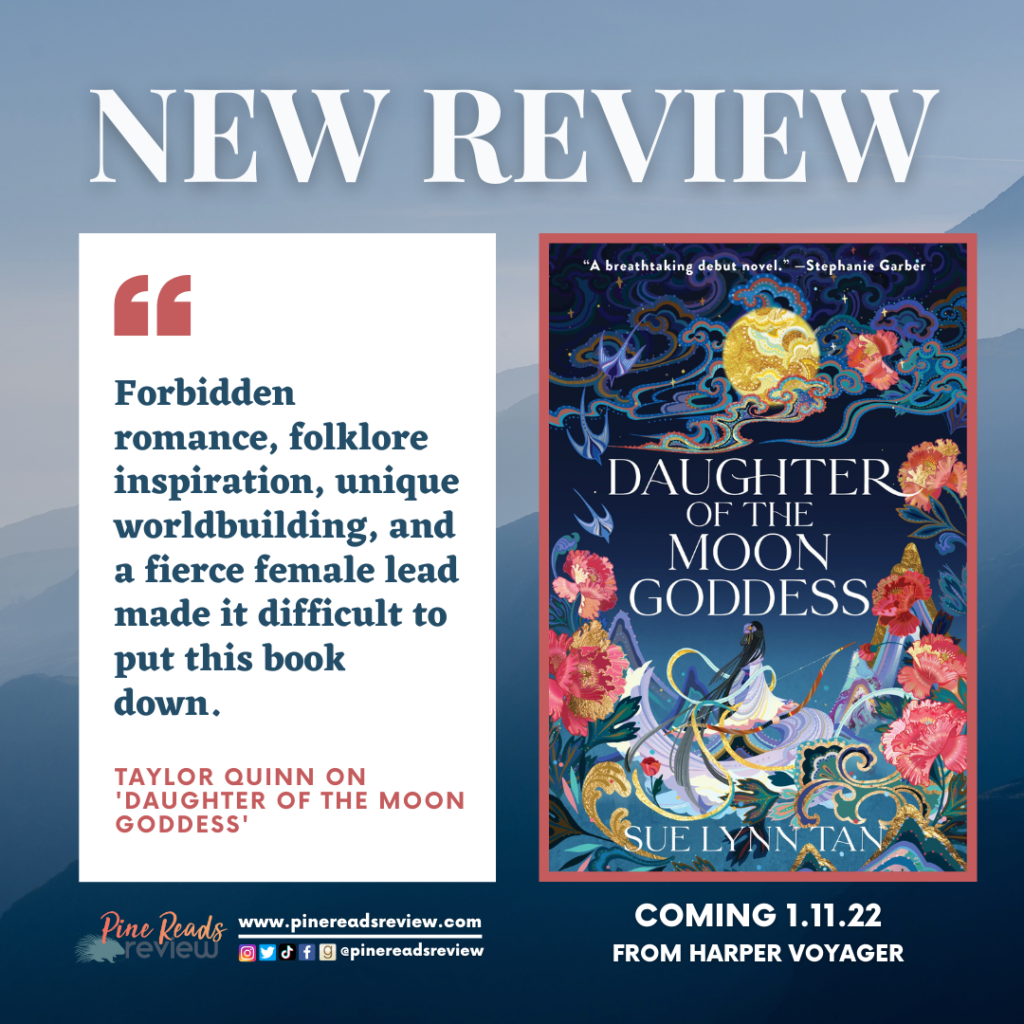 Daughter of the Moon Goddess by Sue Lynn Tan
Coming out January 11th, 2022 from Harper Voyager; 512 pages
Content Warning: violence, blood, gore, alcohol consumption, death, separation, attempted assault (brief), kidnapping, bullying (provided by author on Goodreads)
About the Author: Sue Lynn Tan writes fantasy inspired by the myths and legends she fell in love with as a child. Born in Malaysia, she studied in London and France, before settling in Hong Kong with her family.
Her love for stories began with a gift from her father, her first compilation of fairytales from around the world. After devouring every fable she could find in the library, she discovered fantasy books – spending much of her childhood lost in magical worlds. When not writing or reading, she enjoys exploring the hills and reservoirs of Hong Kong, the temples, beaches and narrow winding streets here. (Bio taken from author's Goodreads profile.)
Find Sue Lynn Tan on the following platforms:
---
"How foolish I had been to think everything would work out, just like in the books I had read […] I was no princess and fairy tales did not exist for the likes of me."
Xingyin has been living in solitude on the moon since her mother had been exiled. Unaware that her solitude was an attempt to keep her safe from the Celestial Emperor, Xingyin flees when her magic begins to flare up. She makes her way to the Celestial Kingdom, and under a secret identity begins training and learning more about her magical abilities alongside the emperor's son. With the mastery of her abilities, Xingyin sets out on a quest to challenge the Celestial Emperor and save her mother. Confronting mythological creatures, magical beings, and powerful enemies, Xingyin must decide to save what she loves or the realm of her world.
Daughter of the Moon Goddess had so many elements that I enjoy in fantasy stories! Forbidden romance, folklore inspiration, unique worldbuilding, and a fierce female lead made it difficult to put this book down. Xingyin and her adventure reminded me of a Greek Hero's journey, and the characterization that Sue Lynn Tan develops her with makes it easy to believe in her. We witness her rise to the stakes of her situation when it seems like her world is in chaos. I think this is the perfect book for readers who love Throne of Glass by Sarah J. Maas and The Bone Shard Emperor by Andrea Stewart. As action packed as this book was, I can't wait for the next one in the series!
(Pine Reads review would like to thank NetGalley and Harper Voyager publishing for sending us an ARC in exchange for an honest review. Any quotes are taken from an advanced copy and may be subject to change upon final publication.)
PRR Writer and Editor, Taylor Quinn
---