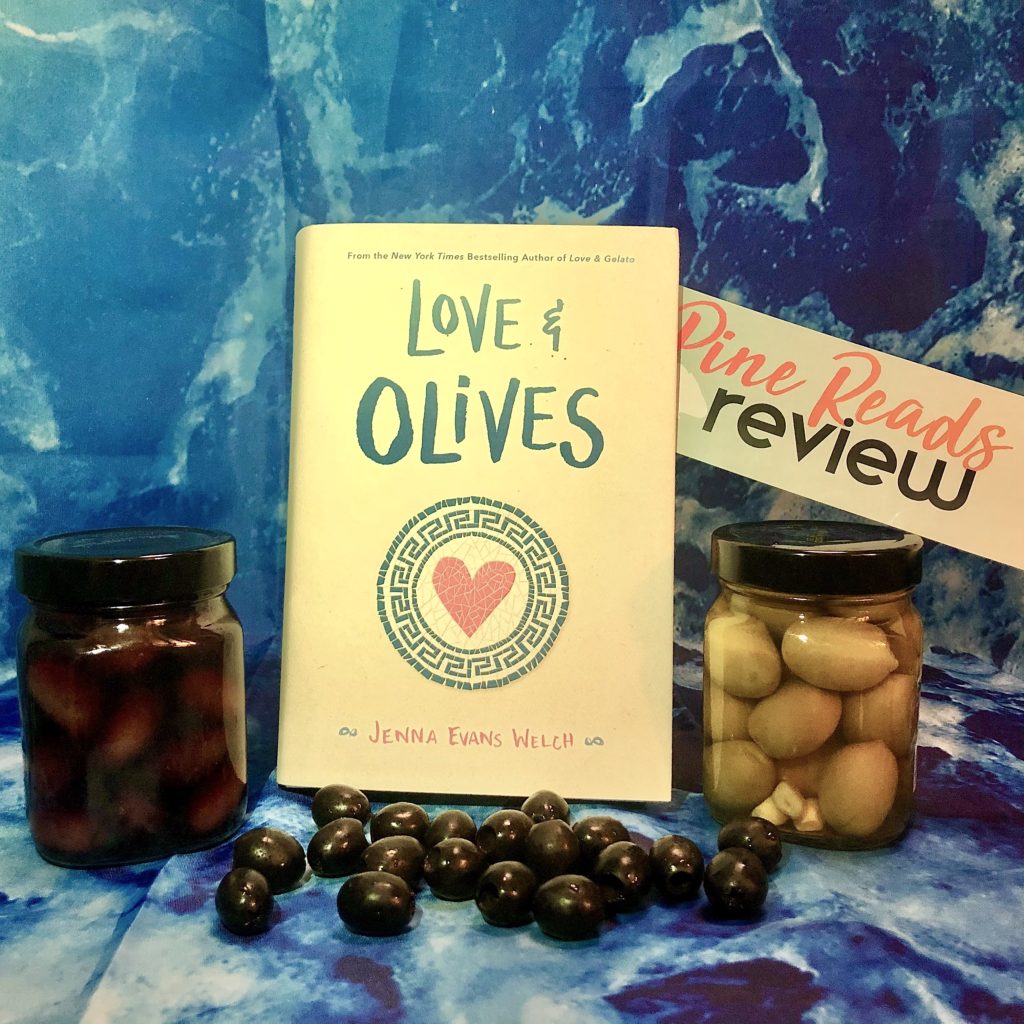 Love & Olives by Jenna Evans Welch
Simon Pulse; 2020; 500 pages
Content Warnings: Divorce, anxiety, bipolar disorder, kidney disease
About the Author: "Jenna Evans Welch was the kind of voracious child reader who had no choice but to grow up to become a writer. Her novels Love & Gelato and Love & Luck were both New York Times bestsellers and have been published in more than eighteen countries. She lives in Salt Lake City, Utah, with her husband and two children." (Bio taken from the back of Love & Olives.)
Website: https://www.jennaevanswelch.com
Instagram: @jennaevanswelch
Twitter: @jennaevanswelch
---
"I had no use for golden cities and broken promises. I was no longer interested in cryptic clues. I'd declared that part of my life over. Case closed. And then Atlantis came looking for me."
Liv Varanakis used to believe in Atlantis. She used to pore over maps with her Atlantis-hunting father and dream about the day they would discover it together. But that all changed when he fled to Greece, leaving eight-year-old Liv and her mother alone with painful memories. After moving around the country, teenage Liv settles into a new life in Seattle and finally believes she's put the past behind her…until she receives a postcard from her father begging her to join him in Santorini, Greece, to help film a documentary about Atlantis for National Geographic. Liv agrees, less than enthusiastically, and soon finds herself in gorgeous Santorini with a father she hasn't seen or spoken to in nine years and a cute and charismatic aspiring filmmaker who doesn't understand when to put the camera down. As they work together on the film, Liv begins to realize that not everything on this beautiful Greek island is as perfect as it seems. If she can open up her heart, she'll discover the secrets of the past buried in the sand of Santorini.
I desperately miss traveling, and this book gave me the chance to explore a new country from the comfort of my home. Jenna Evans Welch is a master of mixing stunning writing with emotional discoveries as deep as the ocean. Liv's journey of growth is so intricately woven into the plot that it feels as if readers are growing alongside her. The mix of romance, adventure, and family bonds was the perfect recipe to warm my heart and keep me on the edge of my seat. I loved Liv's interactions with Theo, and their relationship was so fun to read. The characters are all extremely well-developed with their own quirks and charms, and I immensely enjoyed exploring the hidden corners of Santorini. With surprising twists and amazing messages, this book is perfect for those who enjoy the magic of traveling, family ties, and falling in love.
PRR Writer, Wendy Waltrip 

If you're interested in more by Jenna Evans Welch, check out my review of Love & Luck here and my interview with her here!