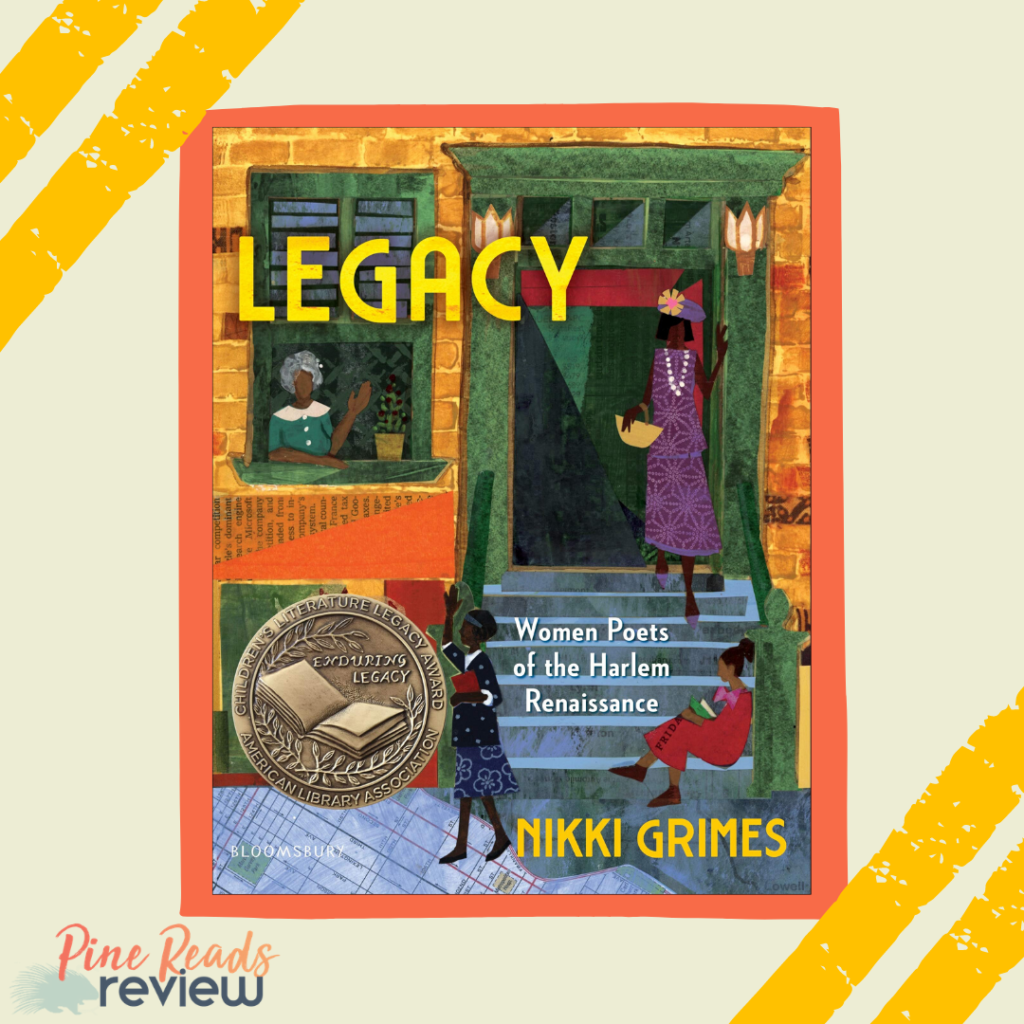 Legacy: Women Poets of the Harlem Renaissance by Nikki Grimes
With poems by Mae V. Cowdery, Helene Johnson, Alice Dunbar-Nelson, Clarissa Scott Delany, Angelina Weld Grimké, Gertrude Parthenia McBrown, Anne Spencer, Jessie Redmon Fauset, Ida Rowland, Esther Popel, Effie Lee Newsome, Georgia Douglas Johnson, Blanche Taylor Dickinson, Lucy Ariel Williams, and Gwendolyn Bennett
Artwork by Vanessa Brantley-Newton, Cozbi Cabrera, Nina Crews, Pat Cummings, Laura Freeman, Ebony Glenn, Xia Gordon, April Harrison, Vashti Harrison, Ekua Holmes, Cathay Ann Johnson, Keisha Morris, Daria Peoples-Riley, Andrea Pippins, Erin Robinson, Jan Spivey-Gilchrist, Shadra Strickland, Nichole Tadgell, and Elizabeth Zunon
Bloomsbury Children's Books; Releases January 5th, 2021; 144 pages
Content Warnings: discussions of racism, misogyny, colonialism, and slavery
About the Author: "New York Times bestselling author Nikki Grimes is the recipient of the ALAN Award for outstanding contributions to the field of adolescent literature, the 2017 Children's Literature Legacy Award, the 2016 Virginia Hamilton Literary Award, and the 2006 NCTE Award for Excellence in Poetry for Children. Her distinguished works include the much-honored books Garvey's Choice, ALA Notable book What is Goodbye?, Coretta Scott King Award winner Bronx Masquerade, and Coretta Scott King Author Honor books Jazmin's Notebook, Talkin' About Bessie, Dark Sons, Words with Wings, and The Road to Paris. Creator of the popular Meet Danitra Brown, Ms. Grimes lives in Corona, California." (Bio taken from the author's website.)
Website: https://www.nikkigrimes.com/
Twitter: @nikkigrimes9
---
"Time you learn / a little history. / The women in our race / have always gone / from strength to strength. / Let me introduce you to / a few women who can teach you / what I mean." (From "Opening Poem" by Nikki Grimes)
Experience the largely unsung voices of the women poets of the Harlem Renaissance in this new collection of breathtaking poetry from Nikki Grimes. Despite their unparalleled artistry and brilliance, these women have seldom been met with the same visibility as their male counterparts. Legacy: Women Poets of the Harlem Renaissance seeks to remedy this historical erasure by introducing readers to these masterful women and their work. Following each original poem from artists like Helene Johnson, Anne Spencer, and so many more, are new pieces from Nikki Grimes inspired by the former. Using the "Golden Shovel" method, Grimes creates fresh poems which include lines or fragments from the works of these women poets. Accompanied by gorgeous artwork from current celebrated Black women illustrators, this selection of revolutionary poetry can't be missed.
All I can say is…wow. From start to finish, Legacy: Women Poets of the Harlem Renaissance is a stunning work of art, history, and voice. With a foreword from Grimes, an introduction to the Harlem Renaissance and the Gold Shovel form, followed by three sections of poetry and artwork, which are then capped off by poet and illustrator biographies, reading this collection was a transformative experience. Some of my favorite poems include "Room for Dreams," "Judgement," and "Flag Salute," though it's extremely difficult to choose as every single page, poem, and illustration deserves celebration in its own right. Legacy is a fantastic introduction to the women's voices of the Harlem Renaissance, both commemorating and inspiring readers to learn more about their groundbreaking artistic contributions. 
Legacy: Women Poets of the Harlem Renaissance releases January 5th, 2021.
(Pine Reads Review would like to thank NetGalley and the publisher for providing us with an ARC in exchange for an honest review. Any quotes are taken from an advanced copy and may be subject to change upon final publication.)
PRR Assistant Director, Hannah Miller