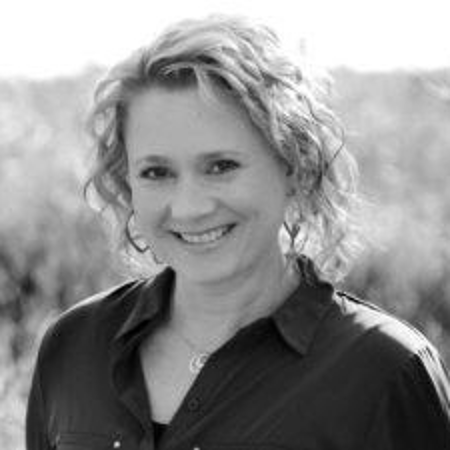 About the Author: Rebecca Koehn is a children's book author and middle school teacher based in Kansas. In addition to After the Rain, she has written Behind the Scenes of Pro Football. She grew up as a big reader and found a love for picture books through raising her two sons. You can find out more about her at her website: www.rebeccakoehn.com.
Social Media:
Twitter: @RJ_Koehn
Don't miss our review of Rebecca Koehn's After the Rain (Beaming Books) here!
Mandy Becker: What was the inspiration behind your debut picture book, After the Rain?
Rebecca Koehn: In Kansas we often suffer drought. Rain is an EVENT. One day in 2015, the sky dumped on us. Beautiful, wet, drippy rain. We live on a corner, and north of the house is a huge empty field. The rain washed down from that field and pooled at the corner of our lot. After the rain, I took my boys and nephew outside to play.
Pantsless and barefoot, they ran through the water, floated various floaty items, and in general made a wonderful wet mess. As I watched, I remembered days from my childhood when my brother and I would run up and down our block through gutters, kicking up water and making mini lakes with dirt and rock dams and that's what sparked the idea.
MB: What do you most hope that readers will take away from this story?
RK: To enjoy nature – especially rain of course- to play outside and to play together! Oh, and be creative.
MB: Do you have a favorite rainy day story? What is it?
RK: A big favorite in this house, remember I live in a house full of boys, is Red Truck by Kersten Hamilton and illustrated by Veleria Petrone. It's about a red tow truck that saves a bus full of kids from a mud puddle. It's super fun to read aloud.
MB: What has been the most challenging part of writing a picture book? The most rewarding?
RK: The most challenging is finding just the most perfect word for each part of your story. Picture books are short and every word counts. I revised many times, sometimes just deleting a word or changing one in a sentence to get the wording just the way I wanted and needed it to be.
The most rewarding is sharing it with readers of course! I love connecting over books and reading, whether it's my own or someone else's. That is always the best part.
MB: You mention on your website that you've "gone through different seasons of reading" throughout your life, meaning your book choices have changed quite a bit over the years. Do you plan to branch out similarly with your writing career, trying mediums other than picture books?
RK: Yes I do. I love picture books and have continued to write those. Hopefully you will see more from me in the future. However, I have also written a few chapter books and a middle grade novel. I haven't sold any of them yet, but I would love to write for children from picture books through middle grade if I can.
MB: You also teach classes at a local middle school. What similarities can be found between your job as a teacher and your job as a writer?
RK: Oh man this is a good question. Both being a teacher and a writer require you to be flexible and to revise. They also both require creativity. As I plan lessons for my students I need to be as creative as I can to appeal to different types of students and address the different ways they learn. This is true for writing as well. As an author you want to be creative and write in ways that will appeal to many different kinds of readers. Revision is important in both areas as well. All teachers have lessons, and assignments, that end up falling flat and not working as planned. Sometimes you have to think on your feet in the moment. Sometimes you just reflect at the end of the day and decide, nope that didn't work. Then you change it for the next day or the next year. Whatever is needed. This is the same with writing. You try something. It might not work. Your kids or your critique partners will say, nope that didn't work. And you have to go back and revise and find something that will.
MB: Can you give any advice to individuals hoping to pursue a career as an author?
RK: First off, if you truly want it, don't give up. Only the ones that persist make it. Secondly, get online and find a group to join and start collecting resources. There are a lot of wonderful places and people out there willing to help you. If you want to pursue writing for children I recommend starting with Kidlit 411, SCBWI, the 12×12 Challenge, and Inked Voices. Just search for any of these groups online to get more information.
MB: What can we expect from you in the next year?
RK: Well, I will hopefully have a book about BMX coming out in the fall. That's when it is scheduled, but sometimes these things change. After that I don't know. I'm still submitting and querying so HOPEFULLY by the end of the summer I will have more news. I do offer a monthly newsletter with tips for teachers and authors along with updates and news about children's literature and my writing. For anyone who is interested they can sign up for that at my website: www.rebeccakoehn.com
PRR Writer, Mandy Becker