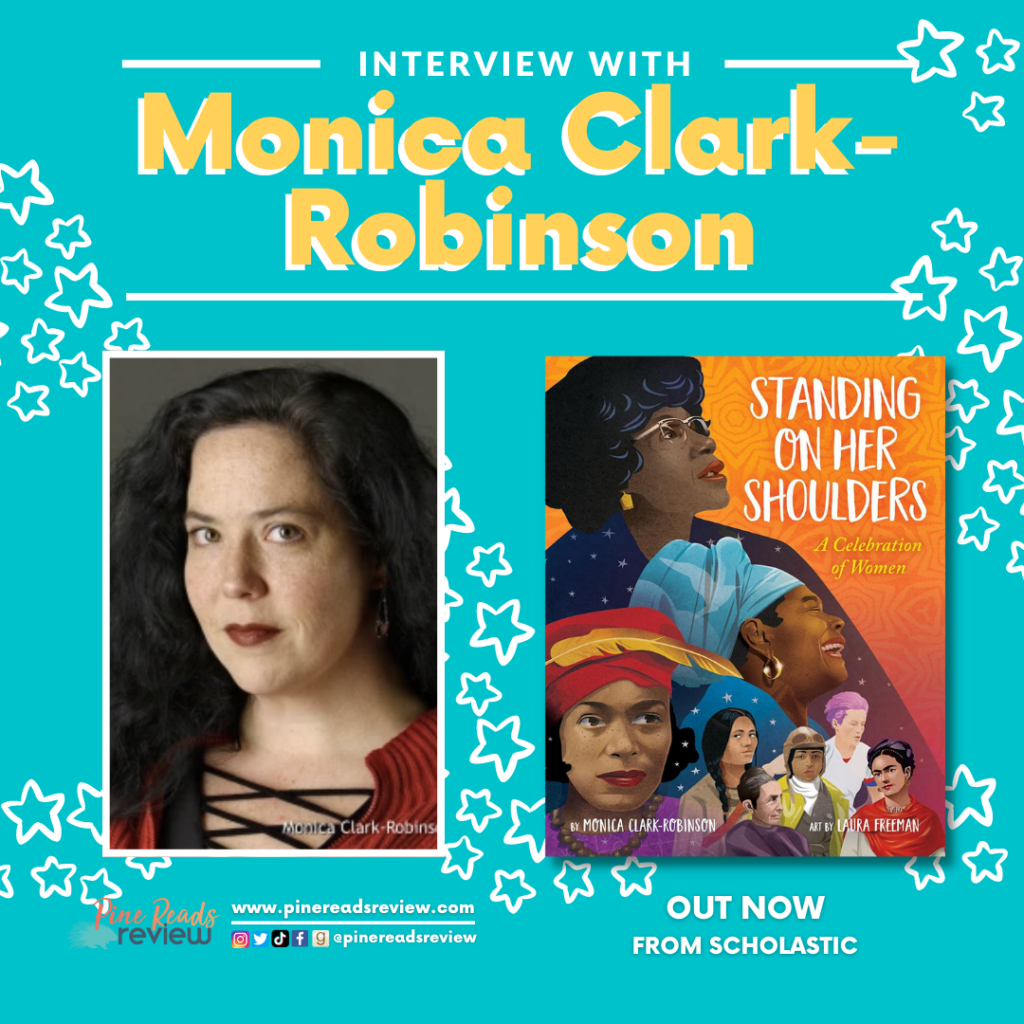 Standing On Her Shoulders by Monica Clark-Robinson, and illustrated by Laura Freeman
Out Now from Orchard Press; 40 pages
About the author: "I'm passionately in love with stories—the stories that connect us across culture, race, and age. I think the right story, at the right time, can change a child's life. I'm most interested in bringing forward stories that are being forgotten or misremembered. I write picture books, contemporary middle grade fiction, and YA fiction. My debut picture book, LET THE CHILDREN MARCH, was published by Houghton Mifflin Harcourt in January 2018. My next book, STANDING ON HER SHOULDERS, from Orchard Press (Scholastic), released in February 2021, with the amazing Laura Freeman illustrating. I'm also a professional actor, former children's librarian, and voice-over artist, and I live in a yurt in the country with one husband, too many cats, and just the right amount of daughters." (Bio taken from the author's website.)
Find Monica Clark-Robinson on the following platforms:
---
A huge thank you to Monica Clark-Robinson for taking the time to do an interview with us at Pine Reads! Her newest picture book Standing On Her Shoulders is out now, and be sure to check out our review of Standing On Her Shoulders here!
---
Wynn Davis & Erika Brittain (WD & EB): To start the interview, we would like to say thank you so much for talking to us about Standing On Her Shoulders (Orchard Press, 2021)! We absolutely loved reading this book. Standing On Her Shoulders is told—in the story—to a young girl by two older women. What felt right about this sort of frame story set-up?
Monica Clark-Robinson (MCR): I really wanted to set up the idea of that chain of ancestors upon whose shoulders we stand, so it felt very right to me to start with the child's own support system. The book moves from the women who care for you, to the women in your world, to the women in our past. And to have these words told from those older voices felt important to me.
WD & EB: This story is very moving in its call to look to the past and appreciate the work of those who have come before us. As you were writing, did you have any specific women in mind that you knew you wanted to include?
MCR: I did! We all have our "favorites," don't we? Some of the women I really look up to are included in the book, like Septima Clark and Jane Addams, among others. It was very important to both Laura (the illustrator) and I to not only provide a diverse representation of women, but to decenter whiteness throughout. The white women are there, but they're not front-and-center, which is so often the case.
WD & EB: Your writing has such a wonderful cadence to it, especially when read aloud. We loved the line "Magic-believers, dream weavers. Revolutionary minds, their words echoing through time"! How did you discover your rhythm with writing?
MCR: Poetry has long been a love of mine, whether writing it or reading it or reciting it. I think my "default" writing in the picture book form is very rhythmic and lyrical, so it felt natural for this book. It feels to me like poetry elevates the impact of my words and they just sink in deeper somehow than standard prose.
WD & EB: A recurring line in the book is "Speak their names." Interestingly, the famous women featured are not specifically named in the story. Rather, they are depicted through illustrations. What was the significance of showing these women rather than telling about them?
MCR: I wanted this book to mostly be about the expanding circles of women throughout time, upon whose shoulders we stand. There are plenty of books that tell a bit of biographical information about these women. For me, though, I wanted this book to be focused on that unbroken line of ancestors, both familial and famous. And I wanted the reader to literally speak the names of their ancestors and our shared ancestors as they read the book.
WD & EB: Talking about the illustrations, Laura Freeman's art in Standing On Her Shoulders is absolutely gorgeous. The pictures are so colorful and vivid. What was working with Laura Freeman like?
MCR: One thing that always surprises people about traditional picture book publishing is that we writers have very little contact with the illustrator. The editor and art director handle that, and the writer stays separate. I think this is an important facet of the magic of picture books. The artist gets their own creative process, free from the writer's interference. The idea of having the older women and the girls taking pictures and hanging pictures was entirely Laura's! And it made such a big difference to the book! The family in the book looks like Laura's family. Though I did get to make comments after the sketch phase and color phase, they all go through the art director. Laura and I didn't talk during that time. We have done virtual book events together, though, since the book released, and I can tell you she's wonderful!
WD & EB: As you've grown as a writer, what authors have inspired your own style? Any works that were particularly helpful as a children's author?
MCR: For picture book authors, I've always loved the work of Carole Boston Weatherford, Andrea Davis Pinkney, Deborah Underwood, Yuyi Morales, and Jane Yolen. Those are some of my "automatic buy" authors. I've learned so much from spending hours reading their books—I love to use mentor text study to learn about a genre. And I always have to shout-out to Robert Frost, Mary Oliver, and Maya Angelou—poets who made me first fall in love with words.
WD & EB: For our readers who are aspiring authors, what was the best piece of advice you got as a new writer?
MCR: For me, I think getting a good critique group is so important. Find other writers who are well-read in your genre and are kind but honest. And then, read, read, read! (Ideally books written in the last five years!) The more you read, the more you will understand about how to write. Finally, I like to give the advice of "acting as if." If you want to be a professional writer, act as if you already are! What does a professional writer do? They put time and resources to their work, they prioritize writing time, they go to workshops and conferences, they read and support other authors in their genre, they practice, they research, they study the business. "Acting as if" is the only way to get to the reality, if you ask me. (This works for non-writing life stuff, too!)
WD & EB: To wrap up, we want to know what's next for you. Do you have any upcoming projects, books, or exciting announcements?
MCR: Well, the way the publishing world works, you can't share book news until it's announced through the official channels. But—I can tell you I just signed a book deal for a co-written picture book and I am so excited about the subject! I've also got a climate activism picture book on submission and a middle-grade novel that includes fat liberation, musical theatre, and LGBTQ pride about to go out, too! Crossing fingers for both!
---
PRR Writers, Wynn Davis & Erika Brittain