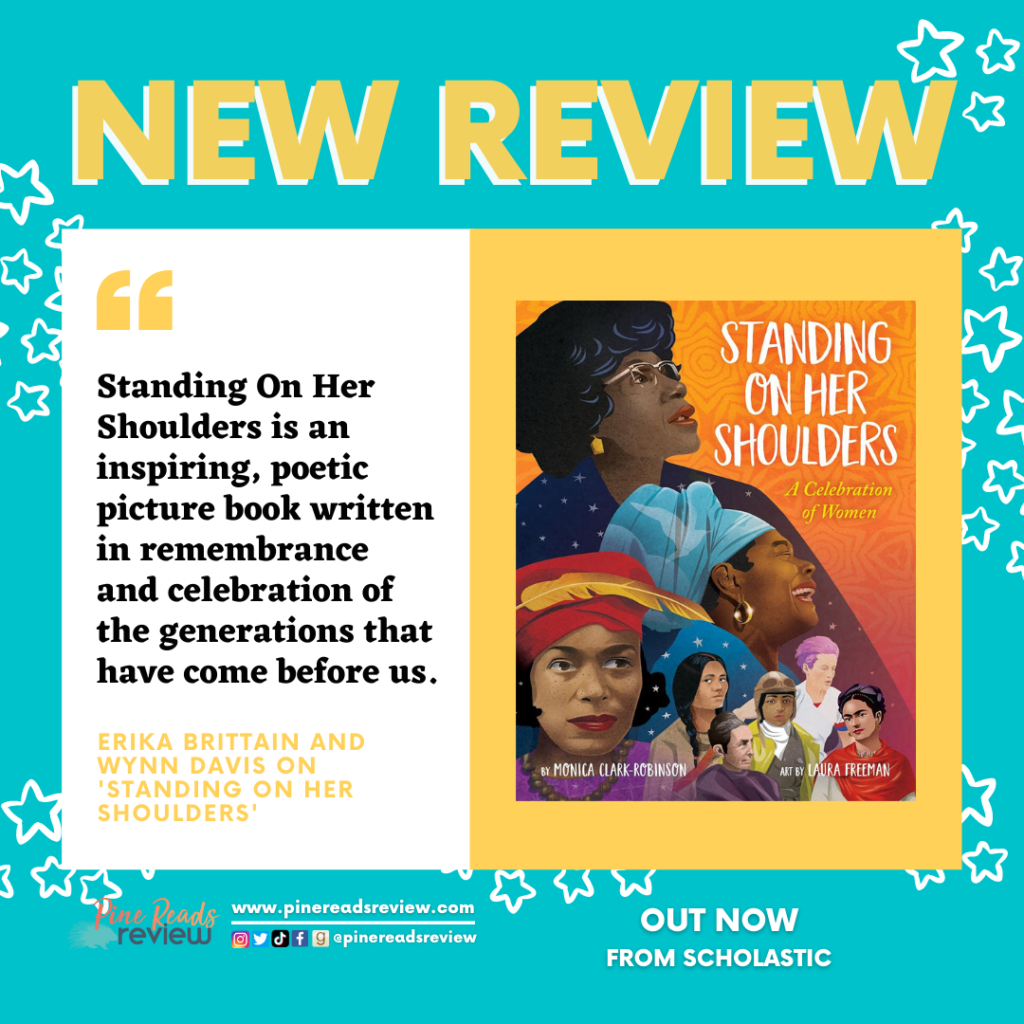 Standing on Her Shoulders by Monica Clark-Robinson, illustrated by Laura Freeman
Out Now from Orchard Press; 40 pages
About the author: "I'm passionately in love with stories—the stories that connect us across culture, race, and age. I think the right story, at the right time, can change a child's life. I'm most interested in bringing forward stories that are being forgotten or misremembered. I write picture books, contemporary middle grade fiction, and YA fiction. My debut picture book, LET THE CHILDREN MARCH, was published by Houghton Mifflin Harcourt in January 2018. My next book, STANDING ON HER SHOULDERS, from Orchard Press (Scholastic), released in February 2021, with the amazing Laura Freeman illustrating. I'm also a professional actor, former children's librarian, and voice-over artist, and I live in a yurt in the country with one husband, too many cats, and just the right amount of daughters." (Bio taken from the author's website.)
Find Monica Clark-Robinson on the following platforms:
About the illustrator: "Originally from New York City, I now live in Atlanta with my husband and our two children. I received my BFA from the School of Visual Arts and began my career working for various editorial clients. I have illustrated over thirty children's books, including Hidden Figures written by Margot Lee Shetterly, the Nikki & Deja series by Karen English and Fancy Party Gowns by Deborah Blumenthal. In addition to illustrating books and editorial content, my art can be found on a wide range of products, from dishes and textiles to greeting cards." (Bio taken from the illustrator's website.)
Find Laura Freeman on the following platforms:
---
"Magic-believers, dream weavers. Revolutionary minds, their words echoing through time."
Our lives are shaped by incredible women. Women like our mothers, grandmothers, and history-makers who have changed the world for the better. Through pages filled with beautiful illustrations and powerful affirmations, we are reminded to speak the names of the women who have made a difference. We speak their names and remember: We are standing on their shoulders.
Standing On Her Shoulders is an inspiring, poetic picture book written in remembrance and celebration of the generations that have come before us. The book recognizes the women close to us, as well as historic figures ranging from activists to scientists, explorers to artists. We thoroughly enjoyed reading this story and the underlying message throughout. It was inspiring and heartwarming, a perfect read for Women's History Month (or any month!). Monica Clark-Robinson has wonderful, flowing prose that almost reads like poetry; and Laura Freeman's art is beautifully crafted and in such warm, vivid colors. The book wraps up with the inspiring reminder that when we celebrate the women who have paved the way before us, we are honoring their lives and what they have done for us. We are standing on the shoulders of these women. Standing On Her Shoulders is also a call to action—who will stand on our shoulders? What will we do to encourage and help future generations?
Want to know more about the writing of Standing On Her Shoulders? Be sure to keep an eye out for our upcoming interview with author Monica Clark-Robinson!
PRR Writers, Wynn Davis & Erika Brittain
---