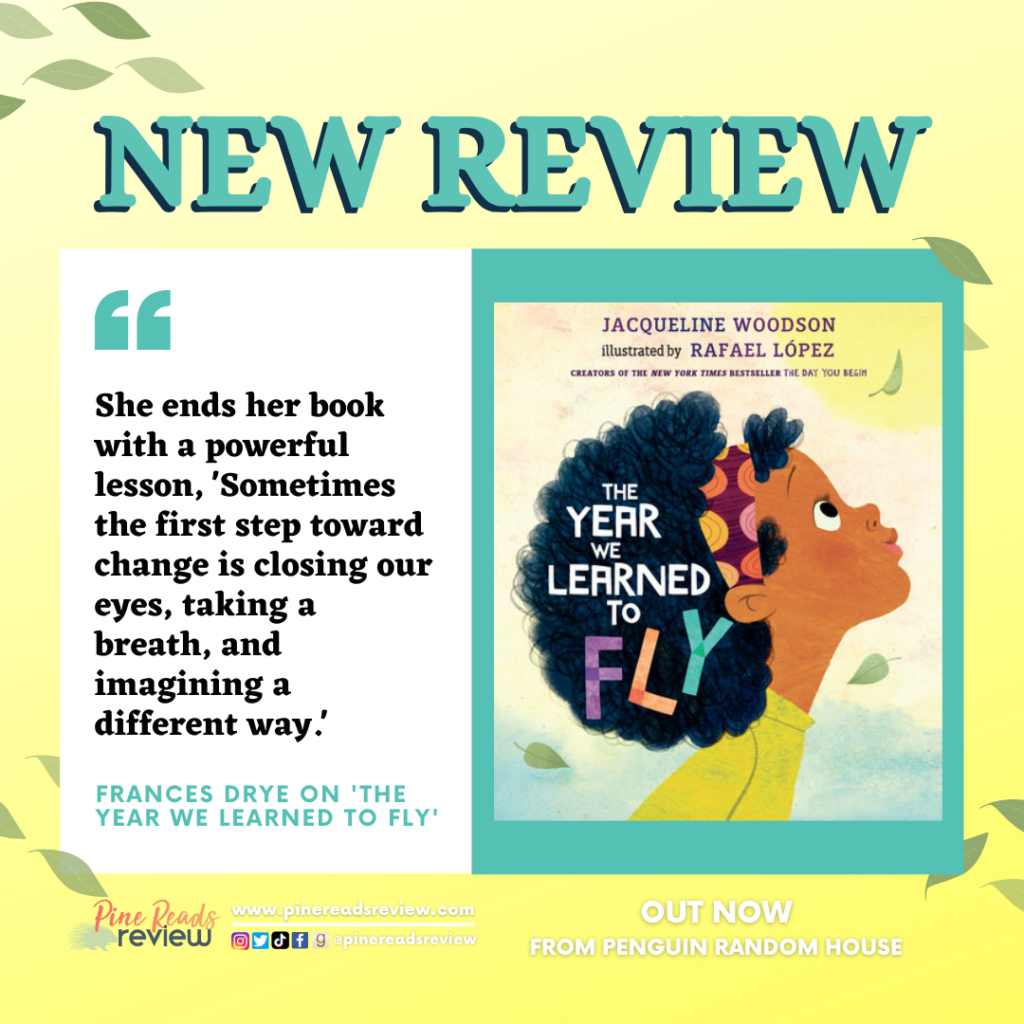 The Year We Learned to Fly by Jacqueline Woodson and illustrated by Rafael López
Out Now from Penguin Random House; 32 pages
About the Author: "Jacqueline Woodson is an American writer of books for adults, children, and adolescents. She is best known for her National Book Award-Winning memoir Brown Girl Dreaming, and her Newbery Honor-winning titles After Tupac and D Foster, Feathers, and Show Way. Her picture books The Day You Begin and The Year We Learned to Fly were NY Times Bestsellers. After serving as the Young People's Poet Laureate from 2015 to 2017, she was named the National Ambassador for Young People's Literature, by the Library of Congress, for 2018–19. She was awarded the Hans Christian Andersen Medal in 2020. Later that same year, she was named a MacArthur Fellow." (Bio taken from author's website)
Find Jacqueline Woodson on the following platforms:
About the Illustrator: "Rafael López is an internationally recognized illustrator and artist. His illustrations bring diverse characters to children's books and he is driven to produce and promote books that reflect and honor the lives of all young people. Born and raised in Mexico City to architect parents, López was immersed in the rich visual heritage, music and surrealism of his native culture." (Bio taken from illustrator's website)
Find Rafael López on the following platforms:
---
"So our people learned to fly, she said. They dreamed a thing and made it happen. Closed their eyes and flew away home."
Jacqueline Woodson's The Year We Learned to Fly opens on a rainy spring day to a young brother and sister sitting inside their house and wondering what to do. The siblings boredom leads to quarreling about their chores and arguing over their dog, until their grandmother finally steps in. She teaches her grandchildren to use their imagination and fly, a skill that follows them throughout the rest of their year. Their grandmother tells them how their ancestors passed down the art of storytelling because it helped them persevere and stay strong, even in horrible times. Armed with this gift, the siblings soared to new heights and taught their friends how to create stories and fly alongside them.

The Year We Learned to Fly is a hopeful lesson about perseverance and our ability to create change. Though it may have been targeted for young readers, I found that Woodson's beautiful verse brought a smile to my face and Rafael López's rich and vibrant artwork had me cherishing each page of the adventure. Woodson may begin the book with a lighthearted story of bored siblings but she does not cower from heavy topics. Grandmother teaches her grandchildren about their heritage. She tells them how the ability to imagine a better world helped enslaved people get through even the most difficult of times. As long as people have the ability to dream, we will carry on. Jacqueline Woodson's story reminds its readers that we have the ability to "fly". She ends her book with a powerful lesson, "Sometimes the first step toward change is closing our eyes, taking a breath, and imagining a different way."
PRR Writer, Frances Drye
---