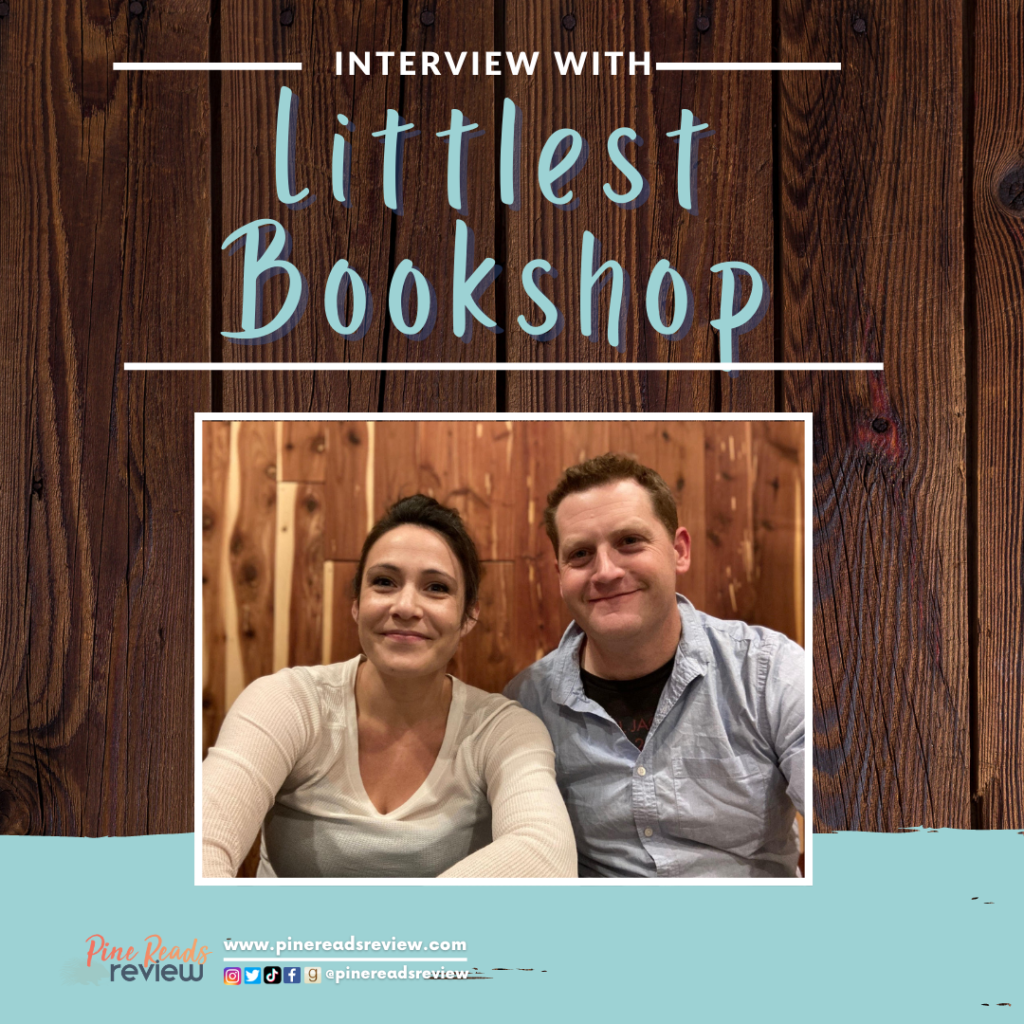 About the Bookstore Owners:
Hypatia has over twenty years experience in education, working with young children. She was an elementary school teacher for 15 years, before becoming director of a small, local preschool. Her love of beautiful illustration and clever storytelling inspired her to begin her own collection of picture books many years ago. Hypatia regards storytelling as an integral part of the human experience and loves sharing the gift of books with her students, family, and all the children in her life. Jesse has over twenty years experience in retail sales and management. Most of this time was in high-end, corporate retail, where he oversaw the financial operation of a multi-million dollar store. Jesse then transitioned to a significantly smaller operation and helped run a small, family owned business. After staying home with our daughter for 4 years, Jesse is bringing his knowledge of budgeting, merchandising, and customer service to our own family owned bookstore. Hypatia's commitment to literacy and promoting a love of reading combined with Jesse's entrepreneurial spirit, was the birthplace of Littlest Bookshop.
Find Littlest Bookshop on the following platforms:
---
We want to give Hypatia and Jesse a huge thank you for interviewing with us. Check out their website to see their opening hours and stay tuned for their grand opening on January 1st!
---
Grace: I love asking icebreaker questions for all of our interviews. Since we're all bookish people, When you were a young reader, what was your favorite book?
Hypatia: One of the books that I remember being read to me that I loved was the Wayside School by Louis Sachar. He wrote Holes, but he started with funnier things. And in Wayside School, each chapter is about a different student in the class, and it's this very sort of wacky silly school. I read it as a child, and it was just funny and all the little antics that happened in the classroom, but then I read it to my class as a teacher. And it's so funny as a teacher, reading it from that perspective of what students are like in the classroom and all the different personalities you get. That has been a story that has lasted for me as a book I really love and loved as a child.
Jesse: I'll go with easy and generic for my childhood books. I read the Lord of the Rings books by J.R.R. Tolkien a bajillion times. I've read them many times. I think the first time I read them I was probably in fourth grade, so a lot of it was probably lost on me. The Hobbit was the first one I read, and I got that right away as a kid, but the others were like literature I had to work on to understand. It's so wordy and dense, that you have to reread a chapter, and you sort of know what's going on, and eventually you'll get it. But I probably read that series the most.
G: Between the two of you, who would you say is the biggest bookworm? Or is this a fierce competition?
H: I think we're different. As a child, I think Jesse read more than I did. Now, I think I read and am more interested in books, and I seek out more new books.
J: As I've got older, I read a lot more nonfiction. I read more about things — things in the world, or how things work or plants or animals. So definitely as I've got older, I've read more of that, and I just got lost on the internet. I'll just read for hours just about different things. And I don't take so much time now just sitting and reading books. But with the bookstore, I think that is going to change! I probably will be burning through a lot more literature. As a kid though, I was just nonstop since the time I learned how to read.
H: As I kid, I just really wasn't interested in reading. I think it's when I started teaching, that I started to love reading as much as I do now. Reading was never hard for me, it's just I guess I wanted to be doing other things, I don't know! And the bookshop really came from my love for picture books, it was sort of the inspiration to start with the picture books.
Taylor: Well, who doesn't love a good picture book!
J: Yeah, and the diversity of them now is incredible.
G: Picture books are really having a high moment now. They just keep getting better.
J: Yeah, and the diversity and subject matter is really just incredible.
H: I think people are really starting to see it as an art form — the illustrations and the words. In the same way that a lot of movies that are intended for children are starting to have these subtexts that are also meant for adults. I think you're starting to find this in picture books as well. Maybe it's because I'm an adult, and I read them differently. These pictures are taking issues that children face more seriously. Authors are thinking about ways to then express those experiences for children in a child-friendly and developmentally appropriate manner.
G: You mentioned this a bit in your bio, but what inspired you to open a bookstore? How did you get started?
H: Jesse has a retail background, and he's wanted to start a business for a very long time. He's always wanted to do something together. And I was very happy as a teacher and didn't have much interest in doing that. Then we went on a trip to California, and we visited a children's bookstore by chance, and it was so darling! On the way home, I told him that I kinda realized that whenever I'm in a children's bookstore or in the children's section of a bookstore, I just feel so at peace and at home, and it is where I want to be all the time. So many people have that feeling with music stores or nature, and I just find that there was where I wanted to be. Of course, I didn't know what that would look like at the time, and Jesse was like "Let's start a business! Let's start a children's bookstore!" And I was like "No, we're not going to do that." But then it started percolating, and we started designing a business plan and looking for locations.
Then Covid happened, and it all went out the window. I was still teaching and had to learn how to teach over zoom, and our daughter was home, and Jesse was with her full time. We kinda let it go. Over the course of me planning to leave my last job, we started talking about it more and more. When I would read to my students who were in first, second, and third grade (this is the time where they're how to read and becoming lovers of books), I just kept having this feeling that the bookstore is what we need to do. So we just decided to go for it! We had a lot of work done in March in 2020, and it was just a matter of spending the money and just going all in!
T: Bouncing off your love for being around these books and reading them, why did you want to sell children's books?
H: As a teacher, I always use books to introduce a topic and across subject areas. I use books for science and math and, of course, language arts, and social studies. I just love them! I started following people on Instagram and their children's books stores. That's where I wanted to be. Even going to the library, I just wanted all the books, and I wanted them forever. We would get fifty books for our daughter, and I would take pictures of all the titles that I liked with the intention of putting the book on display! I look at books with the lens of what can people learn from this, how can it change their lives, how can it affect them? I want to spread that with everyone!
G: It's so fascinating that you're working along with your daughter and seeing what she likes and what you like, too.
H + J: And it's fascinating because she doesn't always like what I like! It's fun to be on the selling side, too, in that way. I think one book is beautiful, but you don't know if a four-year-old would like it. We've had books that we've looked at and wondered "how long will this be in our store for?" and then it sells. You just don't know!
G: Going off of that, how do you pick what books will be in your catalog or what to display?
H + J: We were given a gigantic list by the book distributor when we started and were basically told to pick what we wanted. And we went through and chose things we liked and things we knew. It was a combination of on-the-spot research of some titles and past knowledge of stuff that we knew we liked. We thought about the books we go through with our daughter. And one of the things that kept coming to my mind as we looked through this list was that the selection we had needed to be really representative of different types of people. We wanted any child who walked in there to be represented. That's been a guiding piece for us. It may not be my experience, but it's someone's experience. I want anyone who comes into this store to see themselves in the pages of the books. This is so much more prevalent now, and authors are trying to do that, and there is a desire for them to do that.
T: With your vision and passion in mind, what was the hardest part about starting the business?
H: I could list a few things! One was the reaction of other people when you say you're starting a bookstore. Most people are trying to be supportive, but I think you can tell there's a question in the back of their mind "Really, you're going to start that when there's Amazon?" It comes from a place of concern, and they wonder how we can compete with a market that is saturated with low-price and next-day delivery. And there was some self-doubt there, and we had to convince ourselves that this was something that Tucson could really use and wanted. I think it would be harder to do this in a different city. Of course, doing this during a pandemic was stressful. And everyone slowly adjusting back, and that really helped us see that this was something that we could make happen.
J: And yeah, we have Amazon now, but I think so many people want to go to a physical location and touch and see things. And for things like picture books, you really want to feel them and see them. I think the jump was the biggest struggle for me, you know signing the lease. But the concept was something I was never really worried about.
H: That's why we're a good balance!
G: Bouncing off the conversation about Amazon and online retailers changing the book-buying business over the past few years, what do you think an in-store book shopping experience has over online shopping?
J: Knowing how shoppers behave and being in the higher-end retail environment, you have consumers who want to come in, and see it and touch and know they want it. People who really know what they want, a connoisseur if you will. And they really want a physical experience of going into a store. And I think the pandemic really kicked that up a few notches. People realized they don't want to do all their shopping from home. Going out and shopping is part of our society, and I think we're gonna have a resurgence of that. People want an experience, and we want that.
H: Just like he was saying, I found that in Tucson, I couldn't really find this place for children's books. There was this void. There was nothing specifically catered towards children. I really struggled to buy books online because I want to have this connection with the books, and I wanted a space for this.
T: So a few weeks ago you had your soft opening. How did that go?
H + J: We've been open a few days each week now. It's been good and steady. We've gotten some people from the neighborhood. Everyone's been super receptive and positive. I think a lot of people who are coming in have heard of it from Instagram or word of mouth. It's been really good and steady!
G: Who's your targeted demographic and how does that compare to the people you've been seeing come into your store?
H + J: Jesse kept saying "You're our target demographic!" The mom, the teacher, between our age range. It's a familiar demographic. We get some kids coming in on the weekend. We wanted to create a space for moms where they can take a break and get lost because it's cute and inviting. They can think about their kids, but not have them with them. We've had a lot of good responses from the people coming in.
And when we made our initial order we had to decide what percentage of our budget would be spent on certain types of books. We set out thinking that picture books and board books are our primary focus, and we'll have fewer young adult and nonfiction. Then you see the lists, and want all of it! We get people who are interested in everything. As we do this longer, we will learn what people are really into and what they are buying.
T: We noticed you had a blog tab on your website, but nothing is posted quite yet. Do you know what you're planning to blog about?
H: I have a full-time job aside from this, so I haven't found the time to speed on the website. Ideally, I would love for the blog to be Hypatia's book reviews! It's something I started doing on my own when I started becoming very passionate about children's books and picture books and what they can used for and how they can impact people. I like the idea of it being a place for something like that. In the works for sure!
G: To wrap up, looking forward to the new year and your store being fully open, what are you most excited about?
H: I'm really excited about all the possibilities that having a physical space can offer. I'm excited to talk with local authors and do readings or book time or sing-alongs. Creating a space where kids and families can come together and be surrounded by beautiful things. I'm excited to get those fun ideas off the ground!
G + T: We can definitely see your passion not only for these stories but for the community of Tucson, and we know that this bookstore will be an amazing addition. We'll be sure to visit soon!
PRR Writer and Editor, Taylor Quinn
PRR Assistant Director, Grace Kennedy