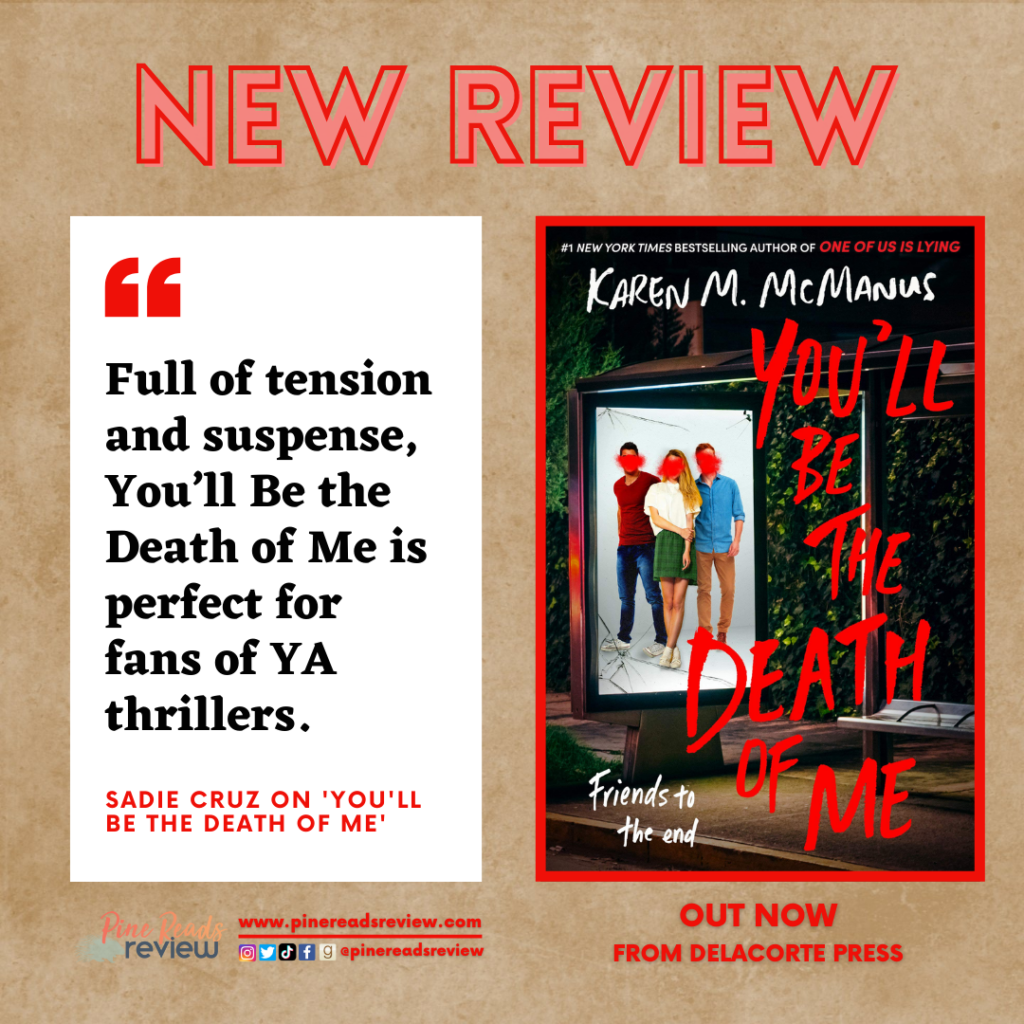 You'll Be the Death of Me by Karen M. McManus
Out Now from Delacorte Press; 336 pages
Content Warnings: explicit language, death, murder & attempted murder, needles, overdoses, prescription drug use, chronic illness, predatory student/teacher relationship, violence, blood, head injuries, broken bones, kissing, underage drinking, drug dealing, mentions of an absentee parent, mentions of addiction & substance abuse, infidelity, kidnapping, hostages, mentions of a gun
About the Author: "Karen M. McManus is a #1 New York Times, USA Today, and international bestselling author of young adult thrillers. Her work, which includes the One of Us Is Lying series, Two Can Keep a Secret, The Cousins, and You'll Be the Death of Me, has been translated into more than 40 languages worldwide. Karen lives in Massachusetts and holds a master's degree in Journalism from Northeastern University, which she mostly uses to draft fake news stories for her novels." (Bio taken from author's website)
Find Karen M. McManus on the following platforms:
---
"There's something running through it all—not a common thread, exactly, but a loose one. It keeps dangling right outside my line of vision, taunting me with the fact that if I only knew where to tug, I could start to unravel everything."
Former best friends Ivy, Mateo, and Cal are all having a bad day. Ivy lost the student council election the day before. Mateo is overworked and exhausted. And Cal was stood up by his morning date. When a chance encounter in the Carlton High parking lot brings the three estranged friends back together, they decide to try and turn their bad day around by skipping school and heading into the city for some fun. But their bad day gets even worse when they find another Carlton High student skipping school and end up crashing the scene of his murder. Ivy, Mateo, and Cal must work together to figure out what really happened to their classmate—all while keeping their own secrets from being uncovered, too.
I can't remember the last time a book kept me on the edge of my seat as much as You'll Be the Death of Me did. Every time I felt like I had figured the mystery out on my own, I was thrown for a loop and sent back to square one. I really enjoyed the characterizations of Ivy, Mateo, and Cal. They all had their own distinct voices and the alternating points-of-view really let me connect with each of them. I especially connected to Ivy, with her driven personality and desire to prove herself to those around her. While I loved the mystery, I think my favorite aspect of this novel would have to be the trio's reconnection. It added an extra layer of tension to the bizarre predicament they found themselves in. Throughout all their ups and downs, from accidentally stumbling onto a murder scene to uncovering life-changing secrets about each other, I was rooting for Ivy, Mateo, and Cal to find their way back to being friends. Full of tension and suspense, You'll Be the Death of Me is perfect for fans of YA thrillers.
---
PRR Writer, Sadie Cruz