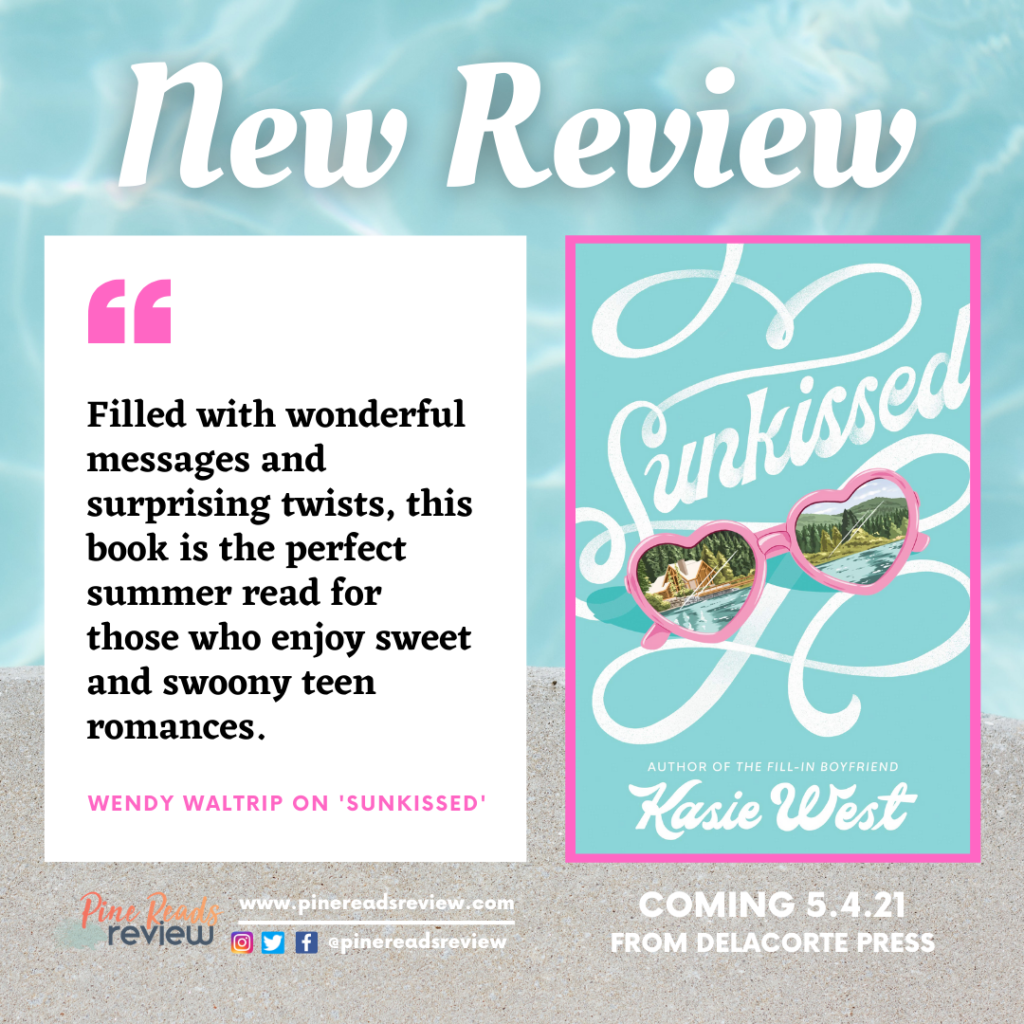 Sunkissed by Kasie West
Delacorte Press; Releasing May 4, 2021; 320 pages
Content Warnings: Moderately strong language, terminal illness, blood
About the Author: "Kasie West is the author of many YA novels, including The Fill-In Boyfriend, P.S. I Like You, Lucky in Love, and Listen to Your Heart. Her books have been named ALA-YALSA Quick Picks, JLG selections, and ALA-YALSA Best Books for Young Adults. When she's not writing, she's binge-watching television, devouring books, or burying her toes in the sand of the Central Coast. Kasie lives in Fresno, California, with her family." (Bio taken from the back of Sunkissed.)
Find Kasie West on the following platforms:
---
"I didn't do things like this. I wasn't the type to make the first move. To grab what I wanted. To go after things that scared me. But maybe today on that stage, I had realized that doing scary things and actually succeeding was the best feeling in the world."
Seventeen year-old Avery Young had it all: a fantastic best friend and a wonderful boyfriend. But when she's betrayed by both of them, it looks like she's in for a rough summer. That is, until her parents shuttle Avery and her sister off to a remote family camp, and Avery meets a super cute musician staff member. Soon, Avery decides to embark on a quest to break out of the flow and try new things. With a whirlwind romance and the terrifying prospect of performing at a music festival, Avery's summer may just turn out to be what she needs to discover what she truly wants in life.
This book is as wonderfully fun and flirty as the title makes it sound. Kasie West has crafted another fantastic contemporary romance that's full of moments of laughter, moments of growth, and moments of heartwarming affection. Avery is such a relatable protagonist as she realizes that she wants to take control of where her life is heading, and it was a pleasure for me to join her on her journey. The family dynamics between Avery, her sister, and their parents feel very real and often brought a smile to my face. I loved the relationship that develops between Avery and Brooks and how they help each other grow. Filled with wonderful messages and surprising twists, this book is the perfect summer read for those who enjoy sweet and swoony teen romances.
Sunkissed releases on May 4, 2021.
(Pine Reads Review would like to thank NetGalley and the publisher for providing us with an ARC in exchange for an honest review. Any quotes are taken from an advanced copy and may be subject to change.)
PRR Writer, Wendy Waltrip