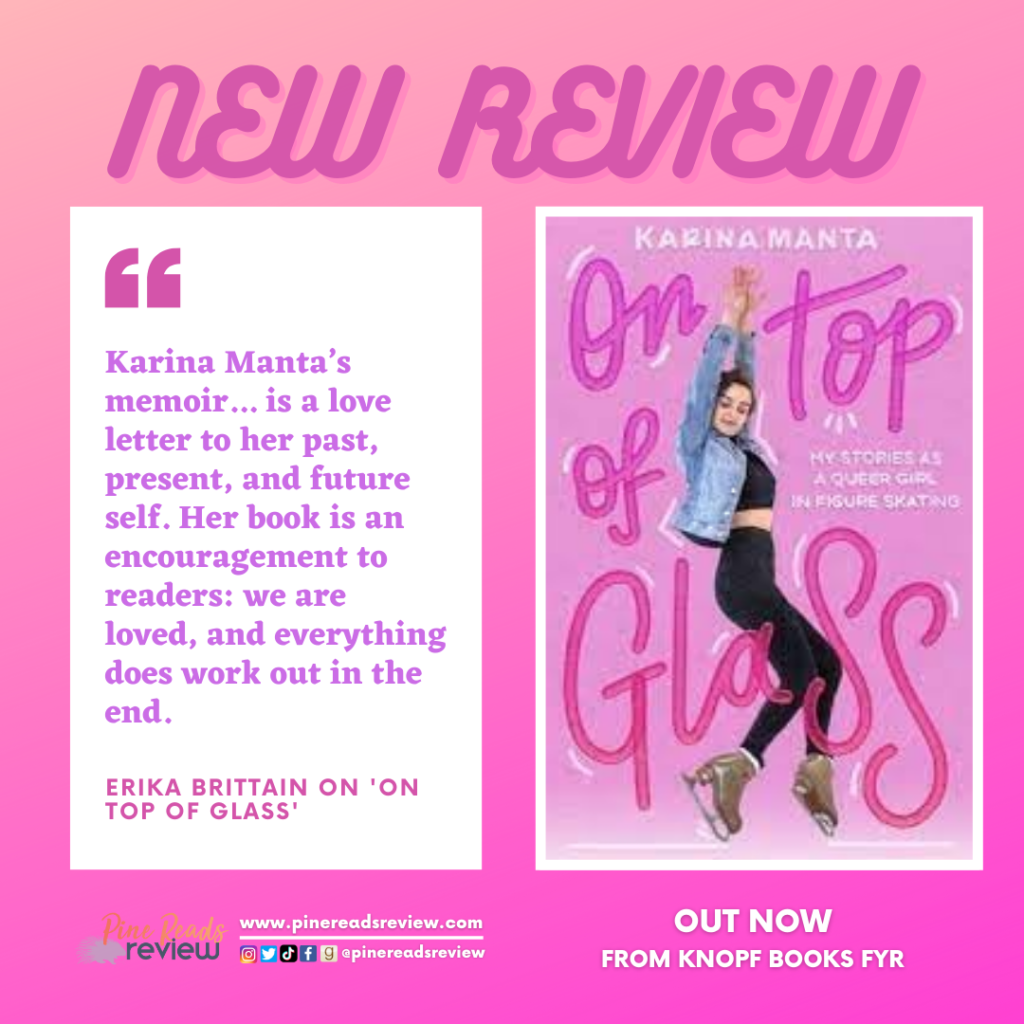 On Top of Glass: My Stories as a Queer Girl in Figure Skating by Karina Manta
Out Now from Knopf Books; 327 pages
Content Warnings: Discussion of an eating disorder, anorexia, restricted eating, discussion about weight, body image issues, discussion of mental illness, anxiety, panic attacks, intrusive thoughts, depression, mentions of homophobia, biphobia, discussion of sexism, mild sexual content, underage drinking, strong language
About the Author: "Karina Manta was born in Olympia, Washington, but she grew up in the sunshine of Chandler, Arizona. Despite being raised in the desert, she fell in love with figure skating and spent several years competing as a member of Team USA. Since leaving the competitive skating world, she has had jobs touring with Cirque Du Soleil and performing on British reality television. She currently enjoys eating ice cream, engaging with creative approaches to activism, and being bisexual." (Bio taken from author's website.)
Find Karina Manta on the following platforms:
---
"If you are someone who needs to be assured, I can assure you: Things will be okay in the end."
Karina Manta is a proudly queer professional ice dancer and figure skater. She has competed in the U.S. Figure Skating Championships, performed with Cirque du Soleil, and now skates in ITV's "Dancing on Ice". But she wasn't always secure in her identity as a queer woman, or in her own body and mind. In her beautifully written and heartachingly honest memoir, Karina recounts her teenage and early professional years. She shares her struggles with anxiety, battles with body image issues, and her journey to embrace her bisexuality. Karina Manta's memoir, On Top of Glass: My Stories as a Queer Girl in Figure Skating, is a love letter to her past, present, and future self. Her book is an encouragement to readers: we are loved, and everything does work out in the end.
The first thing I want to say about this book is thank you. Thank you, Karina, for sharing such intimate moments and thoughts with us readers; and thank you for the constant encouragement that you give us throughout the pages of your book. I don't often read memoirs, and the specific genre of YA memoirs is still very new to me, but I was immediately drawn into Karina's book by her poetic writing style. The book is told in vignettes, filled with vivid descriptions and profound moments of introspection. We meet Karina's friends, witness her discovering her love for ice dancing, and navigate the trials of dating as a young woman. Karina shares her journey to embracing her bisexuality, as she learns how to love other women while learning to love herself, too. Karina's exploration of self-love is maybe the most personally impactful, as someone who hasn't always loved my body, either. The way Karina describes her relationship with her body, and her relationship with her anxiety and mental health, felt so poignantly written and reflected upon. Karina's words truly voiced thoughts and emotions that I have so long felt, but rarely read or heard so clearly. Another aspect of this memoir which I appreciated is that Karina takes time to acknowledge where, in her stories, she is not entirely blameless. This memoir is about Karina's life, and life is messy. We make mistakes; we aren't always blameless. And that's OK. She also asks readers to take in her words and emotions with care, especially for readers sensitive to talking about topics like eating disorders. I genuinely could go on and on about Karina's book, but here's my last comment: Go read it.
PRR Writer, Erika Brittain