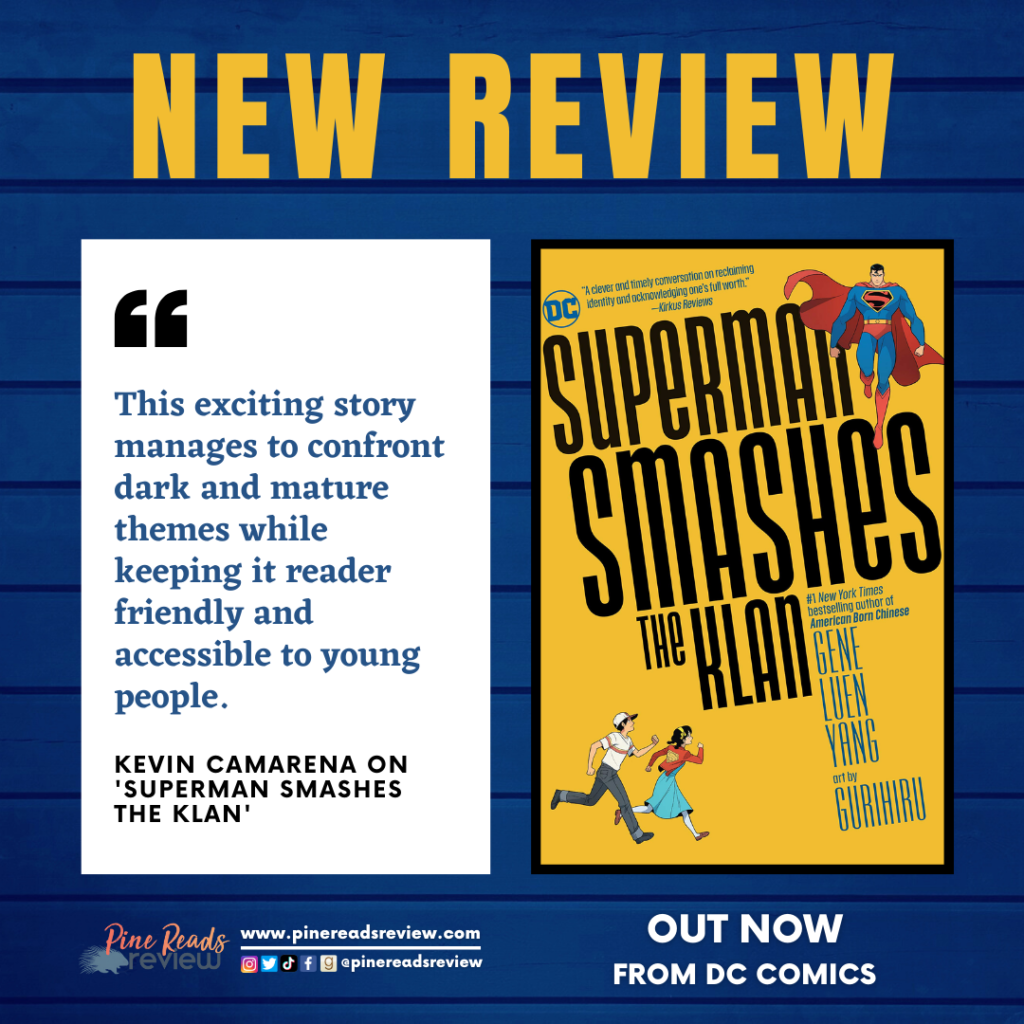 Superman Smashes The Klan by Gene Luen Yang; Art by Gurihiru; Lettering by Janice Chiang
From DC Comics Publishing; 240 pages
Content Warning: Racism, hate crimes, bullying, Nazis, Ku Klux Klan 
About the Author: "Gene Luen Yang writes, and sometimes draws, comic books and graphic novels. As the Library of Congress' fifth National Ambassador for Young People's Literature, he advocates for the importance of reading, especially reading diversely. American Born Chinese, his first graphic novel from First Second Books, was a National Book Award finalist, as well as the winner of the Printz Award and an Eisner Award. His two-volume graphic novel Boxers & Saints won the L.A. Times Book Prize and was a National Book Award Finalist. His other works include Secret Coders (with Mike Holmes), The Shadow Hero (with Sonny Liew), Superman from DC Comics (with various artists), and the Avatar: The Last Airbender series from Dark Horse Comics (with Gurihiru). In 2016, he was named a MacArthur Foundation Fellow. His most recent books are Dragon Hoops from First Second Books and Superman Smashes the Klan from DC Comics." (Bio taken from publisher's author description).
Find Gene Yang on the following platforms:
Find Gurihiru on the following platforms:
Find Janice Chiang on the following platforms:
---

"It's as if you only want to be half of who you actually are." 
In this Superman reimagining, we are transported to a 1946 Metropolis. We follow Roberta Lee and her family as they move deeper into the city from Chinatown. The Lees are like any other family trying to live in America, completely ordinary, but their Chinese heritage makes them anything but in their new white suburb. While many are welcoming to the Lees, others are not; those who aren't happen to be the Klan of the Fiery Kross who are hell-bent on keeping Metropolis and the US white-only by any means necessary. When Roberta's family becomes targeted by the Klan, Superman swoops into action! His bravery, selflessness, and heroism inspire Roberta and her brother Tommy to do what they can to help Superman to stop the Klan and protect their family. But with the Klan hidden and secretly entrenched into Metropolis society, stopping the Klan will not be easy, not even for the Man of Steel.
Gene Luen Yang does a fantastic job of telling a riveting and thought-provoking story. The way he has Roberta's and Superman's inner conflicts parallel was my favorite part of the graphic novel. Both characters are struggling with their feelings of alienation and isolation, wanting to fit in but knowing that it will never be completely possible. While Roberta and her family can't hide who they are to the world, Superman can avoid many of the same hassles by appearing like any other white man. Superman has the luxury of appearing like a normal person, a normal man, and is even admired as Superman. The world doesn't know that Superman is an alien and Superman is happy to let them think that even if it means repressing his Kryptonian heritage. It may not seem like a young girl could help someone who is bulletproof but Roberta's wisdom and encouragement lead Superman to stop avoiding who he is and where he came from.
Yang does a fantastic job at telling these two narratives at once and having them parallel and intersect in a way that feels natural and connected. Superman battles his feelings of being a foreign outcast and the Lees face discrimination, hate crimes, racism, and microaggressions. The Lees and Superman struggle with these issues simultaneously and independently, and it's not until the two cross paths that they can help one another to save the day and themselves. 
Yang manages to deliver a compelling commentary on the difficulty of assimilation in 1940s America while providing an exciting plot line filled with Klan members getting mocked and beaten up by children and Superman alike. This exciting story manages to confront dark and mature themes while keeping it reader friendly and accessible to young people. Yang's commentary on race relations and feelings of being "other" are well illustrated throughout the graphic novel and the imagery depicted by the art helps the reader to see it for themselves instead of just imagining it. I highly recommend this graphic novel to all ages and especially to young people who are trying to understand how racism can impact our lives. 
PRR Writer, Kevin Camarena
---