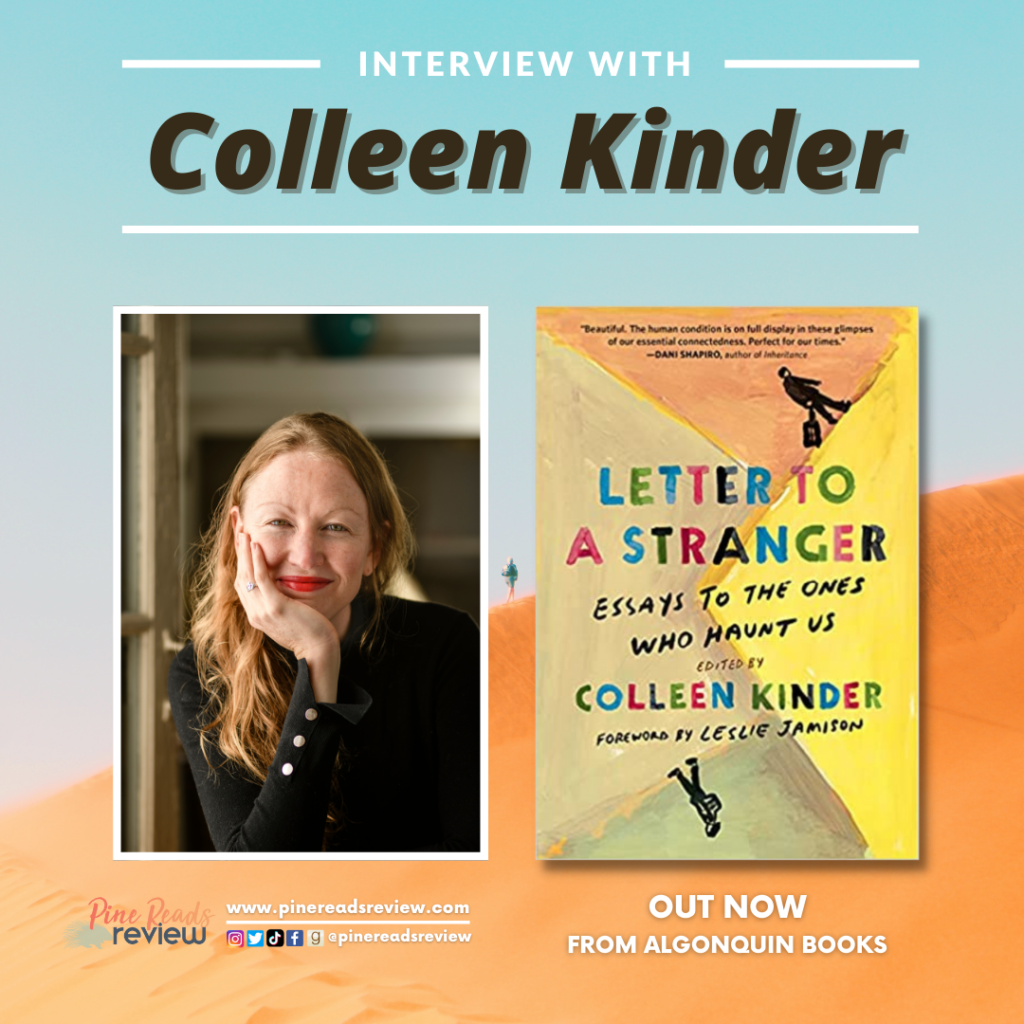 Interview with Colleen Kinder
About the Author: "Colleen Kinder is an essayist whose work has appeared in The New York Times Magazine, The New Republic, National Geographic Traveler, Virginia Quarterly Review, AFAR, Salon.com, Los Angeles Review of Books, Creative Nonfiction, A Public Space, and The Best American Travel Writing. She is the editor of the forthcoming anthology Letter to a Stranger: Essays to the Ones Who Haunt Us (Algonquin Books, 2022), and the co-founder of the nonprofit magazine Off Assignment. A former Fulbright scholar and MacDowell fellow, Kinder has taught writing at Yale University, the Chautauqua Institution, and Semester at Sea." (Bio provided by Author)
Find Colleen Kinder on the following platforms:
---
I would like to thank Colleen Kinder for so kindly agreeing to an interview, and to also extend a thank you to Algonquin Books for providing Pine Reads Review with an ARC version of Letter to a Stranger for review which you can view here. Please enjoy my conversation with Colleen about the editorial process, gathering works for a published anthology, and the letters that to this day still haunt her!
---
Kayla Chandler: Could you begin by discussing how a reading series with your project Off Assignment developed into the call you put out for stranger encounters from writers, and how that further came together into an anthology of sorts?
Colleen Kinder: We got started by asking journalists and travel writers to share stories they'd never told before to live audiences in New York City. It was really electric and only deepened my resolve to create space for "off assignment" storytelling. I came up with some writing prompts, and asked my peers to give them a try. The prompt they responded to most avidly was "Letter to a Stranger." Everyone, it seemed, had a "Letter to a Stranger" story in them. We gathered so many of these tales that it soon grew obvious that we should launch an online "Letter to a Stranger" series. With the brilliant help of Katy Osborn, our then Managing Editor, we did just that. The anthology is inspired by that flagship online column at Off Assignment.
KC: Your work has taken you all over the world and through many different fields— from teaching at Yale University, co-founding Off Assignment, and now editing a collection of letters spanning the entire world and over seventy writers. With that varied career, what are your favorite parts of writing and working within the publishing community?
CK: I really treasure the sense of community I've found (and been able to cultivate for other people) through Off Assignment and "Letter to a Stranger." My writing life was far more solitary (and lonely!) before I co-founded this magazine and later edited this anthology. Turns out, I'm a more fulfilled person when my creative life is broader than my own writing. Nothing will ever unseat writing from the center of my life, but I thrive on the collaborative work I do during any given work week. This continues to surprise and hearten me: how much it matters to belong to a broader team.
KC: Did you approach your Letter to a Stranger online series with the intention of one day collecting them into a larger work, or was that a project that subsequently developed after receiving so many submissions?
CK: People have casually commented for years that "Letter to a Stranger" (the online series) would make a great book. I haven't disagreed, but so much had to be in place before we attempted to sell an essay collection (which is no easy task). We had to have a rich archive of "Letter to a Stranger" essays, for starters–essays that had really resonated with people and won accolades (like mention in Best American Essays, for example) as a kind of proof of concept. We also had to have a bundle of new, unpublished essays from acclaimed writers, in order to convince publishers that they weren't just repackaging free web content. Also, we needed a highly committed agent who believed in this book, and who was willing to devote time and sweat to selling it, even though anthologies aren't big moneymakers, and are in fact hard to sell in the first place. I'm forever grateful to Chris Clemans at Janklow & Nesbit for sticking with this book until we'd found our dream publisher!
KC: Once you realized that there was a larger theme to these stranger interactions— particularly with the lasting, haunting effect they have on the lives of writers— what was the process for choosing which letters/ essays to include in the collection? 
CK: In terms of picking from our archives, I'd say that I paid attention to which essays were still alive and vivid in my memory, years after first reading them. And of course, I wanted a wide range of geographies and aimed to avoid a glut of essays set in Europe, for example. Similarly, I aimed to have a mix of emerging and established writers. One thing I love about this book is that very variety. Many people will pick it up out of curiosity to know what their favorite novelists wrote in response to the "Letter to a Stranger" prompt, but as they read, they'll discover stories just as spellbinding and unforgettable by writers they've never heard of before. 
KC: Could you elaborate on what your role as collections editor entailed?
CK: Over 30 of the essays in this book are new–that is, they weren't published in Off Assignment's online "Letter to a Stranger" column. For those essays, I was the one who solicited them and then worked with the writer to shape and polish them. As for the other essays in the book, they were mainly edited by a staff editor at OA during the magazine's five years of publishing. Though I did  have–to varying degrees– some hand in the evolution of many of those stories as well, as I've been on staff at Off Assignment for most of the magazine's existence, and have been both giving the editorial team input behind the scenes, and also nudging writers I admire to submit stories.
KC: Regarding the formatting of the letter collection, I found it so fascinating that it was separated into sections titled Symmetry, Mystery, Chemistry, Gratitude, Wonder, Remorse, and Farewell, and that there was such a wide variety of interaction even within the same category. How did these seven specific groups emerge from the submissions you received, and are they arranged that way in the collection to tell a story?
CK: This was my favorite part of editing the book–coming up with categories. 
When I began grouping the essays in this book, I realized that a handful of stories were about glimpsing an aspect of the self in a stranger. The word "symmetry" came to mind. I wanted to situate a cadre of essays together so as to enunciate stranger symmetry, and this struck me as a prime way to begin the book.
From there, other category ideas flowed–like "Mystery" and "Chemistry," as some of our essays are just straight-up spicy, animated by the possibility of communion between two intersecting strangers. Perhaps the most obvious category to me was "Gratitude," as the driving force behind so very many "Letter to a Stranger" essays is the urge to pay thanks–especially those essays set far from home, as the traveler carries a particular vulnerability. Ditto for remorse: There's a very authentic drive to apologize in many of the book's weightiest essays.
If ever I edit another anthology, it'll be for this joy of sequencing and chambering stories, quietly orchestrating a conversation among disparate narratives. 
KC: Are there any other categories you considered adding to the seven you already have?
CK: Maybe terror? Not all of the strangers that appear in this book are benevolent, after all. Some mean harm. Some cause harm. I tried to honor the full spectrum of stranger experiences when I pieced together this book, so it's not all rainbows and sunshine. Overall it's a complex and variegated look at the role strangers play in our lives. 
KC: Were there any letters in the collection that you initially found it hard to classify because of how unique they were?
CK: Yes, the one that comes to mind is Vanessa Hua's "To the Woman Who Wanted to Go Shoe Shopping," as her feelings towards the stranger on that bus in China are not straightforward; they're fascinatingly illegible, shifting throughout the course of the essay itself. She's drawn to this stranger, senses something familiar in her, and yet resents the way this Chinese woman valorizes the West. I admire how this essay, ultimately, grows into a meditation on the way the traits we valorize can create complexes and deep insecurities in our children. 
KC: Leslie Jamison wrote both the book forward and the letter entitled "To the Traveling Magician," which I highlighted in my initial review in October of last year because it stuck with me, and she writes very movingly about your relationship and your individual stranger encounters. What was the process of asking her to write the forward, and was she also involved in the editorial or collection process for Letter to a Stranger?
CK: Leslie and I have been close friends since grad school and she's been intimately involved in OA and "Letter to a Stranger" from the start. In fact, we were living together in Brooklyn when I co-founded OA, and she used to joke that OA was our "third roommate"; that's how much I talked about the magazine and bounced ideas off of her. She pointed me straight to so many terrific writers in this book, including Gregory Pardlo, Kiki Petrosino, Emily Matchar, and Madelaine Barnes. Leslie and I happened to be in the Catskills for a two-woman writing retreat when I was working on the Letter to a Stranger book proposal, so I asked her to write a "Foreword" to the anthology. Her yes was immediate; she's such a generous friend. 
KC: Did any of the other writers begin as strangers prior to the collection, and develop into friends as a result of the gathering process?
CK: Yes! I'm about to have a Zoom date with one of them tonight–the wonderful Jenessa Abrams! I've loved working with the writers in this book. They are exceptionally lovely people; they really are. There was a printing glitch with the book back in the fall delayed publication for a full six months. The contributors couldn't have been more supportive, understanding, and patient about the hiccup. I love them for that. 
KC: How did you find yourself writing the letter titled "To the Stranger from the Silver Hour," which details your own stranger encounter in Rocamadour, France? What was it like including your own work within the collection?
CK: Well I feel a touch guilty that my essay is the longest "Letter to a Stranger"essay in the book! A wild abuse of editor privileges? But the essay was heavily edited by a couple editors at OA years earlier and did especially well on our audio platform. It seemed at home in this book, so I didn't let modesty get in the way. 
KC: Letter to a Stranger developed a few years ago out of an online series, and I was wondering how the pandemic has changed the way that strangers leave an impression on your own life— if you find yourself relating with someone you briefly encounter even more now that we are all united in the very real fear that has contextualized the past two years?
CK: I wouldn't say that I necessarily relate to strangers more, in light of the pandemic, but rather that I miss them. I miss casual encounters with people who are on their way to disappearing from my life. I'm nostalgic for the days when public transport wasn't tense, when we weren't all masked. I do feel like I've paid a human price for the precautions I've taken to shield myself from COVID. In Egypt for example, it's common practice to shake people's hands when you encounter them (with far more frequency than in the States, for example). I quit doing this when we arrived here in the fall to live for six months. I held back. I feel the cost of that physical withdrawal–less warmth and connectivity among the neighbors in our village–and that's a bit sad.
KC: Do you have a letter from the collection that still haunts you?
CK: All of them! Couldn't pick a favorite if you put a gun to my head. Honest. 
---
PRR Writer and Editor, Kayla Chandler